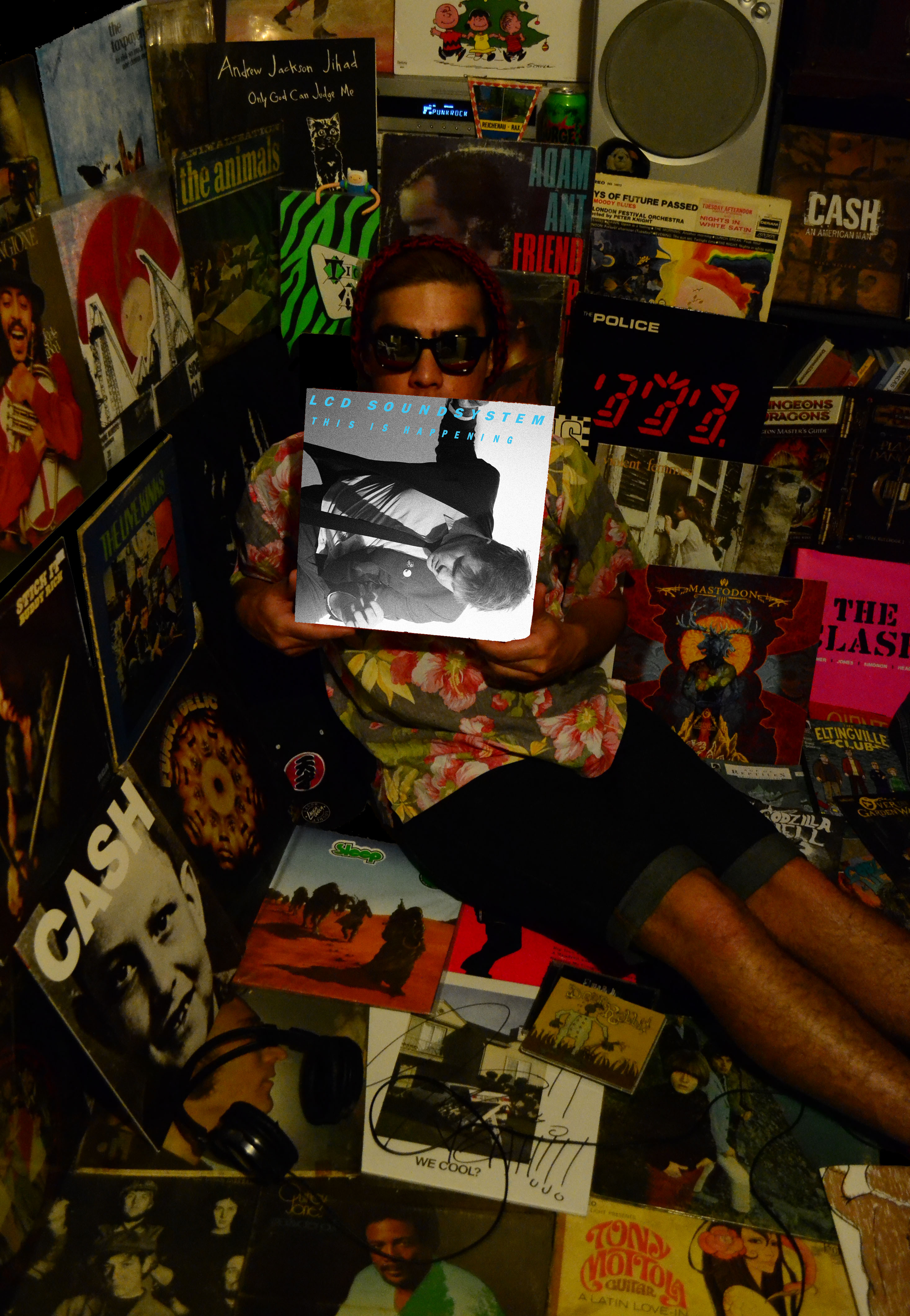 Hey there fellow tourists and welcome back to another Souvenir of the Week! I know that lately I may seem like a debby downer with some of my blog posts, from the depressed & dream like work of Nick Drake to the melancholic moods instilled by Yo La Tengo (and somewhat by neat beats as well), so this week I aim to help you get out of the ball pit of despair that I might have thrown you into. Put on your dancing shoes and tell your sadness to suck it, because this weeks souvenir is the dance-punk album This Is Happening by LCD Soundsystem.
LCD Soundsystem was a dance-punk band from New York City that put out three critically acclaimed albums during their 10 year career, the third and final album before their break up being This Is Happening.  Besides these three albums the band also released two live albums, three EPs, two remix albums, and 18 singles. They even put out a 45+ minute composition for Nike intended to be a jogging soundtrack (when in reality front man James Murphy admitted this was just an opportunity to produce something similar to E2-E4 by Manuel Göttsching), but that is is a whole other interesting topic we unfortunately don't have time for right now.
When you first start listening to the album, it may seem like my suggestions to get ready for a good time earlier were without merit. But don't let the first unassuming three minutes of the opening track, Dance Yrself Clean, fool you. While the almost disinterested sounding vocals and  lyrical subject matter may seem like the opposite of dance worthy music, the steady beat and the intermittent burst of synth are sure to get your head bopping to and fro. Then, when you have gotten yourself into a nice little groove you're hit with a jolt of energy just after the three minute mark on the track. Now I know to some waiting three minutes may seem like an eternity in our instant gratification world and with our ever shrinking attention spans, but patience is almost a must with this album.
However, that isn't to say that the album as a whole or any of the tracks in particular are tedious to listen to. With the majority of the tracks on This Is Happening coming in over 7 minutes long, I understand how one in search of something quick to dance their worries away in an abandoned warehouse might skip over this album. While yes this album isn't really ideal for the quick bursts of high energy many might be searching for, with the exception of the track Drunk Girls,  it is still a great album to put on if you want to dance. The length of the tracks allow for the listener to really get comfortable with the music and more time to dance to their heart's content. The playful and groovy synths that would seem at home in an 80s movies score and the well constructed beats keep things feeling fresh. These factors coupled with a common arc running  throughout almost all of the tracks create a rewarding experience for those unafraid of the long run time.
I could touch on the lyrical subject of matter of the album, but I'll leave that to you to think upon on your own. But if you really want some more insight into this album then be sure to check out this interview with front man James Murphy where he explains the process of creating many of the tracks as well as their meanings.
My favorite tracks off of this album are Dance Yrself Clean, One Touch, All I Want, I Can Change, and Home.  Even if you don't really feel like dancing, or aren't into it at all, this album is still a good listen so don't be scared away. But if you start to feel the power of the groove taking over your body, just go with it and I'm sure you'll be having fun despite any repressed memories about terrible school dances. Thanks for reading, happy listening, and hope to see you all on the dance floor next time!
Photo credit: https://sarahberms.files.wordpress.com/2010/07/lcd_this-is-happening.jpg