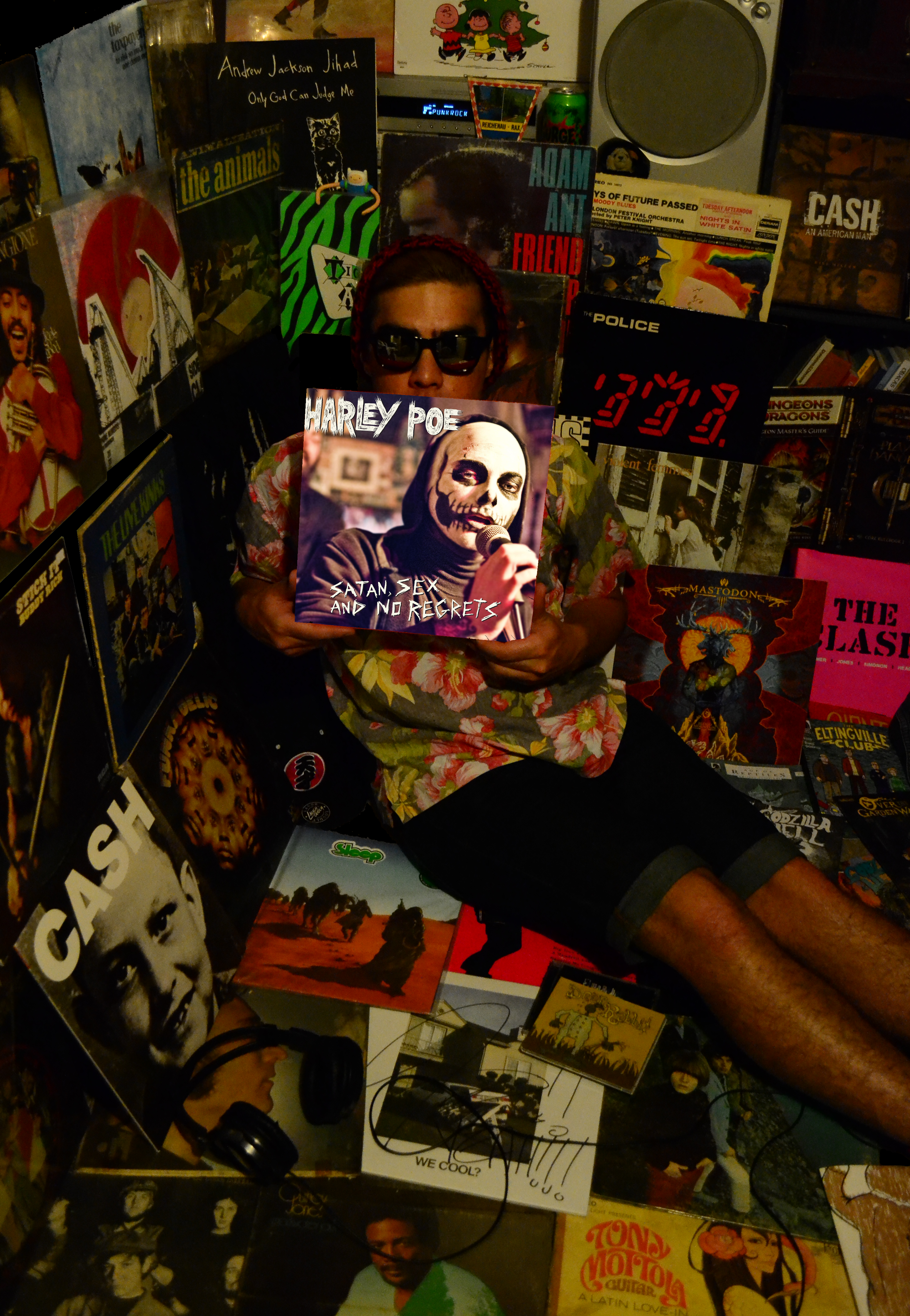 Hey there fellow cannibals and chupacabras, you're back just in time for this month's final spooky Souvenir of the Week. So far I dusted off the albums The Rocky Horror Punk Rock Show, Oooky Spooky, and Black Sabbath to help you all get into the haunting spirit of the holiday. Since the much anticipated holiday of Halloween is at the end of this week, I figured I'd give you a souvenir to really help you bring the inner monster out. This week's souvenir is the horror folk punk album Satan, Sex, and No Regrets by Harley Poe.
Harley Poe sounds as if The Violent Femmes and the Misfits had a kid, and then that kid got together with the kid of a Tales From the Crypt writer and that creepy banjo kid from Deliverance; and these two creepy folksie kids had a kid together and named it Harley Poe. Or, if my ridiculous analogy was too convoluted for you here is an excellent description from their facebook/bandcamp/record label:
It's not enough to say Harley Poe write songs about monsters. Harley Poe sing about being monsters. In the band's world, the vampires, werewolves, serial killers, and cannibals take center stage and become the protagonists onto whom we project our joys, our fears, and our failings.
This little blurb is pretty dead on explaining the subject matter of the band's music. Satan, Sex, and No Regrets is a perfect example of this, with tracks sung from the point of view of a vampire, murderous taxidermists, and other monsters. Tracks such as Ima Killer and Transvestites Can Be Cannibals Too discuss murdering people who have slighted the singer and cannibalism too. However, beyond the grotesque and grim nature of these songs there is depth in how they examine various aspects of life such as jealousy and even trans-phobia. The track Father McKee deals with child abuse, albeit in a graphic and possibly off putting way. If you want to read more about frontman Joe Whiteford's inspiration and see the lyrics to the songs click right -> here to check out his blog post about the album.
Now, the use of horror imagery and "extreme" lyrics to convey deeper and darker messages on society isn't all that new. Metal bands and Grindcore bands, not to mention numerous other types of bands have been doing so for a while now. What is interesting though, is how Harley Poe plays these types of songs in a style that isn't one of the usual macabre prone culprits. Of course the Violent Femmes and The Pogues both had the horror like folk songs, Country Death Song and Worms respectively, but Harley Poe seems to be one of the few, if  the only horror folk punk band around. This great folk sound of Satan, Sex, and No Regrets was intentional with Whiteford stating a desire to return to the bands original acoustic sound with this album, and boy does it really work. The upright bass gets your foot stomping, the guitar and guitjo make you want to dance a little bit, and the vocals are so catchy its hard to not start belting out "Ima Killer!" Next thing you know you'll forget that your windows are down and you'll start getting weird looks at intersections. Some great examples of this bands ghoulish groove inducing powers are Ima Killer, Everybody Knows My Name, and That Time of the Month.
My favorite tracks off of this album are Ima Killer, Everybody Knows My Name, That Time of the Month, Transvestites Can Be Cannibals Too,  Ouija, and Still Here. Whether you're creeping out your neighbors by singing along loudly or you're putting this on in your horror friendly holiday get-togethers, I'm sure you'll enjoy this final holiday treat. Hope you all have a spooky yet safe and frightful yet fun holiday, I'll be sure to wake up from my candy coma in time to catch all you cultists and corpses next time!
Photo credit: https://take2aspirinandslityourwristsinmourning.files.wordpress.com/2012/02/329677_10151273374540531_803415530_22850487_38118737_o.jpg