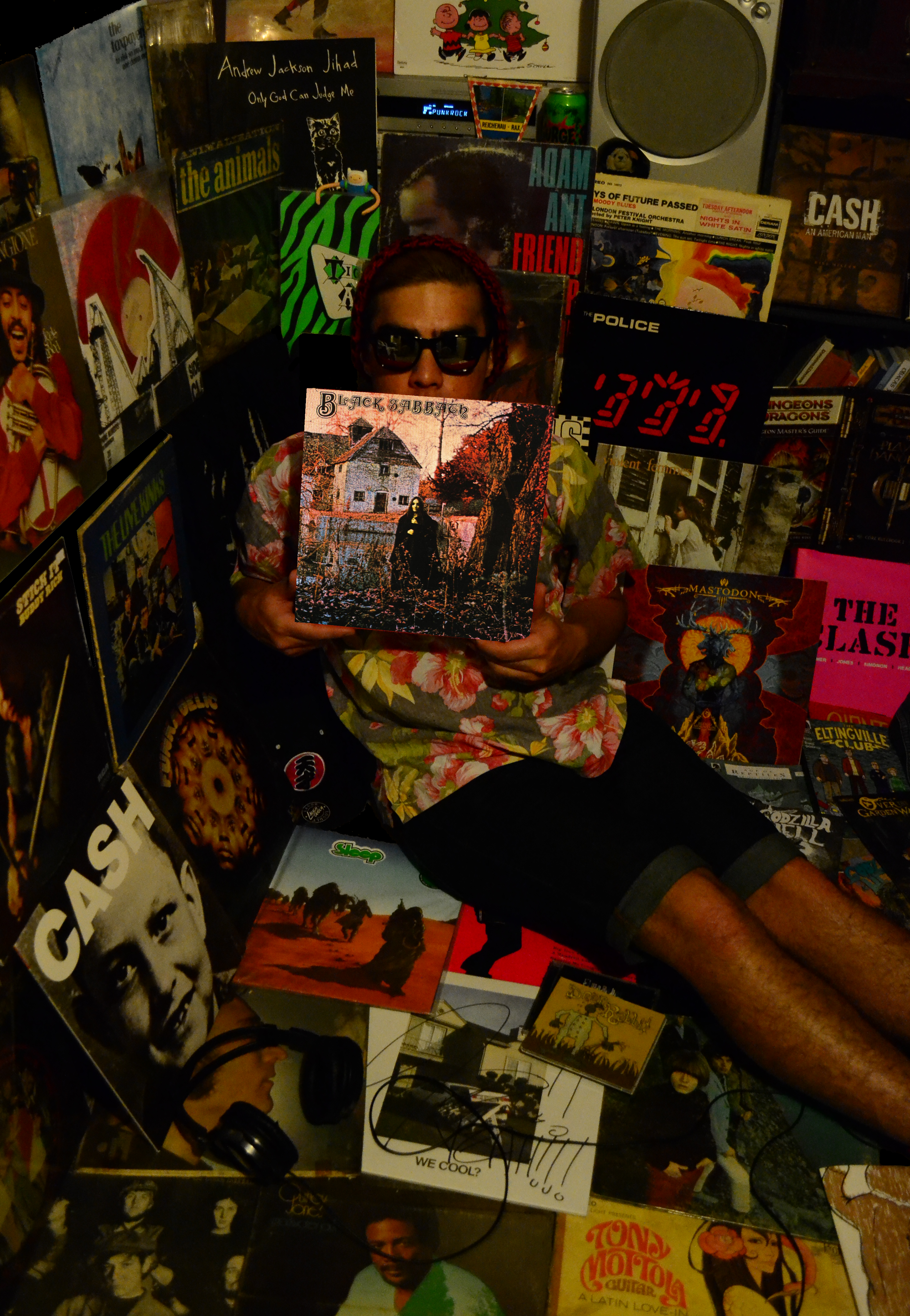 Hey there fellow skeletons and spectres, hope you all are having a wonderfully spooky October. In case you didn't know, all of the souvenirs this month have been chosen to help you get in the Halloween spirit. So far I've pulled out Ooky Spooky and The Rocky Horror Punk Rock Show from my hidden stash of Halloween supplies. For this Souvenir of the Week I wanted to share something that taps into feelings of Halloweens past where friends play with a Ouija board at the witching hour or jokingly perform occult rituals. So I dug really deep into my hidden stash and pulled out an album that perfectly embodies these eerie & mischievous feelings, without further ado here is Black Sabbath's eponymous debut album.
If you've been living in a tomb for the past 50 years and have never heard of Black Sabbath before now here is a super quick and simple run down: originally starting off as a heavy blues rock band Black Sabbath pioneered heavy metal music with the use of occult & horror themes, down tuned guitars, and the use of a diminished fifth / augmented fourth (I'll get back to what this thing is in a bit.) Formed around 1968 the band has released 19 studio albums and a coffin full of singles, live albums, and compilations; they are even still active to this day, about to embark on their final tour this coming year. With that background out of the way lets get on to the album at hand.
Black Sabbath is a great album on its own already, but it is especially great for the Halloween season. Themes and images of the occult, dark magic, and demonic entities are abound throughout the album. The titular track, which contains lyrics about a menacing dark, is inspired by an actual experience bassist Geezer Butler had, which he wrote about in the liner notes for their live album Reunion:
I'd been raised a Catholic so I totally believed in the Devil. There was a weekly magazine called Man, Myth and Magic that I started reading which was all about Satan and stuff. That and books by Aleister Crowley and Denis Wheatley, especially The Devil Rides Out…I'd moved into this flat I'd painted black with inverted crosses everywhere. Ozzy gave me this 16th Century book about magic that he'd stolen from somewhere. I put it in the airing cupboard because I wasn't sure about it. Later that night I woke up and saw this black shadow at the end of the bed. It was a horrible presence that frightened the life out of me! I ran to the airing cupboard to throw the book out, but the book had disappeared. After that I gave up all that stuff. It scared me shitless.
But the real star, the real reason the hairs will probably be standing on the back of your neck, is that diminished fifth / augmented fourth I mentioned earlier. If you've never heard of it before then you might know by its other name: diabolus in musica, which translates to "the devil in music." This tritone in the main riff of the track Black Sabbath was adapted by Tony Iommi from a piece of Gustav Holst's Mars that Butler played. Associated with Satan and evil in general for centuries in Western music, its no surprise that it still sounds downright menacing even 40+ years later. I recommend turning off the lights and listening to the opening track while looking at the album art if you want the full eerie experience.
If I were to describe the non-creepy parts of the album using another ridiculous Halloween metaphor, and you know I totally am, I would say that it feels like something that could have been playing in a Halloween crossover special of the movie Dazed and Confused and the show Freaks and Geeks. Tracks like Wizard and N.I.B. conjure up images of friends cruising through their neighborhood, rocking out in the back seat, and traditional Halloween mischief of egging or smashing pumpkins.
My favorite tracks off of this album are Black Sabbath, The Wizard, N.I.B., and Sleeping Village. Whether you just listen to this on your own or throw it onto your Halloween party playlist, I'm sure you'll enjoy it. That's all for now fellow spiders and snakes, happy haunting/listening and I'll see you all next time!
Photo credit: http://www.rockandrollgps.com/black-sabbath-black-sabbath-album-cover-location/