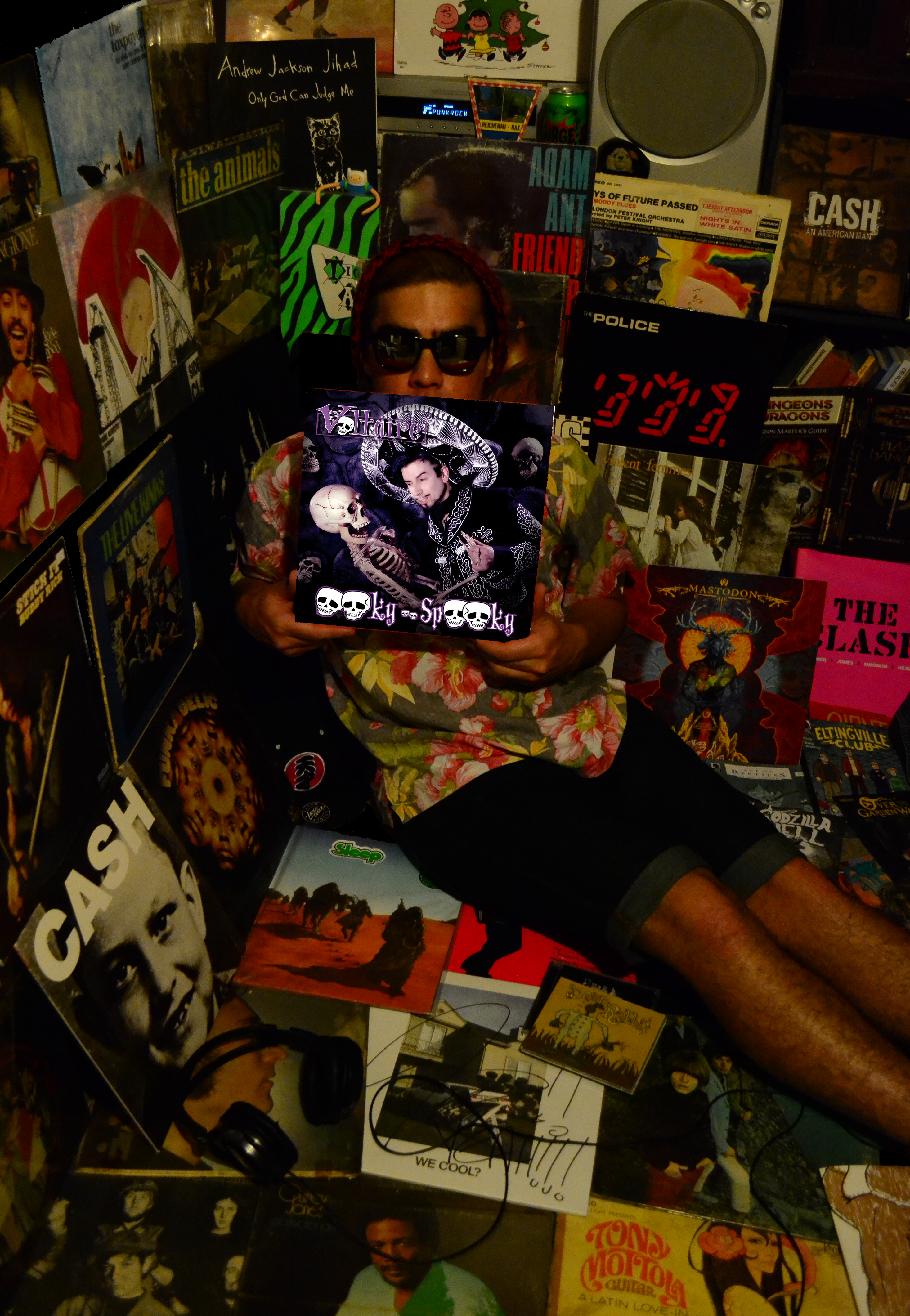 Hey there fellow monsters and mummies, you're back just in time for another Souvenir of the Week! As you know, for this entire month I'm sharing souvenirs that will help you get into the Halloween spirit, with last weeks being The Rocky Horror Punk Rock Show. This week I've got an album that is just as fun, silly, and "spooky" as the last one; however while Rocky Horror is no children's album, I should warn you that this album is a bit more raunchy/explicit. With that said, here's Ooky Spooky by Voltaire.
Voltaire, or Aurelio Voltaire as he as goes by now, has been hard at work for past 17 years now since his debut album The Devil's Bris came out in 1998. Ooky Spooky is the fifth studio release out of a total of ten, and that's not including his EPs or live album. If you have ever watched the show  The Grim Adventures of Billy & Mandy you may have actually heard one of Voltaire's songs before without realizing it. He wrote the song BRAINS! for an episode where a giant alien brain starts eating people's brains and he also wrote the opening song for the show's movie Billy & Mandy's Big Boogey Adventure. Both of which are actually pretty good songs on their own, with the latter being one of the tracks on Ooky Spooky. Oh, and fun fact: I'm terrible at segues!
Ooky Spooky is kind of like if goofy, silly, gross, and creepy Halloween grew up but didn't go down the route of excessive gore or trying to terrify people. That's just a complicated way of saying that the music is able to still be fun and silly while treading adult and absurd topics. You wouldn't think that'd you would want to dance a little bit to a song about sexual intercourse with a zombie, but then you listen to Zombie Prostitute and your whole world is turned upside down. Okay, not really though but it is kind of surprising when you first realize what he is singing about. But thanks to Voltaire's silly & clever wordplay and a great horn section the energy in most of the tracks on this album feels light and fun. Some great examples of this are the tracks Land of the Dead, Hell in a Handbasket, Day of the Dead, and Cannibal Buffet. Many of these tracks also have great string instrumentation and percussion, which combined with the horns gives the songs almost a big band jazz sound to them. Images of skeleton Big Band with a foul mouthed guitar playing demon as their band leader come to mind, and foul mouthed Voltaire is indeed.
Although every song on the album is more graphic and absurd than the "norm" there are a few that are extremely so, especially for anyone who is not familiar with the goth or dark cabaret genres. The tracks Cantina, Stuck With You, and Zombie Prostitute being the more extreme ones on the album, with the first being the worse of the three. But hey, I did say it was as if gross Halloween grew up didn't I?
My favorite tracks off of this album are Hell in a Handbasket, Land of the Dead, Zombie Prostitute, Cannibal Buffet,  and Day of the Dead. If you want to relive the gross not gory, silly not stroke inducing scary Halloweens of your youth this album is right up your alley. What better time of year to embrace the macabre, absurd, and gross than now? This album is great for when you're decorating for your Halloween party or when you're stuck in traffic and wish radio stations played Halloween related music like how they play Christmas music. That's it for now, so happy listening all you mothmen & manticores and I'll haunt you next time!
PS – Here's a link to the cartoon clip with the song BRAINS! <-
Photocredit: http://www.music-bazaar.com/album-images/vol3/202/202283/1310500-big/Ooky-Spooky-cover.jpg