Disclaimer: If you've every listened to my radio show or talked to me, you'll probably know that Twenty One Pilots is my favorite band in the whole world. This is the 7th Twenty One Pilots show I've been to.  I love everything about them and their music. You're about to read my recount of Friday night's show. It may not be the most objective piece of writing. 
Twenty One Pilots played to a sold out crowd here in San Diego on Friday night.
Tickets sold out months ago, and for good reason. They put on a fantastic show. Twenty One Pilots offers a unique and genre-resisting music style paired with an extreme energy and intensity in their live performance. What the duo lack in band members, they more than make up for in performance.
Since first  signed to music label Fueled By Ramen back in 2012,  Josh Dun and Tyler Joseph have built up a devoted fan base here in San Diego and all over the world. When I first saw them in San Diego three years ago, the band played at the Irenic in North Park. That venue held no more than a couple hundred people. Now three years later, the band returned to San Diego for a sold out show on the SDSU campus in an amphitheater that seats over 4,500 people.
The band is on tour promoting their new album Blurryface, but their set was not limited to new music. Joseph and Dun joined together center stage with an electric drum set and keyboard to play a medley of old songs. Particularly exciting to old fans was the inclusion of the lesser known song Forest. When the song began to play Joseph introduced it as "only on YouTube".
Joseph had more than one YouTube only song on hand. Ukulele cradled to his chest, he serenaded the audience with his cover of Elvis Presley's Can't Help Falling in Love.
The lead singer was constantly changing instruments. He moved between piano, ukulele, electric keyboard and bass guitar. Drummer Dun spent most of the night banging away on his drum set. Midway through the show though, he surprised the audience when he put down his drumsticks, pulled out a trumpet, and played a  solo on the song We Don't Believe What's on TV.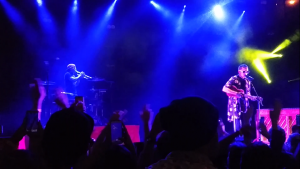 Concert goers were treated with new and old songs alike. Radio hits Tear in My Heart and House of Gold were performed in the set as well as fan favorites such as Car Radio and Stressed Out.
The interactive and theatric approach to their live set is what makes Twenty One Pilots stand out. From masks and make up to instrument changes and climbing on the crowd, the band knew how to keep their audience engaged. Their music doesn't truly come alive until it's been played out on a stage.
A haunting rendition of Goner was perhaps the highlight of the night. Joseph cried out the lyrics as he banged the piano keys in sync with Dun's drum beat.
When the stage went black, passionate chanting of "one more song" filled the amphitheater. The band returned to the stage and ended the show with what they explained was their favorite song to do live, Trees.
Twenty One Pilots have moved on from San Diego and are now making their way around the United States.Come November, the Blurryface tour will move across the pond to Europe. Tour dates  around the world are set and selling out fast all the way from now until April of next year. Fingers crossed that 2016 sees them back in San Diego again.