Every San Diego State University student has their own style and it is their way to express individuality. Students may have different backgrounds and interests in clothing, but what they have in common is being an Aztec. Welcome to Fashion of the Week: Aztec Attire. My mission is to promote and show the increasing diversity of this campus.
---
Welcome back to Fashion of the Week: Aztec Attire! The weather has warmed up and everyone has put the sweat pants, hoodies and umbrellas back in their trunk.  Aztecs are back with their iced coffee walking on dry ground with frantic faces as midterm week approaches.
Midterm week means we are half-way done with the semester! Aztecs, give yourself a pat on the back because you have officially entered the month of March. This means there are three weeks left until Spring break and two months until Summer. Regardless, it is feeling like Summer as it is and Aztecs are rocking their styles like there is no tomorrow.
---
 Rainbows & Best Friends 
Bridgette Lazaro is a biology major who loves skirts and long socks. The various colors expressed in her outfit reflect who she is. Her hair has even taken this colorful journey with her. "My hair has been every color in the rainbow," said Lazaro.
Lazaro said her friends are what she loves the most about SDSU. She met many of her good friends through simply being an Aztec. This gives a great reassurance to the saying, "The friends you meet in college become part of your life-long relationships."
 The Hawaiian Shirt 
Jake Solomon is a sophomore in mechanical engineering. Solomon's Aztec Attire is matching the weather this week. This bright weather calls for a bright shirt.
Can you guess what his favorite hobby is? The clue is in the photo itself. Solomon said he likes skate boarding. San Diego is the perfect place to be able to stroll around in his skateboard.
Solomon is originally from New York. Thank you to the sun Gods we have here in California because it is a blizzard storm in New York right now. Solomon's skateboard would be hibernating if he were back in New York right now.
"I love the weather here. I love it here," said Solomon.
Colors & Prints
Frida Ocadiz-Ortega is a communications senior. The bright colors and fun prints is what attracted me to snap a photo. Her lively outfit expresses the lively personality she has. She said that she loves Zumba and is really good at it. "It makes me feel like I'm in the club," said Ocadiz-Ortega.
Ocadiz-Ortega has a list of what she loves about SDSU:
1. People
2. Diversity
3. International students
4. Professors
5. Amazing weather
"I like the shirtless guys who do the ropes out here, too." said Ocadiz-Ortega.
The Graphic Designer
Emile Morlet is a senior. His style expresses the look of an artsy person, which he is. He is a graphic designer major. His hobby is also to make music.
Morlet said one of the favorite articles of clothing he likes to wear is a leather jacket.
Morlet said he loves the diversity of the campus and in San Diego in general. He said California is cool because you can easily go to Tijuana, then San Diego and even Los Angeles all in one day.
Fun In The Sun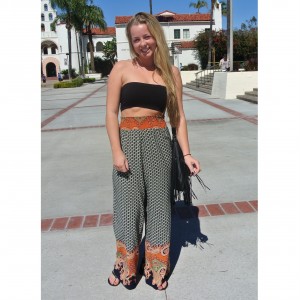 Matilda Wildey is a criminal justice and political science major who loves the sun. She is expressing how much she loves the San Diego weather through her outfit.
Loose clothing is a must when it is scorching hot especially at SDSU. It feels 10x hotter walking around this gigantic, non-shade campus. The sun is truly blazing down on Wildey in this photo.
Wildey said she also loves the people here on campus and in San Diego.
Fun, random fact: She is originally from Sweden.
Music Lover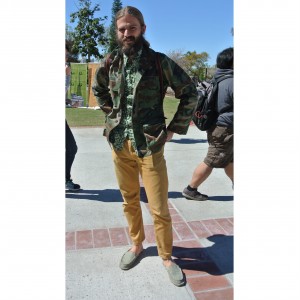 Joe O'Quinn is a music composition junior. He is demonstrating individuality by expressing earth-colored tones and prints in his outfit. His entire look is put together very fittingly.
O'Quinn is a transfer student, so it is his first year at SDSU. He is not used to seeing so many faces on campus, but he enjoys it because it gives a chance to interact more.
O'Quinn said he loves the people on campus because there is a variety of them.
---
Thank you so much for reading this week's fashion column. Tune in next week for more Aztec Attire.
Click below to read my last 3 posts!
---
Come listen to the "It's Glam Cam" show on KCR College Radio! I am live on air every Thursday from 2-3 P.M. My show is not only about fashion, but I also play the top hits on the billboard and music of all genres. I discuss SDSU events and San Diego events. I have games with guest features, different segments and so much more!
Find your inner GLAM!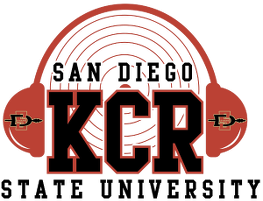 Camelle Sison
Blogger & Radio Host
KCR College Radio
glamwithcam@gmail.com