Every student has their own style and it is their way to express individuality. Students may have different backgrounds and interests in clothing, but what they have in common is being an Aztec. My column is Fashion of the Week but it is taking a different route than usual.
I came up with "Aztec Attire" because I do not want to focus on a specific clothing item or accessory anymore. I do not want to ignore a person just because my topic for the week is a hat and he or she is not wearing one. I want a random sample so that every Aztec has a fair share inclusion. My mission is to promote the increasing diversity of this campus.
---
It is starting to warm up academically and in our forecast. Aztecs are almost a month into the semester and classes are starting to pick up, but at least SDSU gets to enjoy this sunny weather. This week on Aztec Attire we have a variety of styles being shown.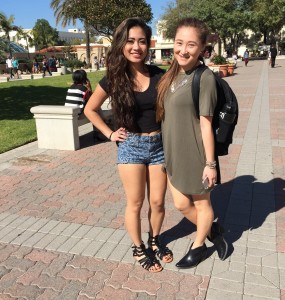 Dixie Cirilos (left) – freshman, nursing major.
Shannon Canizalez (right) – freshman, international economics major.
These beautiful ladies are expressing both trendy and chic styles.
Cirilos is keeping cool in her crop top and shorts while Canizalez styles a forest green t-shirt dress. It was close to 75 degrees this week, so loose clothing was essential for a proper Aztec Attire.
Canizalez said she likes to wear pajamas and yoga pants to class. Cirilos agrees and adds how shorts are her usual go-to piece. Their preference is anything comfortable.
Dez Sison – freshman, computer science major.
Sison is wearing a long sleeve button-up with a coat because of the morning chill. "I usually just wear T-shirts as my go-to style," said Sison. She is in SDSU's ROTC and has to be in uniform for part of the week. She takes advantage of the days she can express her style, so you will not find her in pajamas or sweat pants.
Her top 3 clothing pieces for class are:
Hats
Pants
Converses or Nike Free Runs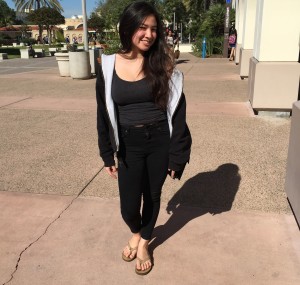 Diana Munoz – freshman, physics major.
Munoz is all about comfort. "I always wear long sleeves even if it's hot," said Munoz. Despite the warm weather, her go-to clothing items will always be jackets and long sleeves. She loves to wear the color black and she tops off her outfits with a pair of sandals.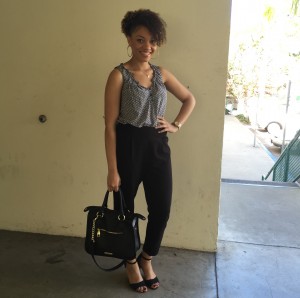 Raquel Herriott  – senior, journalism major.
Herriott is all about business. Her Aztec Attire is a business casual look paired with black heels. She said she toughs it out when she wears heels all day. Her usual look for school is similar to what you see above because she normally comes from work. She is expressing her professional side very fittingly.
Herriott's black bag is a trending accessory. A black bag is a staple accessory every woman should have because they match with just about any outfit.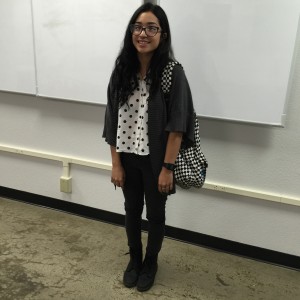 Yareli Parga – junior, geology major.
Parga's is expressing a dark and light look. She has shades of black and grey with a pop of white. Her Aztec Attire is all about expressing herself and her individual style. Her top five favorite items for school are:
Jeans
High-waisted pants
T-shirts
Sneakers
Platforms
Platforms are climbing to the top of the trending list. They are comfortable, but to a certain extent. You definitely cannot be walking in them for a long period of time. "If I am not at school all day, I'll wear my platforms," said Parga.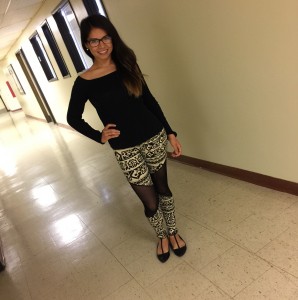 Natalia Sevilla – senior, journalism major & a minor in theatre
"Leggings are so comfy," said Sevilla, "I'm at school all day so leggings are always warm and comfortable to wear."
For people who are on campus all day, she suggests buying the BCBG Ultra Light Weight Packable Down jacket. This jacket shrinks to fit in your backpack and keeps you warm for your night classes. "It is $60 and the best investment I've ever made," said Sevilla.
---
Thank you so much for reading this week's fashion column. Tune in next week for more Aztec Attire.
Come listen to the "It's Glam Cam" show on KCR College Radio! I am live on air every Thursday from 2-3 P.M. My show is not only about fashion, but I will also be playing the top hits on the billboard and music of all genres. I will discuss SDSU events and San Diego events. I will have games with guest features and so much more!
Find your inner GLAM!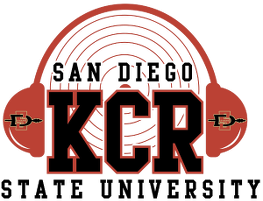 Camelle Sison
Blogger & Radio Host
KCR College Radio
glamwithcam@gmail.com