Every student has their own style and it is their way to express individuality. Students may have different backgrounds and interests in clothing, but what they have in common is being an Aztec. Welcome to Fashion of the Week: Aztec Attire. My mission is to promote and show the increasing diversity of this campus.
---
San Diego State University students never fail at expressing their uniqueness. This past week, the weather has dropped a few degrees but Aztecs are looking hotter than ever.
Drummer Boy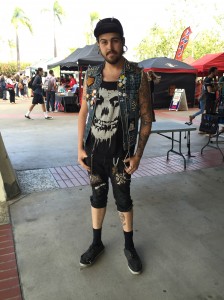 Rikk Cavin is a psychology junior who has his own style that fits the appearance of the band he is in. He plays the drums for a band named "They Feed at Night." He said he usually dresses the way he feels like. There are some days that he will wear pajamas, pants or dress up completely. "My band has a show on Saturday," said Cavin.
Future Nurses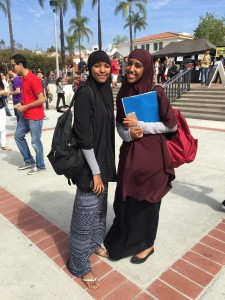 Aisha (right) and Asma (left) are nursing majors. Their outfits not only reflect individuality, but diversity. When asked about their favorite aspects of SDSU that they love the most, their first answer was diversity. The diversity on campus is growing and it is heart-warming to know that it is a very prominent characteristic that students see. "We love the farmers market and the library as well," said Aisha and Asma.
World Saver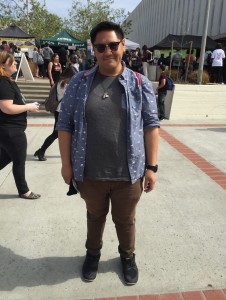 Raymond Vera Cruz is a fifth year sociology major. The top three items that he loves to wear are:
Running shoes
Joggers
Chambray
If you look carefully, the print on his button-down are dinosaurs. The color matches with his pocket T-shirt, which has a subtle polka dot print.
When asked to tell KCR something about himself, Vera Cruz said, "I'm going to save the world."
All About Business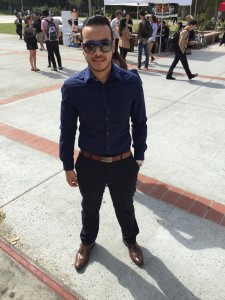 Emilio Tapia is a fourth year biology major with a business minor. His business casual look suits him very fittingly. He is dressed for all manners dealing with professionalism. Tapia usually has work after classes so he comes dressed and ready to go. On other days he goes casual with simple jeans and t-shirts.
Fun, random fact: Tapia has his own business.
 Triple Threat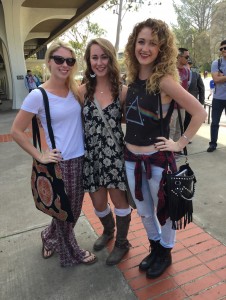 Erin Mcclafferty (left) is a business freshman.
Hannah Holm (middle) is a psychology freshman.
Madison Wilcox is a communications freshman.
These ladies are prime examples for how diversity on campus can lead to great friendships. They look like best friends that have known each other for years, but they all met at the beginning of the school year. These three ladies come from different cities and all met by the simplicity of being Aztecs.
Mcclafferty said she is from New York and her favorite clothing item to wear are sweat pants.
Holm said a random, fun fact about her is that she loves cats. "It's like my spirit animal," said Holm. Her usual outfits are dresses paired with boots.
Wilcox is from a small city called Walla Walla in Washington. She said she really loves it here in San Diego. Her favorite items to wear are combat boots and flannels.
Color Pop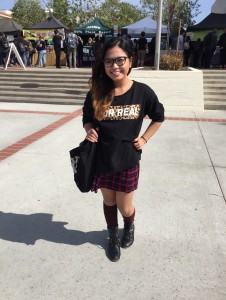 Elyssa Enguancho is a second year liberal studies major. She said she likes to wear black a lot because she can easily add a pop of color to the outfit. The photo above is an example of that. Enguancho said dressing casual is her favorite look along with comfy sweaters.
 Fun, random fact: She has a growing collection of long socks.
 Royalty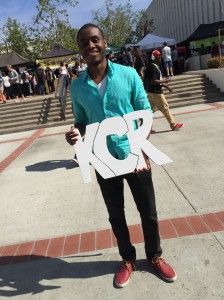 Jhamar Sanders is a fourth year computer science major. He is holding the KCR sign nice and proud.
When asked about his favorite items to wear, Sanders said, "Jeans… that I maybe got from true religion and a gold tank top that I have that is actually made of gold. I just want to feel like royalty."
He mentions that he is just kidding. His favorite item to wear is button-ups.
Sanders has a humorous personality. He definitely reflects the meaning of diversity on campus.
Fun, random fact: "I secretly like to watch chick flicks."
---
Thank you so much for reading this week's fashion column. Tune in next week for more Aztec Attire.
Come listen to the "It's Glam Cam" show on KCR College Radio! I am live on air every Thursday from 2-3 P.M. My show is not only about fashion, but I also play the top hits on the billboard and music of all genres. I discuss SDSU events and San Diego events. I have games with guest features, different segments and so much more!
Find your inner GLAM!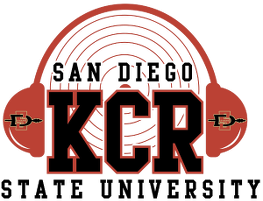 Camelle Sison
Blogger & Radio Host
KCR College Radio
glamwithcam@gmail.com