Expressing Fashion Through Words 
---
There are a variety of avenues that motivate my aspirations that I would love to share. It is simple quotes that I read every day. In the morning, I spend a quick ten minutes exploring for words that energize my mind. It helps start my day with positivity. My routine also includes reading these stimulating quotes throughout the day while I am at school, at work and at night before bed.
My mission in life is to share my love for life. I combine my passion for journalism and fashion in hopes to inspire you all to reach for the stars when it comes to your dreams.
Below are my favorite quotes that give a constant reminder to your mind about never giving up. Some may be fashion-related, but all have one purpose: self-love.
"Don't look to the approval of others for your mental stability."

"Style is knowing who you are."

"Vibrate good energy into others soul; making them never forget the beauty of yours."

"Your attitude is like a box of crayons that color your world. Constantly color your picture gray, and your picture will always be bleak. Try adding some bright colors to the picture by including humor, and your picture begins to lighten up."

"Having a soft heart in a cruel world is courage, not weakness."

"Happy is the new black."

"Never underestimate the power of your mind and heart. What you believe and think is possible is truly possibly if you want it bad enough."

"Frustration, although quite painful at times, is a very positive and essential part of success."

"You're going to go through tough times – that's life. But I say, 'Nothing happens to you, it happens for you.' See the positive in negative events."

"Motivation is what gets you started. Habit is what keeps you going."

"I don't believe you have to be better than everybody else. I believe you have to be better than you ever thought you could be."

"The most important thing to remember is that you can wear all the greatest clothes and all the greatest shoes, but you've got to have a good spirit on the inside. That's what's really going to make you look like you're ready to rock the world."

"Be thankful for the difficult people who have entered your life that have tried poisoning your spirit. They should show you exactly who you don't want to be."

"Your work is going to fill a large part of your life, and the only way to be truly satisfied is to do what you believe is great work. And the only way to do great work is to love what you do. If you haven't found it yet, keep looking. Don't settle. As with all matters of the heart, you'll know when you find it."
---
Here is a "Quote of the Day" segment of my It's Glam Cam radio show. Watch and listen carefully to one of my favorite quotes. I have a response to it that I hope keeps you optimistic about life:
---
I hope you all choose positivity every day when you wake up. I have a mission to decrease the negative energy brought into our lives from internal and external stress. However, it will be you that has the final decision on where to direct your mind towards handling the rough times. Choose the direction of ambition.
---
Thank you so much for reading this week's fashion column. Tune in next week for more Aztec Attire.
Come listen to the "It's Glam Cam" show on KCR College Radio! I am live on air every Thursday from 2-3 P.M. My show is not only about fashion, but I also play the top hits on the billboard and music of all genres. I discuss SDSU events and San Diego events. I have games with guest features, different segments and so much more!
Find your inner GLAM!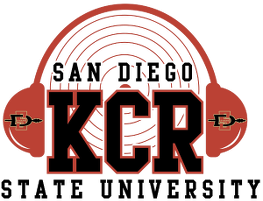 Camelle Sison
Blogger & Radio Host
KCR College Radio
glamwithcam@gmail.com