There is no doubt that we are currently in the midst of a Presidential race that our children will ask us about and that will be written into history books. It's an interesting time in our country to say the least. I'm not one to put my two cents in about political matters online, but many musical artists use their music as a platform to do so. This week's mini playlist is what I like to call Politically Driven Radio. Here are a few songs driven by politics or some sort of political issue that may just get you thinking
1.God Save The Queen- The Sex Pistols
According to Stephen Thomas Erlewine of allmusic.com, the BBC banned this song because of its anti-royalty language. Although the Queen doesn't actually run England (I'm laughing at you if you thought she did.), she is still a notable and respected figure. This song was released in 1977, when rock and roll was still relatively new, making the added political element extra scandalous. With a name like The Sex Pistols, there's bound to be controversy, even if they only lasted a couple of years.
2. Two Weeks From Twenty- Yellowcard
This song touches on more recent issues concerning the United States involvement in foreign war. Perhaps the most provocative line of the song is, "There's still no shame from the man to blame". Released in 2006, during the George W. Bush presidency, we are only left to assume who the man to blame is intended to be.
3. Hero of War- Rise Against
Another account of the United States involvement in foreign wars, "Hero of War" tells the story of a young military member, presumably fighting in foreign conflict around the time of the 2008 album release. The graphic detail of this song can make it tough to listen to, but it may get you thinking about some issues that have never crossed through your brain before.
4. Buffalo Soldier- Bob Marley & The Wailers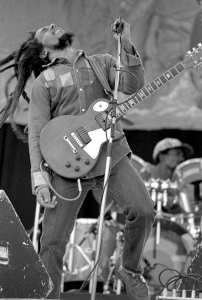 One unfortunate part of our country's history that many don't like to talk about or remember, slavery, is touched on in many forms of art. Although slavery has been abolished, racism is still an ever present political and social issue in America. Bob Marley tells this tale of the slave trade through music, singing   "Stolen from Africa, brought to America" "Fighting on arrival, fighting for survival"
5. April 29, 1992 (Miami)- Sublime
The image above is of the Watts towers in Los Angeles, an important area in the 1992 riots. You may or may not have been alive in 1992. Even so, you've probably heard about the Los Angeles riots that occurred after the police brutality instilled upon Rodney King (If this doesn't ring a bell, google it). This song gives an account of riots that occurred all over the United States as an outcry against racially motivated police brutality. Has much changed surrounding this issue in the last 24 years? I'll let you be the judge.
Listen to and follow the playlist here! 
For more information on voting and a non-partisan view on the candidates take a look at the KPBS Voter Guide.