When I heard that Fall Out Boy was coming to SDSU, my inner 13 year old freaked out a bit. For years I said that I would see them, and never did. So, on the day of the show, I threw caution to the wind and spent that 30 dollars on a ticket. I DID NOT regret it.
I was surprised to see Fall Out Boy open up with "Phoenix," but it totally fit the comeback feel. After the opening, there was a series of old and new songs such as "Irresistible," "Hum Hallelujah," "Sugar We're Going Down" and "Save Rock and Roll."
The first half of the show was great, but it seemed a little slow. It wasn't until we started to see the stage change into 2 platforms that the show really picked up. Elevated over the crowd, drummer Andy Hurley performed a compilation drum solo – and then it happened! With all members of Fall Out Boy now on platform stages, they performed "Dance, Dance" and everyone went nuts!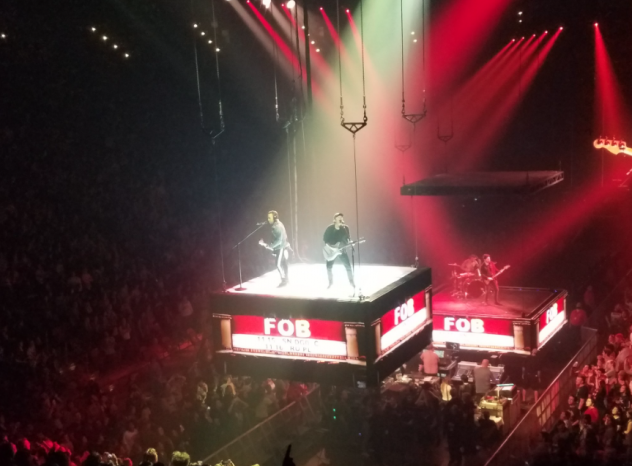 Following the classic single, Fall Out Boy debuted some new songs that will be off their album this January. As someone who predominantly enjoys old Fall Out Boy jams, I liked the new song, "Wilson (Expensive Mistakes)," but was not a big fan of "Hold Me Tight, Or Don't." Personally, I thought that "Hold Me Tight Or Don't" sounded nothing like the Fall Out Boy I came to love. The song sounded especially pop and didn't seem to fit in with the set after some of their older songs.
As if they read my mind, the following four songs performed by the band were all good ol' Fall Out Boy songs. One of these was "Grand Theft Autumn/Where Is Your Boy," a song that came out in 2003 while Fall Out Boy was still signed under Fueled By Ramen. I truly felt like a teenager all over again!
The band came back out for a three song encore, ending with "Saturday." It was a surprising closing song, considering that the song before it was "My Songs Know What You Did In The Dark (Light Em Up)" and the crowd practically chanted every lyric. But, to those who love old Fall Out Boy songs, "Saturday" was pretty epic! Overall, the band did a great job of infusing new and old songs, sure to please both new and old FOB fans. When they come back to town, I 100 percent recommend seeing them if you're looking for a truly nostalgic experience.
Featured Image: Retrieved from here.