In a music scene where indie credibility is everything, New Jersey based band The Front Bottoms went against the conventional. With simplistic chord progressions, erratic drumming, blaring trumpeting and angsty yet obscure lyrics, The Front Bottoms have made a name for themselves on their own terms.
Last month they dropped their sixth album, "Going Grey" with their new record label Fueled by Ramen. This album takes a different but pleasing approach to their classic sound. In songs like "Vacation Town," "Raining" and "Grand Finale," the band embraces synthesizers and other production elements previously unheard in their sound. These subtle incorporations, however, are fitting and show the band's matured musicianship.
Three days before their concert at the House of Blues on Nov. 10, The Front Bottoms announced an in-store performance at M-Theory Music. I had the opportunity to watch them perform acoustic versions of new tunes and fan favorites. Manned with his acoustic guitar, Brian Sella sang about middle fingers, steroids and bong rips as the crowd enthusiastically sang back. The two necked electric guitar was also a nice touch. The music store's crowd was intimate and laid back, but it was a whole different story for the audience in the House of Blues.
The concert was packed and the crowd was insane. BadBadHats first performed and they rocked their set. Afterwards, Basement took the stage and that's when all hell broke lose. Stuck in the middle of the pit, I pushed and shoved concertgoers like my life depended on it. Nevertheless, I still sang/yelled along to bangers like "Aquasun," "Pine" and "Bad Apple." Apparently, some people got so hyped and aggressive that a fight broke out. Finishing their set with their lead single "Promise Everything," Basement thanked the audience and we were left waiting in restless agony for the main act.
Soon, The Front Bottoms walked onto stage. They opened with "You Used to Say (Holy F*ck)" and then lead into "Skeleton." And the crowd went wild. The atmosphere, however, was different. It wasn't aggressive, and was instead full of good vibes and happy moshing. From start to finish, I belted the words to every song like I had my heartbroken by a non-existent lover. In contrast to the crowd's energy, the band was laid back as ever. Kicking off their shoes and making the venue their home, they put on a spectacular show. Matt Uychich (drums) set the pace for the band with his unorthodox rhythm. Brian Sella's booming voice in songs like "The Beers" and "Tattooed Tears" sent the crowd into an angsty frenzy. The night was blur.
Despite the sweaty mess I was, the concert had its fill of special moments. When Jen the trumpet player had her solo in "2YL" (one of my favorite TFB songs), the pit opened up and the crowd moshed. I had never seen a crowd go crazy to a trumpet solo until that night; it was definitely a sight to see. "West Virginia" and "Vacation Town" were other fan favorites and the audience was equally as wild. The band closed the show with "Lonely Eyes," a very old song from their 2008 self release "I Hate My Friends," as well as "Flashlight" and "Ocean."
Thank you The Front Bottoms for the best and craziest concert of my life. Despite getting pushed, shoved and punched the entire night, I had so much fun. I highly recommend seeing The Front Bottoms live. Their acoustic driven music is energetic and unique, and deserving of more recognition.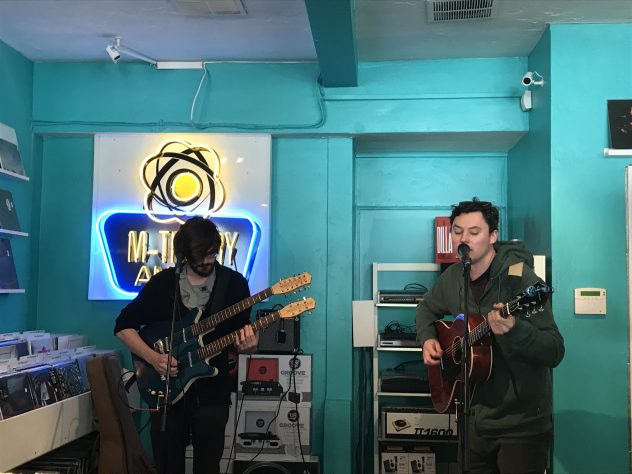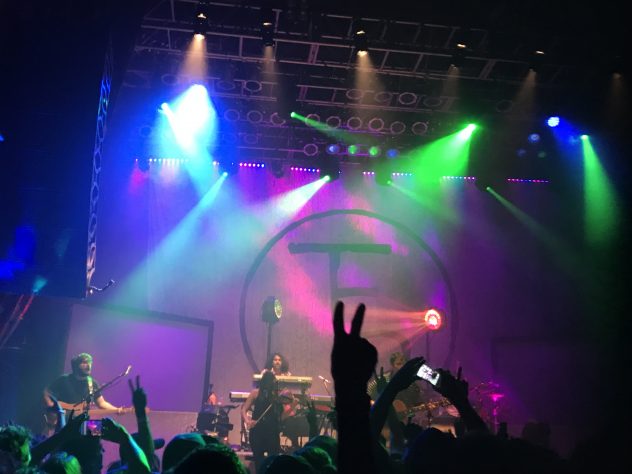 Featured image taken by Dane Burns