With high concern and hysteria filling our news feeds, it is important to address the new coronavirus, also known as COVID-19 (Coronavirus disease, 2019).
In regard to, San Diego State University all university study abroad programs to China, South Korea, and Italy have been cancelled. Since there are confirmed cases in San Diego, certain institutions have decided to do virtual classes as an extra precaution. On March 12th, 2020 the entire student body received word that classes will be shifting online after March 13th, 2020. More information is provided here regarding SDSU.
COVID-19 Myths
Since this virus seemed to take a racial turn, I just wanted to address that a virus cannot infect a particular race or ethnicity. Infections and diseases are essentially a great equalizer because anyone can get them. Also, I am not sure if this was a joke, but coronavirus has nothing to do with corona beer.
The Science Behind It
Coronavirus is a disease that came from an animal source. Check out this video to get more of an explanation of the transmission. This new coronavirus is different strand that is my lethal. Since this virus is different, research is currently being done. Currently, we are in a period of uncertainty which is mostly causing this hysteria. COVID-19 is easily transmittable as it is a respiratory illness, and the illness is transferred by respiratory droplets.
The symptoms for COVID-19 may be fever, cough, and shortness of breath (CDC, 2020). Those symptoms may occur 2 – 14 days after exposure, however, if you feel that you have been exposed it is important to call before you go to warn your medical provider and make sure they have the proper tests for COVID-19.
Moving on, these groups are at high risk if exposed to the virus: older adults, individuals with chronic diseases and compromised immune systems.
Ways to Stay Safe
Here are a few ways to help prevent the spread, according to the CDC (2020):
Avoid close contact with people who are sick and stay home if you are sick
Avoid touching your eyes, nose, and mouth with unwashed hands
Wash your hands often with soap and water for at least 20 seconds
Use an alcohol-based hand sanitizer that contains at least 60% alcohol if soap and water are not available
Clean and disinfect surfaces
Finally, some takeaways are 1) stop being racist, because viruses can not target one race or ethnicity. 2) this coronavirus strand is new so stay up to date with information. 3) Take precautions and for the love of all that is good cover your cough or sneeze with your upper sleeve not just your hands.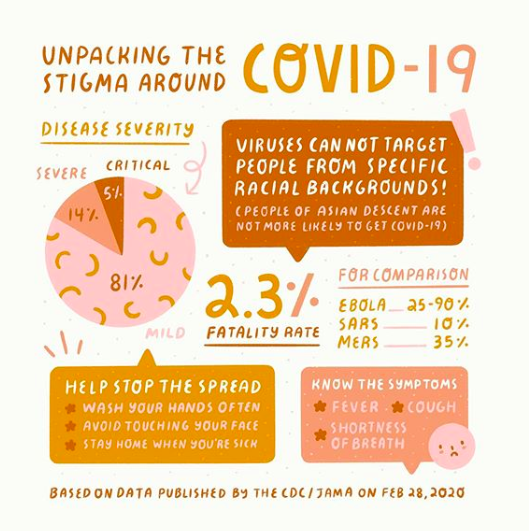 Centers for Disease Control and Prevention. (2020, February 13). Coronavirus. Retrieved from https://www.cdc.gov/coronavirus/index.html
Written by: Jasmine Alexander