Has DC done it?
Has DC FINALLY got the movie that will save their franchise?
Just a couple days ago, the studio finally released the full length trailer for the stand alone movie for our wondrous heroine, with the release date of June 2nd, 2017. As if her first appearance in Batman vs. Superman didn't get the audiences alike hyped enough, now her trailers finally have the fans rejoicing.
From the introduction of possible antagonists and baddies, to our love interest played by Chris Pine, the trailer doesn't fail to highlight Gal Gadot in action as our Amazonian warrior.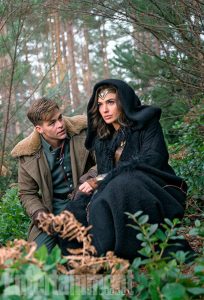 We not only see her beautiful homeland, but her many Amazonian sisters and the assembly of her famous suit. As well as a mysterious woman, with what seems to be like a doll-like mask on her face. Many have speculated her to be Dr. Poison, a villain seen in the comic books as a man (now portrayed by Elena Anaya) who has vast knowledge of various and deadly poisons.
(Source: DC Studios via themovieblog.com)
So back to the question at hand: is this enough to help raise DC from the ashes that was Batman vs. Superman?
Even die hard Marvel fans have to give DC their props, as the recent Doctor Strange trailers and clips haven't nearly conjured the amount of support and hype that Wonder Woman did in her full length trailer. And that's with the premiere of Doctor Strange on November 4th, and with reviews that are fairly decent and even claim that the movie will do well!
But because of all the controversy and bad press this movie has gotten throughout the lead up of its premiere, it looks like fans may be giving this Marvel movie a hard pass. (Not this gal though, you can expect to see me in the theaters regardless.) On top of this, it doesn't help that Marvel has had very little success in the recent portrayals of female protagonists on the big screen, with their small screen heroines being their lone exception. (i.e. Jessica Jones)
So it's fair to say, that DC has a considerably clean slate, in that aspect. Not only will they be the first to have a female lead in her own stand alone movie, but it also is a chance to gain back those fans they may have lost in their recent movies. In my opinion, as I love both franchises, I think DC NEEDS Wonder Woman to go well. This movie may very well be their saving grace if all goes well, or the last nail in their coffin if they fail.
But what do you think? Does DC finally have the upper hand on Marvel? Will Wonder Woman save the day, or will DC let us down once more? Let us know!
And, if you found this topic interesting, or at the very least appreciate my subtle nerdy references and puns, I host an evening talk show on Saturdays at 7 PM PST! The show is called "Bingeworthy", and I cohost the show with my friend Kentaro Kawasaki. Come tune in Saturday nights and follow us on Facebook/Instagram/Twitter/Soundcloud at @KCRBingeworthy.
(Header Picture: Source – DC Studios via mercwithamovieblog.com)