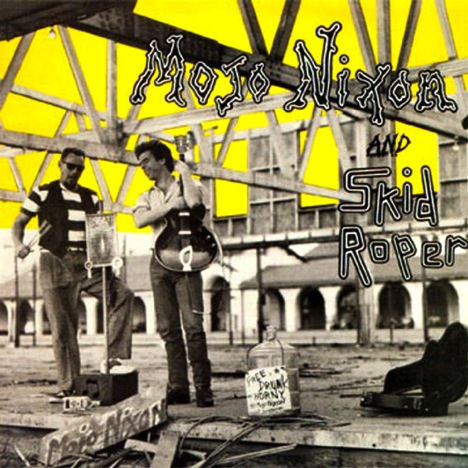 Listen to the full album on YouTube at http://www.youtube.com/watch?v=zW-s6Ljr51w

Album: Mojo Nixon and Skid Roper
Artist: Mojo Nixon and Skid Roper
Label: RBI Records/Enigma
Year: 1985
What's so great about it: Mojo Nixon is super crazy. And not for the easily-offended. He skewers religion, objectifies women, promotes psychedelic drug use, and sings almost exclusively in politically incorrect phrases. But it's all in good fun! Nixon is on vocals and guitar, Roper is on "upright washboard and other stuff." This is their first album together, and the duo and Nixon solo would go on to have a handful of semi-hit songs that made it to MTV and VH1. As absurd and nonsensical as he comes off, Nixon reveals in interviews that there's a lot of thought and politics that go into his music. He has a degree in political science. He's known for his outlandish stunts, and has feuds with everyone from Don Henley to Tim Tebow to the entire Republican party to Michael J. Fox to the Westboro Baptist Church. Both Nixon and Roper are from San Diego, and it's full of shout-outs to certain neighborhoods, streets, and landmarks, which are fun to pick out in the songs.
What's it sound like: Ever wondered what punk country would sound like? It's called cowpunk, and this is it. Plus blues and psychobilly. It's pretty rockin'. Though Nixon's music spans multiple genres, the punk community is fond of his political messages and he collaborated with Jello Biafra of the Dead Kennedys. Nixon had previously played in a Clash-y punk band in Denver, called Zebra 123, which he described as, "three chords and a cloud of dust." He also loves Bruce Springsteen, which comes through every once in a while, like on "Promised Land Tonight."
Stand-out tracks: "Jesus at McDonalds" – If the Velvet Underground wasn't so serious and was in San Diego in the '80s. Also, The Barbeque Pit is still on University. It's catering only now, though.
"I'm in Love with Your Girlfriend" – "Why don't you leave that scum-sucking, yellow teethed, dork of the universe, surfer guy you're with and come home with me?"
"Rockin' Religion" – In an interview, Nixon said, "Maybe religion fills some psychological or emotional need that people need filling. I like to fill that with rock and roll and drugs and sex. Psychedelic mushrooms!"
"Mama Possums" – A very pleasant instrumental.
"Art [Flag] Shuffle" – It's satire, Mojo Nixon is pro-gay, so don't feel bad liking this song. And here's historical proof that Hillcrest has always been gay.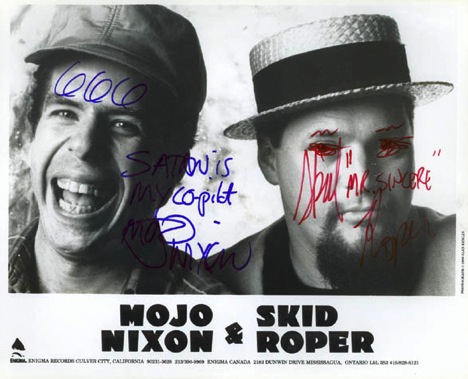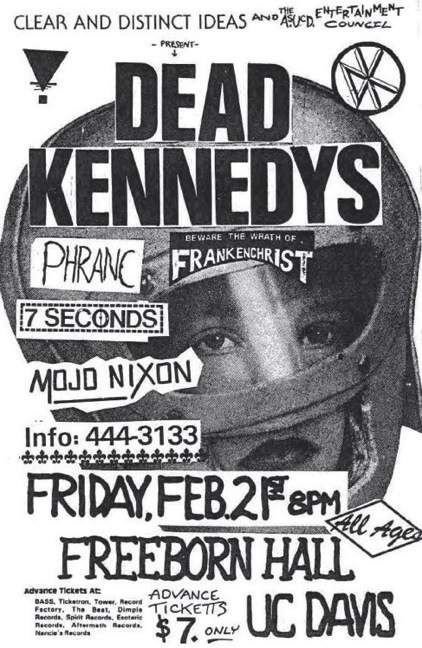 ___________________________________________________________________________________________________________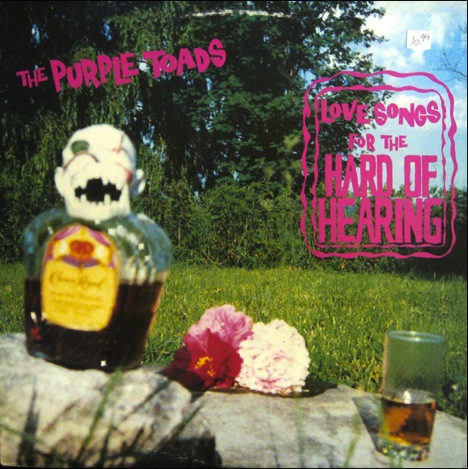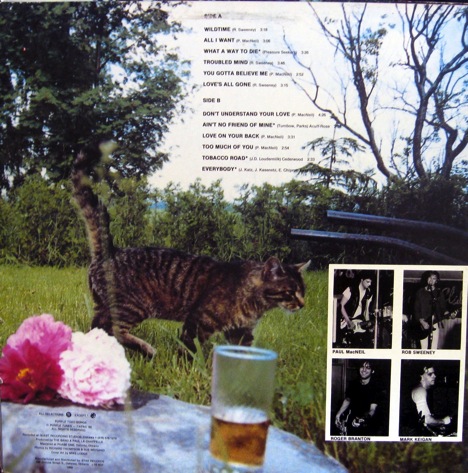 Listen to the full album on YouTube at http://www.youtube.com/watch?v=s_lmX5eV52Y
Album: Love Songs for the Hard of Hearing
Artist: The Purple Toads
Label: Star Records
Year: 1988
What's so great about it: The Purple Toads were a short-lived band from Ontario, Canada, made up of members of Durango 95, an even shorter-lived band from Ontario, Canada. The Purple Toads released two albums, one self-titled in 1986, followed by Love Songs for the Hard of Hearing in 1988. The latter was produced by The Band, which one would think would be a good start toward success, but like many bands in their specific genre of late '80s garage punk, they were a hit on the college radio circuit but failed to make it big, due in part to self-admitted laziness. Of the album's 12 songs, 4 are covers.
What's it sound like: Punky rock n' roll. Part of the '80s garage revival that produced bands like The Cynics and The Morlocks. Sounds like the Dictators at times, and definitely some Stooges. A lot of alcohol-centric lyrics.
Stand-out tracks: "Wildtime" – Rockin' song to start an album with.
"What a Way to Die" – "You've got the kind of body that makes me come alive, but I'd rather have my hand wrapped 'round a bottle of Colt 45."
"Love on your Back" – Good angry break-up song ("Goodbye baby 'cause you can't [fudge] a memory").
"Everybody" – Rockin' song to end an album with.