It's everyone's favorite time of the year…midterms! Sike. It's a miserable, dreary time. Long nights of studying and binge eating weird foods because you don't have time to grocery shop (Not speaking out of personal experience or anything…). Anyways, everyone has their form of stress relief, whether it be watching Netflix or venting to a close friend. My stress relief drug of choice is hitting the gym. No gym trip is complete without a pair of headphones on full volume.
This playlist is 58 minutes in length, the maximum time that my lifting workouts ever last. Whatever workout regimen you follow, it's always good to have some motivating music on in the background.
A** Back Home- Secrets
This is a screamo remake of a Gym Class Heroes Song. It may surprise you how much a little bit of screaming can pump you up. This is the perfect song to start off your workout.
Tom Ford- Jay-Z
No Mediocre- T.I., Iggy Azalea
You See Me- Childish Gambino
Switch Lanes- Tyga, The Game
You may recognize the name Tyga because he has a minor role on a majorly popular reality television show. His talent is minimal, in all aspects, but this song is one of the few good ones.
Headband- B.o.B, 2 Chainz
I am not going to claim that I have the credibility to make this statement, but this is a true hip-hop gold mine of a song.
I Don't F**k With You- Big Sean, E-40
Aside from being a great song to squat to, "I Don't F**k With You" is a great study song. I know that sounds strange, but trust me. This song was the sole reason I got through finals freshman year.
Otis- Jay Z, Kanye West
All Gold Everything- Trinidad James
R.I.P.- Jeezy, 2 Chainz
No Hands- Waka Flocka Flame
This song takes me back to early high school. Pick up those free weights and stare at yourself in the mirror for a second and reflect on that dorky person that you used to be (Again, not talking out of personal experience…). Please don't be that person that stares too long though.
Gas Pedal- Sage the Gemini
Fancy- Drake
I tend to try and ignore the sexist undertones that are evident in almost every hip hop song, but this one's a little less sexist and a little more independent women. Although I wouldn't exactly throw a Drake song in the pile of female empowerment anthems, "Fancy" does make being one of eight girls in the non-cardio part of the gym a little less annoying.
Gold Digger- Kanye West, Jamie Foxx
Ayy Ladies- Travis Porter, Tyga
Lean On- Major Lazer
At the end of your workout it's always good to slow down the pace a bit to match your plummeting heart rate. "Lean On" does just that, at least in comparison to the other songs on this list.
No matter your form of midterm stress relief, it's a guarantee that this playlist will at least provide a little escape from the madness.
You can access my Spotify playlist here!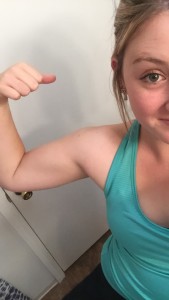 See you at the gym! 😉