A celebration of music, art, and Bay Area culture – the best way to describe Treasure Island Music Festival.
Located in Oakland, CA, Treasure Island Music Festival (TIMF) recently hosted their 11th annual music and arts festival with over 23,500 total attendees across two days. As an avid festival-goer myself, I will admit that my expectations were high for my first time attending TIMF. In the years past, the festival was located on Treasure Island itself. This year, TIMF decided to give the crowd an even better experience by moving the festival to Middle Harbor Shoreline Park. Not only did the new location provide an eccentric beach vibe in mid-October weather, but you also had an unbelievable view of the San Francisco skyline no matter where you were. Produced by both Noise Pop and Another Planet Entertainment, TIMF has grown to become one of the West-Coast's most favored music festivals for many reasons.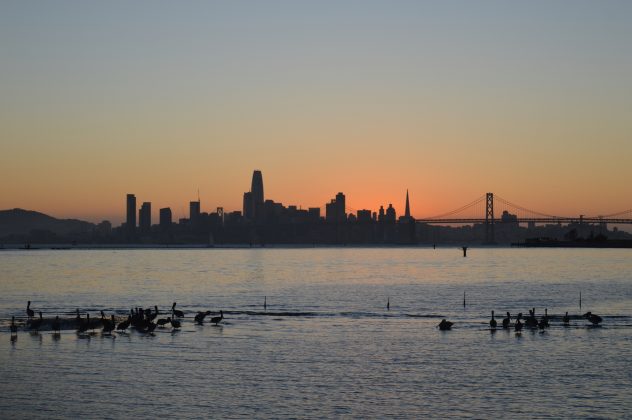 DAY ONE: Hip-hop, House, & High-energies. 
One thing that sets TIMF apart from other festivals is how they skillfully incorporate different genres each day to appeal to several different crowds. With only two stages and no overlapping sets, there is never a need to worry about missing your favorite artists, giving the overall festival a stress-free vibe. Kicking off the weekend on a high note, day one of TIMF was filled with hip-hop, house, and high-energy performers. If you want constant dancing, loud bass, and bold, colorful outfits, day one is for you. Headlining the first day was critically acclaimed rapper and songwriter, A$AP Rocky, who closed out his U.S. tour with TIMF as his final show. Other headliners for day one included the second-ever festival performance of Silk City, the new experimental duo between Diplo and Mark Ronson; electronic/new wave singer and songwriter, Santigold; and many other famous artists such as Pusha T, Aminé, Laff Trax featuring Toro y Moi and Nosaj Thing, Polo & Pan, and more.
DAY TWO: Rock & Relax.
If you're into indie rock and are looking for a more laid-back vibe, day two is for you. The difference in apparel on the second day was apparent, with most attendees in vintage attire and oversized jean jackets. Closing out the festival was the incredible psychedelic rock band Tame Impala, who is prepping for the release of their highly anticipated, soon-to-be-revealed album. Other headliners included Lord Huron, who recently released their third album, Vide Noir; Jungle, a 7-person live band from the UK; folk-rock sensation Courtney Barnett; and POND, Cigarettes After Sex, US Girls, and more.
Art & Interaction
With the advantage of TIMF featuring non-overlapping sets, there are plenty of opportunities to take a break from the stages and check out all the art and interactive tents around the festival grounds. I admire how important art is to TIFM, because most festivals do not offer the opportunity to find your creative outlet amidst the busy crowds and performances. On day one, Molly and I arrived at the festival shortly after the gates opened and were both instantly impressed by how much there was to do. I was blown away by the number of free items that were offered to everyone, from custom sunglasses, to foldable hand fans, to endless Odwalla smoothies and Cliff bars.
There were three major art installations at TIMF, one of which you notice directly after walking through the gates: the 1800-lb manta ray sculpture, named "Fly By" by Peter Hazel and Colin O'Bryan, was influenced by the Spanish architect Antoni Gaudi. This may be the most memorable piece for most attendees due to its prime location overlooking the Bay Bridge and San Francisco skyline. Formerly displayed at Burning Man 2015, "Mechatheusis" by Barry Crawford presented a giant mechanical squid with moveable tentacles. My personal favorite, the "Cosmic Voyager" by Chromaforms, featured a laser-cut stainless steel sea turtle sculpture where you can observe a futuristic city from beneath its body and even receive a horoscope reading based on the date and time. The festival also featured the "Balloon Chain" by Robert Bose, similar to the ones presented at Coachella, giving the crowd a colorful and heart-warming feeling no matter where you looked.
One of my absolute favorite parts of the festival was WorkshopSF's Camp DIY, where everyone is encouraged to express themselves through several different crafts offered. Whether you're interested in crafting, sewing, tie-dyeing, or florals, there is something fun for everyone to experience. First, Molly and I checked out the funky temporary tattoo table, where we got to browse through hundreds of free tattoos and shared stories with strangers about why we chose the one we did. Molly got the chance to make her own flower crown while I stamped up some fabric and made myself a patch. This area also featured a unique, remodeled trailer filled with plants that guests are encouraged to walk through, along with a display of one-of-a-kind painted jean jackets by local artists.
The Highlight: Tame Impala.
Without a doubt in my mind, Tame Impala's long-awaited performance was the highlight of the weekend (and probably my life). Seeing Tame Impala live is not like going to any other show; it is truly a spiritual experience. After waiting over 4 years to hear them live, my expectations were through the roof. With that being said, I was completely mind boggled after their 90-minute-long performance. The psychedelic rock band was scheduled to play at Desert Daze just two days before and unfortunately had their set cut an hour short due to a hazardous electrical storm, so it was clear that they were ready to bounce back and perform their hearts out for the Bay Area. To top it off, they performed their song "Jeremy's Storm" for the first time in five years for a one-off jam. They even admitted to hardly practicing beforehand, so it was a special experience seeing them improvise live on stage. I have seen hundreds of musicians throughout my life, but nothing will compare to the talent Tame Impala puts out on stage. They are one of those extraordinary bands that sound even better live and I feel so lucky to have witnessed such an exceptional performance.
Final Thoughts.
Overall, I was blown away by Treasure Island Music Festival and the experience they gave their attendees. It's no wonder it has become one of the West Coast's most beloved music festivals – I highly encourage everyone to check it out next October! A good majority of the crowd was 21+, which resulted in a more mature and laid back audience. If you're legal and looking to enjoy good drinks with good music, this is the perfect festival for you. No matter your age, however, there is always something to do at TIMF. From the all-remarkable performances to the unique art and interactive vendors, this festival stands out above many others. Counting down the days 'til next October when I get to do it all over again!
Review by: Brittany Roache