The Australia-based band, The Paper Kites, brought their sense of magic to the House of Blues San Diego.
With their rock-folk and woodsy forest vibes, the members tend to use their harmonies and magical lyrics to create a mood that you are immersed in the song, feeling everything the words were intended to have — even if you have never heard the song before! Sam Bentley (vocals, guitars and keyboards), Christina Lacy (vocals, guitars and keyboards), David Powys (vocals, guitars, banjo and lap steel guitar), Josh Bentley (drums and percussion) and Sam Rasmussen (bass and synthesizers) make up The Paper Kites and the beautiful music they make.
The Paper Kites are known for their melancholic tones that offer you a sense of sadness mixed with hope. They opened with the song "Red Light" off of their new album On The Corner Where You Live. Thanks to artist Megan Dougherty, the stage was set up to look like you were sitting in an apartment with the band. Artist Mike Castle came up with the lighting design of lights seeping through the blinds that Megan had carefully structured. They also added the featured colors for each song, like the dark blue for 'Deep Burn Blue' and the mysterious red for "Red Light."
'Deep Burn Blue' followed 'Red Light' funnily enough. This song is about the feelings inside you and your own thoughts that make you not want to leave your own room. It's as if you are afraid of what the world has to offer. Lead singer Sam put it himself that "music is so much more purposeful and devastating when it makes you feel exposed." "Revelator Eyes" from twelvefour followed this. It is a song where the person is still trying to hold on to their relationship even though they can notice that their partner is not feeling the love anymore. The theme of the show at this point was following a relationship, which I'm sure many people in the audience could relate to.
The song "On The Corner Where You Live" is about saying goodbye even when that isn't what you want to do. They continued this feeling of hurt with the song 'When It Hurts You', a powerful rock ballad about not wanting to hurt your loved one because you will feel the pain too. I closed my eyes during this and the one following it, 'Bloom', which made the room feel like we were all one. It is the song of hope, and the band played it slowly instead of at the fast pace that we are all used to. It was a perfect triage of songs to follow the relationship we were all pretending we knew.
'Bloom' was the first song I ever heard by The Paper Kites so I really felt in that moment how far the band has come and who they have developed to be. It is still so surreal to me that the track 'Bloom', their most popular song, was made as a bonus track release with the first EP they made. They had no idea it would be so successful. The Paper Kites emphasize continuously in their music that sometimes you have to let go ('On The Corner Where You Live'), and although it hurts ('When It Hurts You'), something good can come out of everything ('Bloom').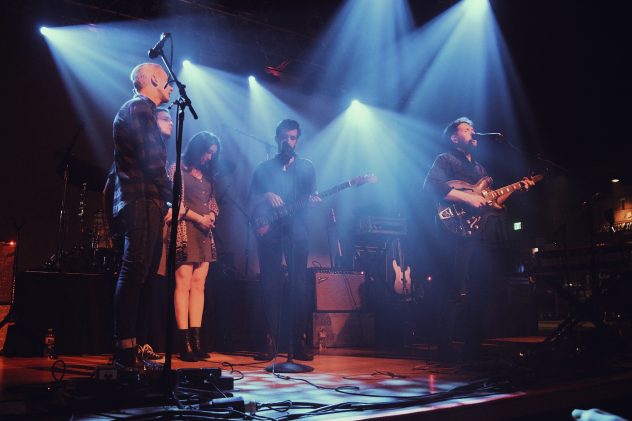 The Paper Kites included an intermission song, which was the track for  'A Gathering On 57th'. It gave the audience chills and a familiar feeling of nostalgia. I have always felt with that song that I am on a train visiting family or on my way to see someone I love.
'Give Me Your Fire, Give Me Your Rain' began after the interlude, and the crowd was back to its' original excitement and swaying. 'On The Train Ride Home', the song from its' self titled album is a personal favorite. It has a great deep meaning behind the simpleness of it. "If I can't get the things I want, then give me what I need." With a feeling of loss under the lyrics. This song may be about the chapter of our lives where we cannot find our true direction, where most of us are not able to handle the pressure to ourselves as we go to face the reality and so we try to go back to our home where we were once settled and happy. The train is a metaphor for our means to go back and within it we try to ask for help.
Some highlights to this show include their performances of "Electric Indigo," and "Don't Keep Driving" which they ended with. In the end, the audience was filled with a yearning and a desire to stay in that room forever.
I would definitely see The Paper Kites again if I had the chance. Their songs are so deeply personal, and I would recommend listening to their music if you are going through anything. I'm excited to see what is coming next with this band and where they will take us on their journey.
Review by: Molly Atkins