Joker is a new comic book movie that recounts the origin of renowned comic book villain Joker. It stars Joaquin Pheonix as the titular character and is directed by Todd Phillips, the director of the Hangover Trilogy.
If you roam social media at all you'll know that many are almost afraid of this movie. They argue that this will inspire more mass shootings from disgruntled individuals which is something nobody obviously wants to have happened. When I first heard these arguments made though, I shrugged them off and thought we would stop talking about this once the movie actually comes out. I never was one to believe that media will cause violence, and I still hold that stance to this day. But then more users started weighing in on the discussion and they started getting intense about it too. This is something that tends to happen whenever you browse a social media platform, especially Twitter. A person with extreme opinions will usually be rewarded with clout and it makes for an incredibly toxic place to have a public discussion. I for the most part never chose to comment until I actually saw the movie but I still held my argument that media does not and will not cause violence.
The MSM began to almost slander the movie in any way they could in an effort to make film-goers "beware the joker movie". Article after article was released with varying headlines some of which included a report that the US Military issued a warning for Joker screenings and that NYPD officers would be going undercover attending screenings of the movie to stop anyone who has any tricks up their sleeves. They reported on it so much they were almost subliminally begging for someone to shoot up a screening of Joker just so they could get those "I told ya so" clicks. It felt really uncomfortable to browse and even a little scummy.
The movie finally premiered last Thursday and the 70mm screening I attended at the Grossmont Center was equipped with more security than normal. Before the film started, employees went up to several audience members and asked to inspect their bags on the spot. It was safe to say for theaters, safety was a number one priority, which is great. I just question the media's rampant reporting of the film in such a way.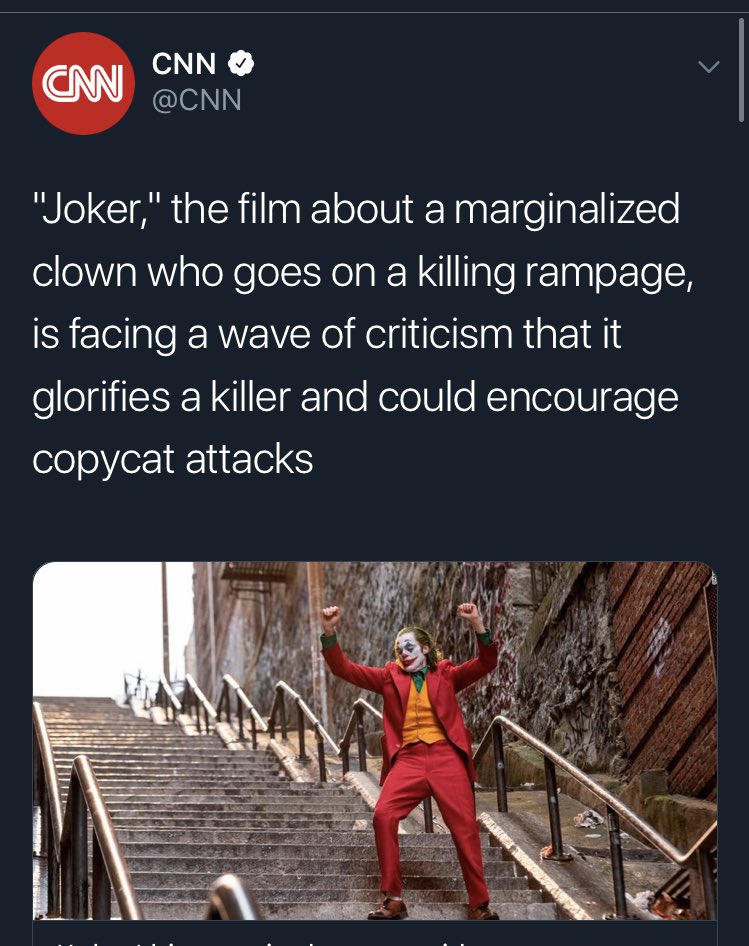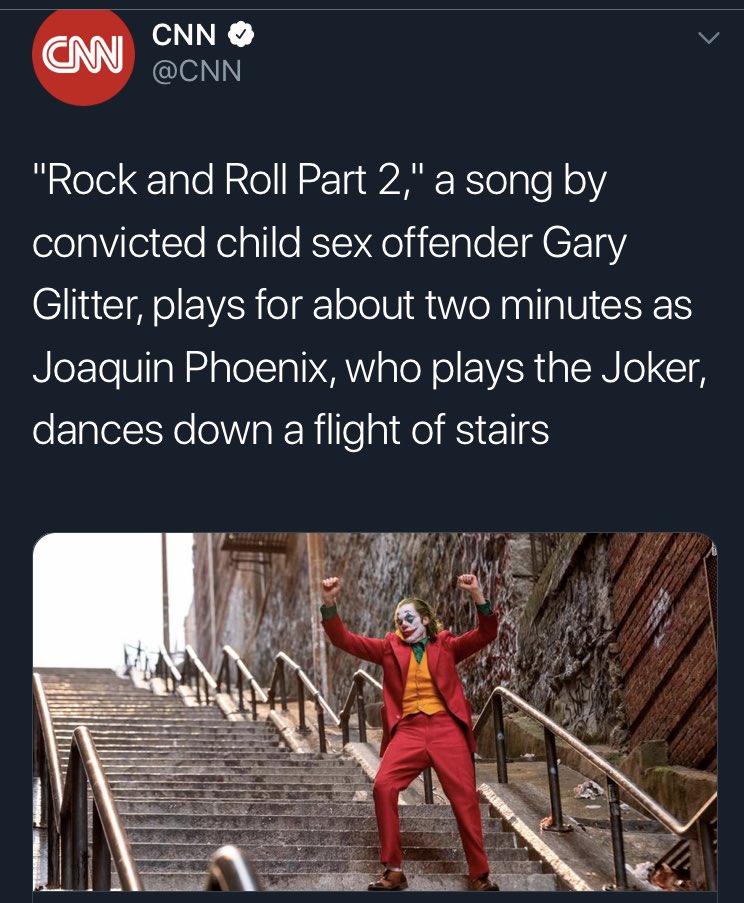 Having seen the movie now I can understand why critics do not like this movie. I don't agree with them at all, but it is understandable. The movie is very critical of modern SOCIETY (as the meme goes) and even the media and the facade of wholesome values they try to display. The film was shocking for me not because I found its message controversial but because I was surprised a major film distributor like Warner Bros. went ahead and released a film with this message. I'm really glad they did though because I think this is a movie that will be talked about for a long time.
This is a bold and daring picture that asks its audience harsh questions about the way we treat others and the effects those actions have on our modern world. It also highlights the dangers of what can happen when one disgruntled person feels as if they've been abandoned by society and even what we can do to prevent this from happening. I would say this film promotes mental health care and the coming together of classes more than it does violence.
In order to make a case in point as to why I believe this is not only a phenomenal but important as well, I once again will want to discuss this movie with SPOILERS. If you're at all curious about this movie, you should definitely rush out and see this movie. It has a brilliant and even at times challenging message that is complimented by gorgeous cinematography, great acting, and extremely tense and uncomfortable moments. It may be challenging to watch for some viewers, but it's definitely worth your time and attention.
*****SPOILERS*****
Joker is a movie about a man who slowly discovers who he is and how the world truly feels about people like him.
From the first few moments of Joker we're told that Gotham City is in its worst state yet. The city is run by loads of trash and super rats (Google pictures of them, they're disgusting), and the working class are struggling to live and survive in such horrible conditions. We are then introduced to Arthur Fleck, a clown for hire, who lives with his mother in a disgusting dilapidated apartment in the middle of the most trash-filled areas of Gotham. We also are told that he regularly attends his therapist sessions in which we find out that he has a mental condition in which he laughs hysterically whenever he gets nervous. The therapist asks to see his journal and she finds the statement, "I just hope my death makes more cents than my life". This suggests that Arthur possibly suffers from frequent suicidal thoughts as well.
From the first moment Arthur arrives home, we see his mother ask him if they have received a written response to her letter from Thomas Wayne, a very wealthy businessman running for mayor who she once worked as a maid for in their manor. We find she writes to him in hopes that they can get them out of the old apartment and maybe into a newer cleaner place to live. The mother, Penny, insists to Arthur that Mr. Wayne and her have a "very special connection" that she simply cannot explain.
Things start to turn worse for Arthur though after he's fired from his job as a clown after he accidentally drops a gun a co-worker gave to him for protection during a performance (the opening scene of the film involves Arthur being jumped by a group of street kids). The first moment of "grace" comes for Arthur while on the way home on the subway when a group of wall street boys harasses Arthur which leads him to use the gun he was fired over to shoot and murder them on the spot. He also finds out that Gotham has cut funding for mental health, meaning he will no longer be able to talk to any doctors or receive his medication.
Arthur also finds a new letter that Penny writes to Thomas Wayne that reveals that he possibly is in fact Arthur's father. Arthur becomes understandably distraught that his mother never told him about this and he takes action into his own hands and visits Mr. Wayne himself. He is sent away by Alfred after he performs magic tricks for a young Bruce Wayne but Arthur is able to eventually track Mr. Wayne down in the bathroom of an old movie theater. This is when Mr. Wayne reveals to Arthur that Penny is actually mentally insane and adopted Arthur.
This leads him down an even deeper rabbit hole as he gains access to Penny's personal medical files while she was incarcerated at Arkham Asylum. This is when he realizes that his adopted mother abused him as a child as he was tied to a radiator and beaten over the head. To make things worse, after Arthur finally has the courage to go on stage at a comedy club and pursue his dream of stand up comedy, the clip of him bombing on stage is found by famed talk show host "Murray Franklin" who mocks Arthur for his uncontrollable laughter and unfunny jokes. The stage is now set for Arthur as he slowly begins to realize that nobody actually cares about him and that his life has been a lie.
Arthur finding out the way he has been mistreated is ultimately what causes him to snap and seek revenge.
The more information Arthur receives about his life and the world around him, the more he boils and eventually reaches a breaking point. He first seeks revenge on his mother who is in the hospital as a result of a heart attack and suffocates her with a pillow. He then shortly after receives a phone call from a representative for "The Murray Franklin Show" who mentions that Murray wants to invite him to the show. As he's getting ready for the show, a few former co-workers come by and visit Arthur just to check in on him to see how he was doing during these times. One of these co-workers, the man who gave the gun to Arthur, also framed him as he told their boss he asked him for the gun which was never the case. He gets revenge on this man and stabs him in the eye and throat with a pair of scissors, and the other co-worker, who happens to be a little person, runs away in fear.
In one of my favorite moments of the film, Arthur dismisses the man as he "had always been nice to him" and as he tries to leave, he realizes he can't reach the lock on the door to open it. This is an incredibly suspenseful scene and one that seems accurate to the persona of the Joker. You never know what he wants to do next or how he's going to treat his victims right before he ultimately does his worst onto them.
Arthur finally arrives on the set of the show afterward in his clown get up and he admits to everyone on national television that he was the one that in fact murdered the boys on the subway, a moment which this movie earlier explains has started a riot in the city of Gotham. Rioters wear clown masks and cause chaos on the streets as they finally begin to protest the horrible conditions they have been forced to suffer for so long.
Once Arthur admits to every one of his crimes, he challenges the audience's horror as he says "if it were me being killed you'd walk right over me and no one would bat an eye". He then shoots Murray Franklin in the face on national television and everyone runs away in horror. The movie ends with rioters lifting the Joker in celebration of everything he's done for the common man and he is eventually incarcerated (likely at Arkham Asylum as well) where he murders a therapist there who only seeks to help Arthur.
Joker is a film that teaches you to love and respect others rather than incite pain and suffering onto them.
One of my favorite aspects of this movie is its themes about the actions we inflict on each other and the possible consequences of those actions. The truth is in this movie there are no good guys. Obviously Arthur Fleck is not a good person, but neither is Thomas Wayne, Penny Fleck, or even Murray Franklin. They all represent a form of evil that really shapes the chaos that is society in Gotham City. Thomas Wayne and Murray Franklin act as the rich elite who put on their own masks as they pretend to care about the working class below them in an effort to win the sympathy and respect of society. Penny and Arthur Fleck both represent the evil that rises as a result of a society that seemingly abandons those who need help the most.
One of the biggest messages I personally picked up from this movie is no matter who you are or where you stand in the world, always show love and respect to all your brothers and sisters around you. Your actions towards others really could mean more than you possibly realize. The film forces you to consider if looking down upon those less fortunate than ourselves leaves us responsible for the madness and chaos we bring onto others even if we aren't the ones pulling the trigger. It's understandable if some may find that idea abhorrent as that is admittedly a very controversial concept to promote.
I loved though that this movie actually had the balls to give this harsh reality check to its audience. It's especially a different and even harsh take on the ongoing debate of what our government needs to do to prevent more mass shootings from occurring. I truly think we need a movie like this to really highlight what really causes a monster to rise and what we, the average person, can do to prevent it if the government refuses to get involved.
This film is very controversial but I would argue that Director Todd Phillips intentionally designed the movie to be this way.
Without delving too much into modern politics, this film widely ignores and even rebuts talking points that the MSM today chooses to continually regurgitate onto its viewers. The film is mostly anti-rich liberal elite and anti-media. One argument some commentators have pointed out is that the movie possibly argues against cancel culture when Murray Franklin mocks Arthur for his bad jokes on stage.
Although this is possible given that the director Todd Phillips did come out recently criticizing the sensitivity of "woke leftists" (as he puts it) when it comes to humor, I would argue this moment more serves as a way to express that big elite personalities really only care about the common man when they can benefit in viewership and profits. I think this is a bigger blow to obnoxious late-night talk show hosts like Jimmy Kimmel and Stephen Colbert who really only seem to discuss politics and issues in American society as a way to generate more viewership rather than toxic cancel culture that celebrities and random internet users love to promote.
Thomas Wayne too represents every fake politician who claims to serve the public but instead only really cares about themselves. Some may argue this is a blow to Donald Trump, and while that is the easy go-to person to compare Thomas Wayne to, I think it more accurately reflects the fake nature of any politician and even the MSM. The media similarly seems to only care about issues, just like late-night talk show hosts, to generate clicks and traffic onto their outlets.
The people of Gotham City are suffering from trash and rat infestation and all anyone can think about is how three white wall street boys were murdered on the subway. This hit home for me too because as someone who is from Los Angeles, I see the growing amount of trash on the streets due to homelessness and even the growing number of rats in the city. I just wished politicians did more to help these people and that the media reported on these issues more.
Los Angeles is a complete disaster at the moment and nobody really seems to be doing anything about it. In that way, I think Gotham City is very similar to Los Angeles and Phillips perhaps even developed this metaphor intentionally to criticize the current state of the city. This film is very timely and relevant to today's world but it never feels like it's pandering to you. You feel like a smarter person after you've watched it and truthfully it will get you to think about its themes long after you finished viewing the film. I'm still thinking about it now and I saw the movie a week ago. It will be interesting to see if this film holds up with time but I'm really happy that this movie has been an eye-opener for some.
Only time will tell if this movie holds up but as of now, I believe this movie is, in fact, a masterpiece.
I recently saw Ad Astra and thought that was my favorite movie of the year due to its visuals and complex characters, but this instead takes the cake for me. I will go so far as to say I believe at the moment that Joker is one of the best movies not only of the year, but the decade as well. I haven't even mentioned yet that Joaquin Phoenix gave a phenomenal performance! He really understood the nature of Arthur Fleck's character and embodies him so well. I forgot I was watching Joaquin Pheonix on the screen and believed I was seeing a character who is truly going mad. This film is powerful, intense, beautifully shot and at times challenging to watch. I think the fact that it is controversial and so divisive among critics is what makes this movie more special for me. I think movies that are masterpieces are going to be ones that really challenge the viewer to think in new ways while being presented in a beautiful and interesting way.
What may stop this movie from being a masterpiece in the future is that although this movie looks gorgeous as the colors are vibrant and vivid and the production design is lively and intricate, the film is admittedly somewhat basic when it comes to the cinematography. There were never any intricate or complex shots that I found myself really admiring, it mostly relies on its colors and the actors surrounding the environment to give it beauty. At that point, though this is me really reaching to find a flaw with it, but I still think this movie is wonderful. If you've made it to this point and still have not seen the movie yet, well what are you waiting for? Rush out and see this movie as soon as you can if you find yourself intrigued even in the slightest.
Also for all San Diegans and SDSU students, I want to personally recommend that you see this film at the Reading Cinemas at the Grossmont Center as I did in 70mm film. It's only $10 for a ticket and there's so much beauty to each and every one of these shots when presented on film that you simply are not going to get out of a digital showing. This blog is NOT sponsored by the cinema, it merely is a recommendation for film buffs in San Diego.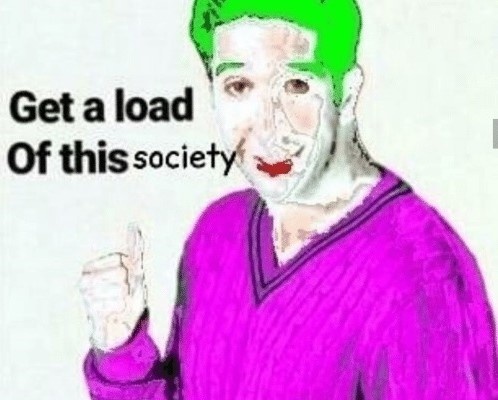 Written by Christian Scognamillo
Follow me on
Letterboxd:
https://letterboxd.com/christianscogs/
Twitter:
https://twitter.com/christianscogs