In a world where everything is at our fingertips, sometimes nothing is all you need. HogPod: The Show About Nothing is here to give you everything that you need
HogPod is hosted by freshmen Kameron Grant and Samantha Blanchard along with sophomore Connor Trees. Connor is the eldest, but the Television, Film and New Media Major shares an equally youthful exuberance with the rest of the group. The free-flowing, sometimes awkward, always enthusiastic hosts of the show have made improvements in every episode to date, but what is HogPod really about?
Now, what does a radio show and podcast that is about nothing encompass?
Well, radio shows usually play music and speak on specific topics. You will be sure to hear some music on this program, but the hosts do not really know what music is just yet. Want to know for yourself? Check them out on Fridays at 4 pm and you can hear them shouting at each other, "I still don't know what music is!".
You don't have to know much about something to enjoy it. They are learning as they go. Learning what music is, and also what their show is all about. The show's name states it is about nothing, however, it is everything you need to enjoy yourself.
In a time where our President is acting like a child in the public eye, it's fun to take our mind off of things. HogPod is the perfect show for you to wind down your long work week with, and start the weekend off on a high note.
Surely, a group of people this funny and witty would have a good story for how their show came to fruition. The funny thing is, that none of this was planned.
Each semester KCR hosts a new member meeting to allow students to join the station. These three met at said meeting, feeling a connection over their choice to join KCR's video department. Confirmed as part of the video team, a veteran member asked Kameron if they were interested in having a radio show. Kameron hesitated at first, but upon realizing that there would be no harm, he decided to ask Connor and Samantha if they could do one together.

The three Aztecs who were still basically strangers began the start of HogPod. Their first episode was their first real opportunity to sit down, learn each other's names, and talk with each other void of distractions. Connor jokingly said, "During the first show I was just sitting there waiting for one of them to say the other person's name for a bit." It all worked out well for them though. Kameron said, "It was a cool experiment to stick these three people in a room, and you know it worked." After a few rookie mistakes, things have become gradually easier for the group, allowing them to play less music and speak on more topics.
The team is more than the sum of its parts, yet these parts come together perfectly.
Samantha began her journalism career early when she had her own Instagram page where she took portraits and interviewed people before moving to SDSU. Kameron has a fascination with Edgar Wright films and hopes to achieve similar success. Swiss Army Man featuring Daniel Radcliffe encompasses the cinematic vision that Connor has. Connor and Kameron have both done their fair share of Youtube videos, and the three are all working together to create more quality content on-air and on camera. This show has only just begun, but the future is looking bright for these three.
So, what do they talk about on the show about nothing? For starters, with Kameron and Connor both majoring in Television, Film and New Media, the three discuss cinema in various ways. Whether it be your favorite animated movie you forgot about, Over The Hedge, or Samantha confusing Jamie Foxx's character from The Amazing Spider-Man 2 with George Lopez's character from Shark Boy and Lava Girl, you'll be sure to get a laugh out of the conversation.
Joker just released in theaters and Connor was lucky enough to see it prior to their fourth episode on October 4th. Choosing to avoid spoilers but still keep the topic of conversation, the HogPod team created Guacin Phoenix, the critically acclaimed actor that is your favorite dips for your chips. Not getting exactly how they got there? Well, you need to check out their next show to see if he comes back into the conversation.
Samantha is majoring in Journalism and Media Studies, and though the Marvel Cinematic Universe has been one of the number one news topics over the last decade, she is not a fan. Stating her disdain for the man who plays Spider-Man. "I don't like Tom Holland he looks funny." Kameron and Connor were so dumbfounded by her lack of MCU knowledge that they decided to explain all of the movies using none of the names of the actual superheroes. They certainly were not able to get all the way through the timeline, but it was something to hear them try.
They also have a reoccurring, invisible guest named Daniel. You can't see him, nor can you hear him. He's been very shy so far, but there is hope he'll speak up one of these days.
BIG NEWS BIG NEWS BIG NEWS!!!! HogPod is just getting started!
If you're lucky enough to be tuned in for some Big News you'll be happy you heard it here first. Each episode they let the listeners know of what big news is going on in the HogPod world, once even contemplating purchasing Kurt Cobain's home. Unfortunately, it was out of their budget.
Now with a quarter of a season under their belt, getting comfortable with their new school and show, this team is a family. They're just like your favorite sitcom; you may not know what is going on all the time, but you know that you are going to enjoy whatever happens next. With the whole world in front of them, where to next?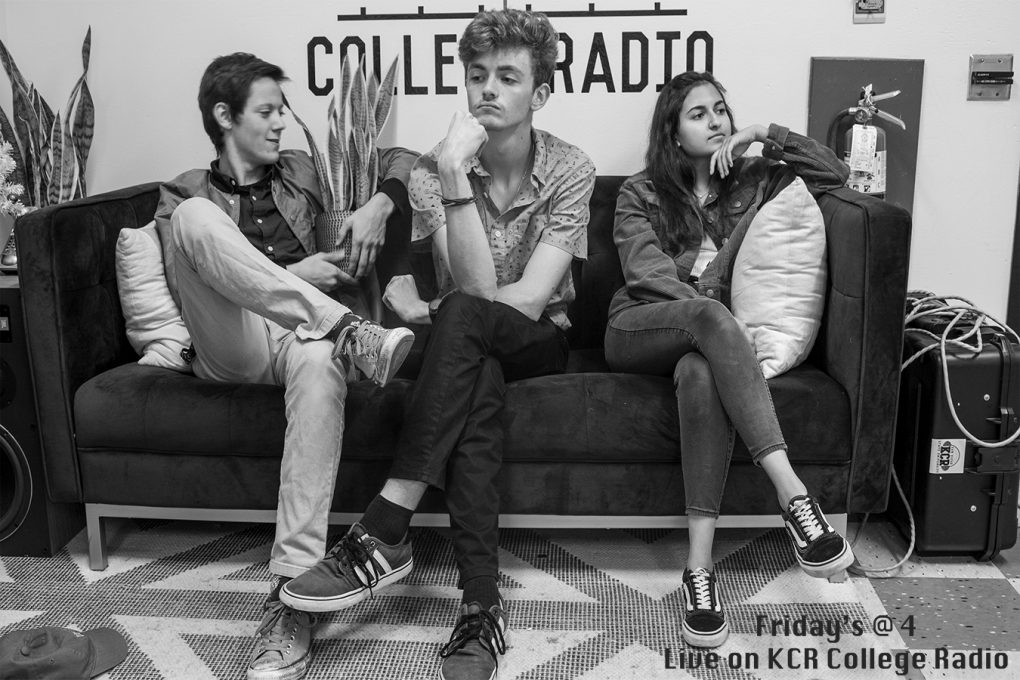 Written by: Alexis Camel
All photos, shot and edited by Alexis Camel.