Frida Kahlo's impact as an artist and Mexican icon reaches far beyond her unique style and admirable pompadour. She recognized human pain for what it was: bearable and beautiful in its human exclusivity.
Many people tend to forget or simply don't know the effect of Frida Kahlo as an artist during and after her time. This short commemoration of her story and art is meant to remind the aforementioned individuals that the Kahlo effect is perpetually alive and universal. 
For those of you who might not know, Frida Kahlo was a Mexican artist of the early 20th century whose talent and colorful lifestyle made her a celebrity throughout Mexico, the U.S.A and Europe. She was born on July 6, 1907 in Coyoacán, Mexico, to a photographer father and extremely Catholic mother. Frida's artistic aspirations were deeply influenced by her close and loving relationship with her father from a very early age. However, as her interest in art was developing, Frida contracted polio. At only age 6, Kahlo had to endure months of bed rest, contracted diseases that affected her spinal and leg development and ended up with one leg that was visibly thinner than the other (Kahlo's iconic look with long traditional Mexican skirts actually comes from her wanting to hide this fact!). Although this already seems like a lot of pain for one person to handle, at age 18 Frida was involved in a horrific train accident where a handrail pierced her abdomen and forever changed her life. After, she was once again confined to bed rest, but now she also had to face a future filled with perpetual fatigue, chronic pain, invasive surgeries and heartbreaking miscarriages.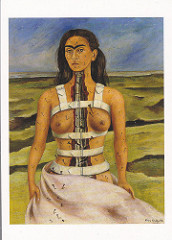 After the accident, Kahlo used painting to cope with her pain. She painted most of the masterpieces we know her for today just laying on her bed, trying to make sense of her tragic reality. Her life went on to include a scandalous three time marriage with Diego Rivera, controversial political advocacy for communism and companionship with history's most notorious artistic celebrities. But what's really important about Frida Kahlo is not how big of a star she was or continues to be. It is the legacy of her art. Kahlo's artistic obsession with her own physical and spiritual self creates art that reflects universal pain, longing, passion and desire.
The Kahlo effect found in each one of Frida's paintings, is a forced exploration of the self that steers you towards examining and ultimately appreciating all those times you've ever felt broken and were fishing for the will to live. Kahlo shares her suffering, worth and desires with authenticity and courage, and that is what has made her so artistically powerful. The mirror of self exploration pieced together by her art helps us to feel not alone in our human emotion and less irrational in our 'dramatic' expressions of pain. The Kahlo effect is real and beautiful. If you have not yet experienced it, I highly recommend taking a real look at her pieces.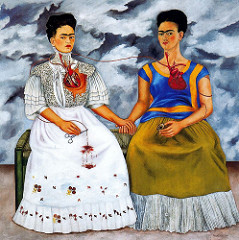 All images and rights belong to Frida Khalo.