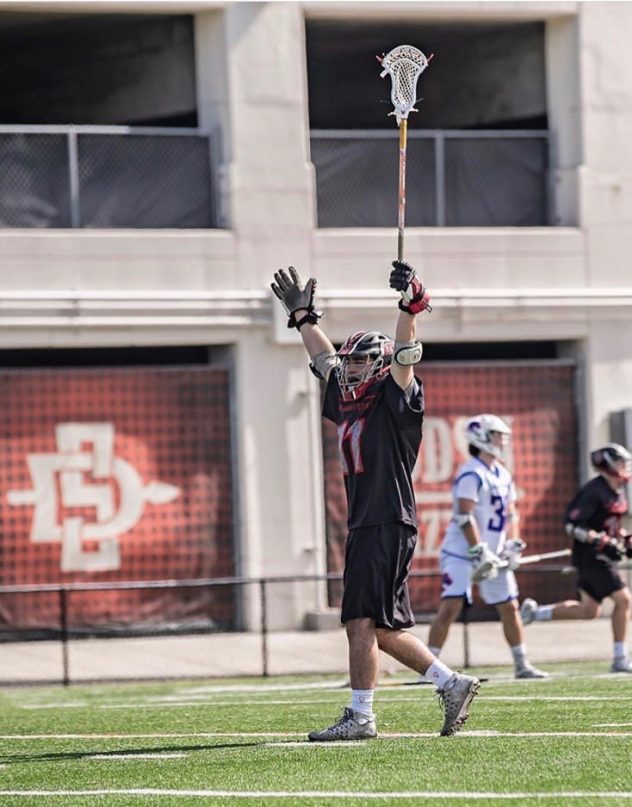 The San Diego State Men's lacrosse team hosted two games over the weekend, beating Nevada 19-10 and losing 11-7 against Boise State.
In the first home game of the season for the Aztecs (2-1), Nevada held a slim 7-6 lead at half in a back and forth contest that saw no lead larger than 2. SDSU Junior attackmen and captain Pat Greene said.
"In the first half we were one pass away from scoring and in the second half we started to make those passes and plays," Greene said. "That allowed the offense to open up and the goals just came with it."
The defense also improved as SDSU held Nevada scoreless for the first 26 minutes of the second half. Junior captain and goalie Steven O'Sullivan allowed just 7 goals on the day and made 12 saves, he would later be replaced late in the fourth quarter as the game was already decided. The offense was led by Freshman Sam Cantello and Junior Gage Webb, Cantello was able to score 6 goals on the day and Webb chipped in with 4 of his own.
Sunday was a different story for the Aztecs as they faced off against a Boise State team coming off a win against UNLV 21-3 on Saturday. Similar to the game against Nevada, the first half was very back and forth as both teams held small leads. After a late Boise surge to end the first half the Aztecs found themselves trailing 7-4 at the half. The offense was unable to connect all day as they were only able to produce 7 goals on the day. SDSU Captain Owen Schnur says the team will look to practice to improve their offense.
"We know we have a strong offense unit that is more than capable of getting the job done, we just weren't able to finish today," Schnur said. "The offense will come im confident in that, but we will get back to work this week with a strong week of practice and tune up the offense to where it needs to be."
SDSU will resume action this weekend as they head to Los Angeles to face off against the UCLA Bruins and the Georgia Tech Yellow Jackets. UCLA will be the first of their very important conference games in the regular season.
Written by: Anthony Romano