Schoolboy Q couldn't have come at a better time this year as he descends on the Worldbeat Cultural Center in Balboa Park this April. When I heard the news that he was going to perform in San Diego I knew I had to get my hands on those tickets. Quincy Matthew Hanley, better known as Schoolboy Q, is the influence for my reintroduction to hip-hop.
MY ANTHEM Collard Greens: This video had guest appearances from Macklemore and Kendrick Lamar.
His album #Oxymoron soon to drop at the end of this month is going to be a great success for Schoolboy Q as fans have all ready hyped up for his singles Collard Greens,  Man of the Year and Break the Bank. This is one of the TOP anticipated hip-hop albums this year. Is Kendrick Lamar ready to bow down to Q?
"You have to listen to the level of competition. If you want to beat the best, you have to study what the best is doing. That's like saying I didn't study Jay and Nas. Or Big and Pac. Yes, I study Kendrick because he is one of the heavy hitters in the game," Schoolboy Q said in a Hot 97 Morning show last month according to complex.com.
As an emerging voice in the hip-hop community Q should get ready for an amazing year as his tour hits international waters this year with destinations such as France, Germany and Sweden.
If you can't make the #Oxymoron World Tour show in San Diego don't worry there is an extensive lineup of tour dates to catch Schoolboy Q in California this year.
Getting to the Worldbeat Cultural Center from San Diego State is just a trolley and bus ride away.
When: April 5
Where: Worldbeat Cultural Center
Address: 2100 Park Blvd. San Diego, CA 92101
Time: 8 p.m.
Price: $25 GA
This is an all ages show!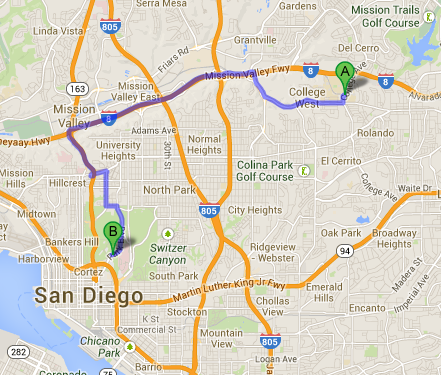 Stay tuned for my Schoolboy Q concert review in April. If you would like to be featured on Carmen's Hip-Hop weekly please feel free to email, Tweet or Facebook message me.
Follow Schoolboy Q on Instagram @groovyq and Twitter @ScHoolboyQ
Don't forget to pick up a copy of Schoolboy Q's album #Oxymoron on Feb. 25 or download it on itunes!
Photo By DJ Tech 16/CC by