Hello! Aurora here welcoming you to this weeks post of MUSICOLOGIA FEMINISTA and I am very excited to share this artist with you. Destiny Nicole Frasqueri also previously known as Wavy Spice and now as Princess Nokia is an Afro-Indigenous independent musician from New York city. She grew up in between Spanish Harlem and Lower East Side of Nueva York. She began her career under the stage name of Wavy Spice, although she now releases and performs music as Princess Nokia in which she musically collaborate with DJ and producer OWWLS. Wavy Spice has released a lot of music, mainly autobiographical. Her very first track called Destiny was released in 2012 (recorded in 2010) and her first album as Princess Nokia named Metallic Butterfly was released in May 12, 2014 by Vice Records.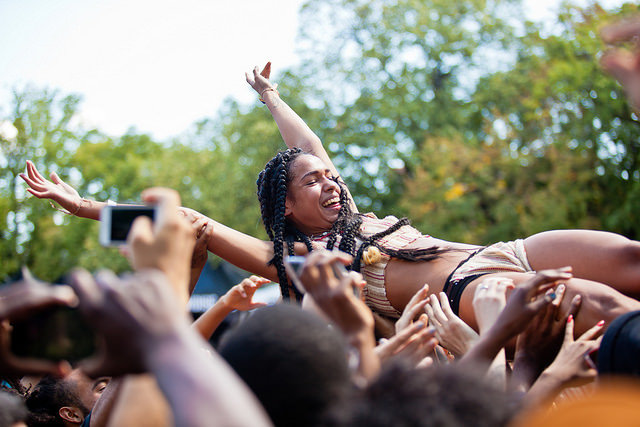 Photo by Aaron Stathum via flickr
Destiny began and continues to primarily share her music on YouTube and Sound Cloud making her that much different from other artists who can only be found in the iTunes and work hard to keep their music off of these free sites like YouTube and Sound Cloud. Her lyrics are immensely inspirational and her whole motive seems revolve around the empowerment of women and the acceptance of individuality. Destiny's lyrics, events and projects are all very inclusive. She's obviously very concerned with the well being of women of all kinds and of all ages. She openly supports beauty positivity and holistic healing. We can see this through events like the Annual Coven of Light she collaboratively puts together. This event involves exercises for women's self help, love, preservation and confidence through holistic healing and magical practices. You can hear all about it on her podcast "Smart Girl Club Radio" which can be found on her Sound Cloud. Her podcast highlights women's issues as well as uphold women in the community who are making a difference.
I think her song Young Girls is a good expression of her loving spirit and it is linked below for you to take a listen. Her podcast "Smart Girls Club Radio" is also linked below if you have time to listen you should, she is very engaging, intelligent, empowering and fucking cool. I hope you enjoy her work and have discovered how amazing this artist truly is. She's so young and I can't wait to see what else Destiny has in store for us.

[soundcloud url="https://api.soundcloud.com/tracks/250690607″ params="auto_play=false&hide_related=false&show_comments=true&show_user=true&show_reposts=false&visual=true" width="100%" height="450″ iframe="true" /]
[soundcloud url="https://api.soundcloud.com/tracks/250690607″ params="auto_play=false&hide_related=false&show_comments=true&show_user=true&show_reposts=false&visual=true" width="100%" height="450″ iframe="true" /]