For those of you that enjoyed last Thursday's KCR Turn Up at the San Diego State University Farmer's Market it was one to be reckoned with. Every Thursday KCR College Radio brings some of the baddest and most unique performers to grace the concrete stage of Campanile Walkway from 12-1 p.m.
With the hustle and bustle that comes with Thursday's at SDSU these local and out-of-town artists bring some much needed energy to our campus.
Last Thursday Nick Jordan came through and showed off his impressive lyrical skills. This 24-year-old rapper from Oklahoma who now resides in the city of angels has much to look forward to as a new found rapper. His new venture is just another extension of his multifaceted persona. He has an impressive musical ability as a previous drummer for Assemble The Skyline.
If this name sounds familiar that is because his previous band was featured on Vans Warped Tour 2012. He definitely is no stranger to the music scene. However, he is well-versed in hip-hop naming some of his few musical influences with me such as N.W.A., but don't underestimate this artist he is more than just a white rapper.
He wants fans to know that he embraces the hip-hop culture and ultimately it comes down to making more music and music that provides a different style listeners can vibe to.
I'm pretty sure he was feeling the SDSU vibe with these pictures that were taken of his set last Thursday.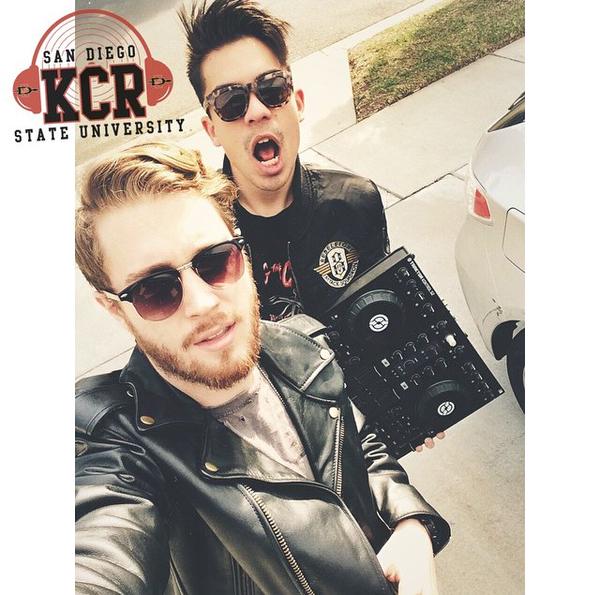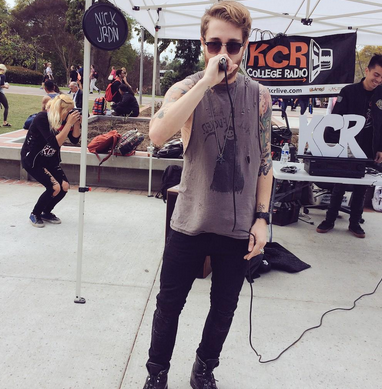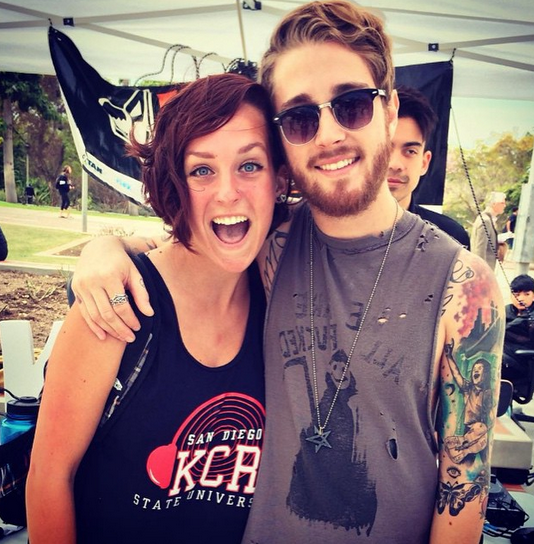 After his Turn Up set he was able to catch his breath and talk to me about his recently released EP The Night and what he plans to do with his music in the next couple of months.
"Really owning (rapping) that I feel I have a long ways to go," Jordan said. It's not surprising that this artists wants to perfect his craft especially when he does have his work cut out for him. However, he does have some help from his fellow producer Alex. When describing their collaboration he mentioned that the two of them get s%$t done and he hopes the good times keep getting better.
His new EP, which was released four months ago in late October is available on iTunes and on SoundCloud  for your listening pleasure.
Here are my top three tracks from his album, but I recommend listening to the whole album you will not be disappointed.
1. [soundcloud url="https://api.soundcloud.com/tracks/172776331″ params="auto_play=false&hide_related=false&show_comments=true&show_user=true&show_reposts=false&visual=true" width="100%" height="450″ iframe="true" /]
2. [soundcloud url="https://api.soundcloud.com/tracks/172776327″ params="auto_play=false&hide_related=false&show_comments=true&show_user=true&show_reposts=false&visual=true" width="100%" height="450″ iframe="true" /]
3. [soundcloud url="https://api.soundcloud.com/tracks/172776311″ params="auto_play=false&hide_related=false&show_comments=true&show_user=true&show_reposts=false&visual=true" width="100%" height="450″ iframe="true" /]
Check him out:
Stay tuned for more KCR College Radio Turn Up coverage brought to you by Maria del Carmen Huerta this spring semester. If you like my articles don't forget to share the post and use #KCRTurnUps