By Jesse Miller
I spoke to Sachi and Arthur from Joy Again on zoom from their van in Cleveland, where the band is currently on tour with Snail Mail. They were making their way to Chicago as we spoke. 
Give us a little bit of background about yourselves… you've been a band for a while, you're earliest releases being back in 2014-2016. Tell us where you're from and how the band formed.
S: "We're both from Glen Mills or Gradyville, Pennsylvania. We met on facebook. I was having a bad time at my high school and I ended up transferring to Colin's school and we just started making music in our free periods, throwing it up on bandcamp. That was like 8 years ago now. Everyone else joined bit by bit."
A: "Blaise, we knew his girlfriend. Tyndall worked at a coffee shop with Arthur. My cousin will just came to a session because our drummer quit, and our friend Kieran we've known for a long time. He's in my other band, too. He's like a master of bass so we just brought him in."
What's your other band called?
ARTHUR, it's weird pop music, kinda. It's kinda dark but its like depressing funny pop music
Tell me a little bit more about the single you guys just put out, 'What Lovers Do', the recording, writing, release process is like.
S: "We did most of it ourselves and had it mixed and mastered by different people, professionals. We produced it on our own. We usually work with our friend Caleb on production stuff. we have a studio in Philadelphia, so we just are making music all the time and producing it out ourselves as well as working with other people. It's all over the place. Generally Arthur and I write all the songs and then just flush 'em out with everybody."
Is the single a precursor to more new music being released?
"It's not a single for a record but we do have another single coming out, I think, April 22nd. And then we're gonna go back home and work on albums. There's another ARTHUR album to make, too."
I noticed over the past year or so, 'Looking Out For You' has had some leverage online, especially on Tik Tok. Have you noticed a change at all, a difference at shows or in your fanbase?
S: "The song is super fun to play live, it's super fun on this tour because we play it really late in our set and people sit through our whole set, we gage the crowd, then play the song, and more peoples ears perk up."
A: "then they get hyped for Snail Mail."
S: "it's cool having a moderate hit on our hands, at least people know us for something."
Tell us about a typical tour day for you.
A: "We wake up, try and get breakfast. If we have time, we'll wander around a bit. Only just recently we've started having days where we have more time. A lot of it is just getting in the van and watching the road for like four hours, listen to something, maybe a podcast. You get to the venue, load in, do soundcheck and then you have like an hour. We chill and then eat dinner. You sit, chill. Get all your gear loaded in the van. Wait for the other band to finish playing. Do a little dance, shake around a little bit, you go back to the hotel, turn on the TV, watch some weird old stuff and a lot of commercials. That's pretty much just everyday."
What are your musical influences? Do you have any other media that influences your thought or songwriting process?
A: "Animals, the water, your friends, everything has an influence on your music. Anime and cool movies, like Blade, Matrix, anything."
S: "Other musicians like The Beatles, Ween, rub off on us a lot. I haven't been listening to a lot of good albums lately."
A: "Sleep and dreams are good inspiration."
How have you grown into your sound the past few years, given you have been a band releasing music before and after the pandemic? What did the pandemic look like for you as musicians?
S: "I didn't write a lot of Joy Again stuff during the pandemic. I produced a couple other records for people, so that was fun. I am kind of just getting back into the swing of writing for Joy Again now. I wrote a few things during the pandemic but nothing I really like."
A: "I don't wanna make music that's coming out at the same time as everyone else's quarantine album."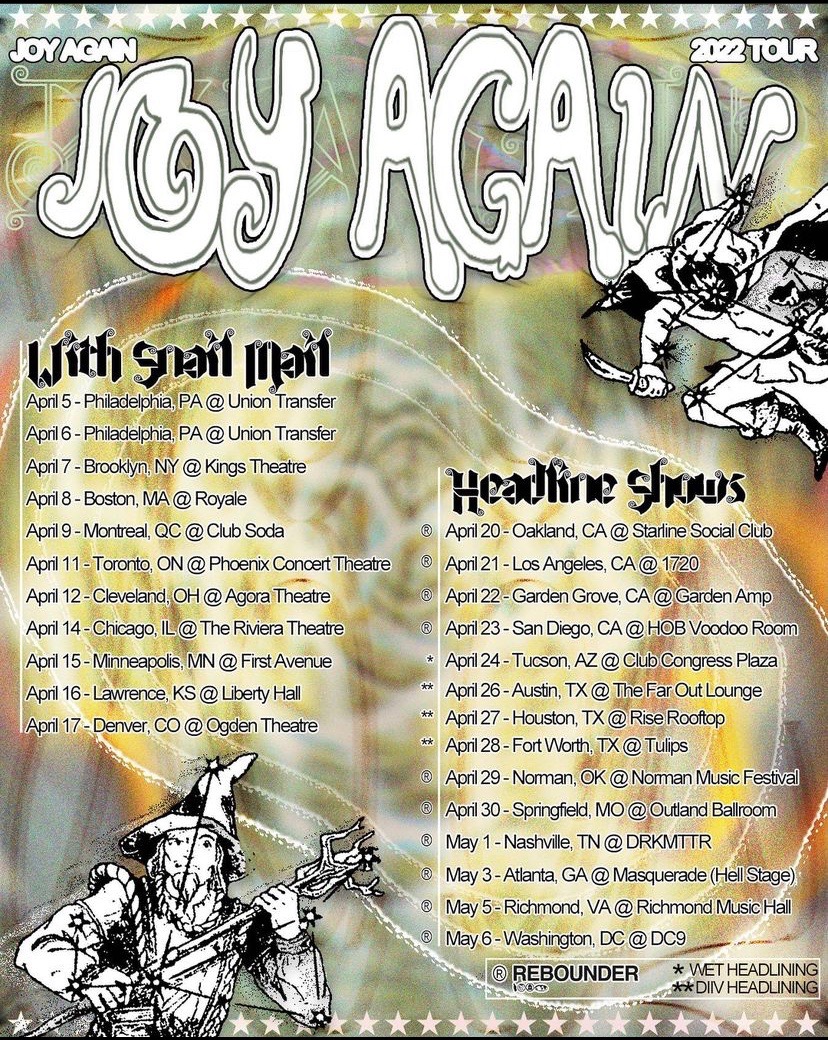 Be sure to check out Joy Again at the House of Blues on April 23rd! Get tickets here!