Ho Chi Minh Trail
9883 La Jolla Farms Rd San Diego, CA 92037
Signs of spring are beginning to appear all over San Diego, especially on the Ho Chi Minh trail. This hike is absolutely stunning, no matter the weather. There is a small path that takes you through lush, green mountains, which are filled with all sorts of wildflowers. The trail leads you to the top of a mountain where you can see in all directions for miles. There are beautiful rock formations and views of the ocean, and the wildlife is plentiful. I would highly recommend this hike to anyone, because although it has its ups and downs, it is not very rigorous.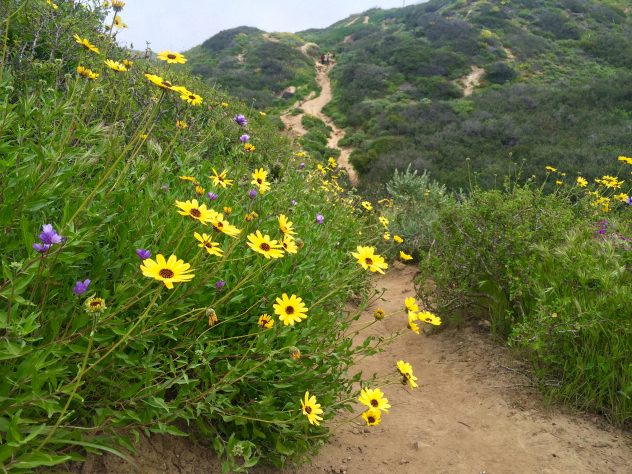 Torrey Pines State Reserve
12600 N Torrey Pines Rd, La Jolla, CA 92037
Torrey Pines is the perfect place to take a hike, run or casual walk at anytime of day. There is a dirt path along the side of the mountain that allows you to walk for a few miles with a wonderful view of the ocean. It is a great place to watch the sunrise or sunset because of its panoramic views. Torrey Pines has never failed to impress me. I have visited on both scorching hot summer days and foggy winter mornings, and been equally amazed. In the summer, the water turns this crystal-clear aqua color. It's quite a sight, and you should witness it if you get the chance. In the winter, the crisp breeze keeps you cool and calm throughout your hike.
La Jolla Shores Walking Trail
Even though La Jolla Shores can be a pretty touristy area, this trail is off the beaten path – truly a hidden gem. The hike begins by the entrance to the cave, on La Jolla Shores Drive, and continues across the side of the mountain for a ways. Walking on this path, you are surrounded by lush green grasses and as you look left, you can see the ocean and the rest of La Jolla. In the spring, there are tons of wildflowers alongside the entire mountain. Come here next time you want to take a walk, clear your mind or enjoy a sunny San Diego day.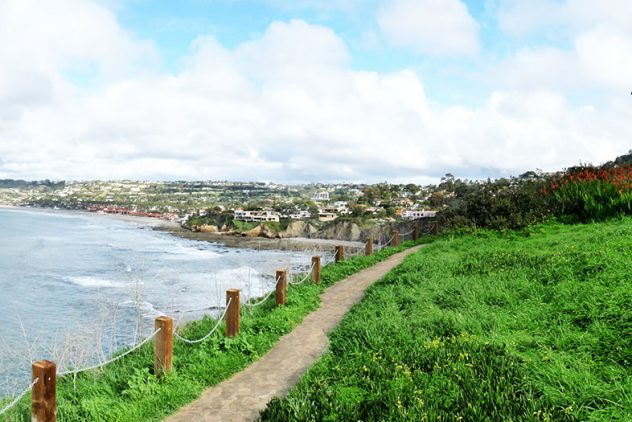 Images from  www.sandiegomagazine.com and by Rachel Joseph.