This is FoodieBooty and for this week's post, I needed to go somewhere refreshing! I needed a place that would remind me of the light beyond the tunnel and the overall lightness of being. Luckily, I found just the place.

I am talking about An's Dry Cleaning, an ice cream parlor on Adams Ave. which specializes in making high quality gelato you can smell, see, and best of all, taste. This ice cream shop is not really what you would expect an ice cream shindig to look like since it does not have cutesy ice cream cones painted on the walls or whipped cream clouds surrounding the menu as you struggle to make the pivotal choice in between a cup or cone.

Is it really an ice cream shop?
As the name explains, the shop is a place for dry cleaning not for ice cream. As you walk in you see a clothes rack near the back which holds beautiful pastel dress shirts wrapped with the iconic glossy plastic that excites almost any home enthusiast or avid fashionista who just happens to be an immigration lawyer during the day. You see tables in the shapes of ironing boards, napkin holders in the shape of irons, lonesome hangers set in randomness, and the familiar tinge of fluorescent white light inherent to the dry cleaning trade. If it weren't for the huge, altar-esque, freezer sitting at the center of the shop, one could be fooled into thinking it's an actual dry cleaning spot. Especially because no one would think to match gelato to dry cleaning…

But the owners of An's did and it was a matter of finding the perfect location and not wanting to change its historic value. Instead, they decided to give An's Dry Cleaning a second life, and I am so thankful that they did so.

Now, let's talk gelato.

An's menu changes every 1-2 weeks depending on the season or different specialty events which inspire their chef to create magical, unexpected flavors of silky gelato. Super sustainable and cool, I know! But now, the best part: their flavors are named after fabrics!!! Like the ones you would send to the dry cleaners!!! Just this fact gets them a thousand booty points from me but in an attempt to be more objective, moving on. Since it was my first time at the shop, the cream-rista* saw my face of confusion and offered me a tasting tour of all the flavors available that week. I loved that part of the service because it means that no matter how many people end up coming to the store, the cream-rista's will take the time to make you feel special and give you a personalized experience, thus showing how proud they are of their flavors and how badly they want you to choose the flavor that speaks to your heart.

The flavors of the week starting on Nov.1, were all vegan! The flavors were:

A ginger-lemon palate cleanser

Linen: Pineapple, basil

rPET: Kiwi, apple, spinach

Burlap: Peanut butter, coconut, and chocolate

Nullarbor: Coconut, pineapple

Barkcloth: Macadamia, soy

Hemp: Hazelnut praline, chocolate

Rayon: Chocolate, orange

I tried all of them!! And you can too!!

All of the flavors have a very smooth and refreshing quality which usually describes the best gelato. In tasting the flavors, there weren't any in which I struggled to taste the ingredients stated in the description. When it was pineapple, I felt the sweet hit of pineapple knocking out my tongue. When it was peanut butter, or macadamia, I felt the rich nuttiness of the gelato as it slowly melted away on my tongue. When it was hints of basil or soy, I could taste how these ingredients perfectly complemented their more present counterparts and added a complex magic of their own. As a whole I could taste the outstanding effort in quality sourcing of ingredients for each one of the flavors and although I did not end up loving all of them, I still find An's entire menu incredibly admirable in its uniqueness and subtly angelic in its flavor and consistency.

I ended up ordering the Hemp and Rayon on a dairy-free cone, while the lovely mathematician, Eduardo (the cone to my gelato), ended up ordering the Burlap (cuz peanuts) and the Linen (cuz he diggin that pineapple after coming back from a conference in Hawaii). If you have ever tasted a ferrero rocher chocolate, then you know exactly what Hemp tasted like. It was a velvety gelato with only a slight grainy texture caused by the hazelnut praline and its crunchiness. I loved the flavor from the first taste because it was not overly sweet or chocolatey, it was perfectly balanced from nutty to chocolatey. I paired it up to the dense and decadent flavor that is Rayon because Hemp's subtle cocoa notes were brought out by the intense and deep flavors of dark chocolate and orange zest. Rayon, although delicious and intoxicating, did end up being too overwhelming once ordered for the full scoop since it was made out of a chocolate with a pretty high bitterness index.

My favorite flavors from all those tasted and ordered ended up being Linen, the palate cleanser, and Barkcloth! I know, none of the ones I ordered! However, these flavors were so beautifully fresh, fruity, and nutty that I would so happily go back for more anytime, any day. My least favorite were the Nullarbor and rPET, but not because I thought they were low quality but only because I found their flavors too sweet for Nullarbor and too vegetable-y for rPET.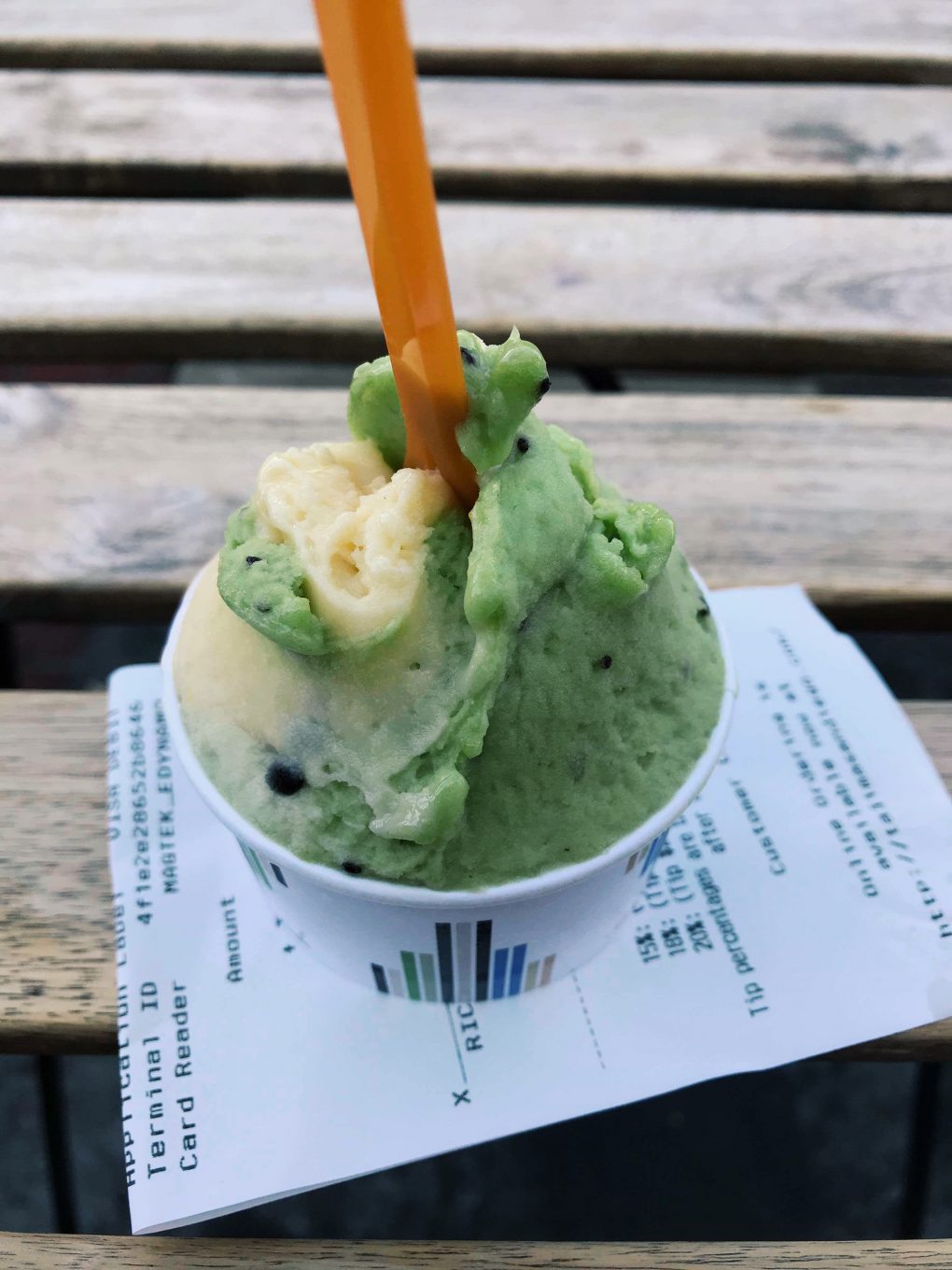 When counting An's incredibly unique style, concept, service, and flavors, it is impossible for me to think that someone would not like what they have to offer. Little details like the shop's name, history, the fact that they accept flavor requests/ideas at this fabrics@adcgelato.com email address, has made me fall head over heels with them. I am sure to return for their Fluff & Fold membership program.

In total I give them 4.8 booty points out of 5. Go for the flavors, go for the style, or just go because there is nothing else like it. As always I hope you enjoy, love u lil snacks.

Sincerely,

FoodieBooty

An's Dry Cleaning
North Park
3017 Adams Avenue
San Diego, CA 92116
(619) 450-6166
Insta: @adcgelato
12:00p to 11:00p Mon – Fri
11:00a to 11:00p Sat & Sun