As I was getting dressed, I was thinking about where my style comes from. I knew it definitely has some influences and after looking at all of my favorite pieces, I realized that I dress like the women from the movies and television shows I watch.
When I find myself relating to a character I start to incorporate pieces of them in myself because even though their reality is fictitious, the emotions that their stories make me feel are real. Lately, my style has been largely influenced by the character Geneviève (Catherine Deneuve) from the movie The Umbrellas of Cherbourg, directed by Jacques Demy. I have never experienced heartbreak from my significant other getting drafted to go to war, but I know the feeling of seeing life as soft, bright, and clear only to have your expectations that you assumed were true be altered by unforeseen circumstances. I will not spoil the story of the movie in case you haven't seen it, but I will mention my love for Geneviève's clothes that I wish to make my own.
1. Sweaters
Geneviève's sweaters are what ties many of her simpler outfits together. Her cardigans matched with her bows create a dainty and charming look that I adore.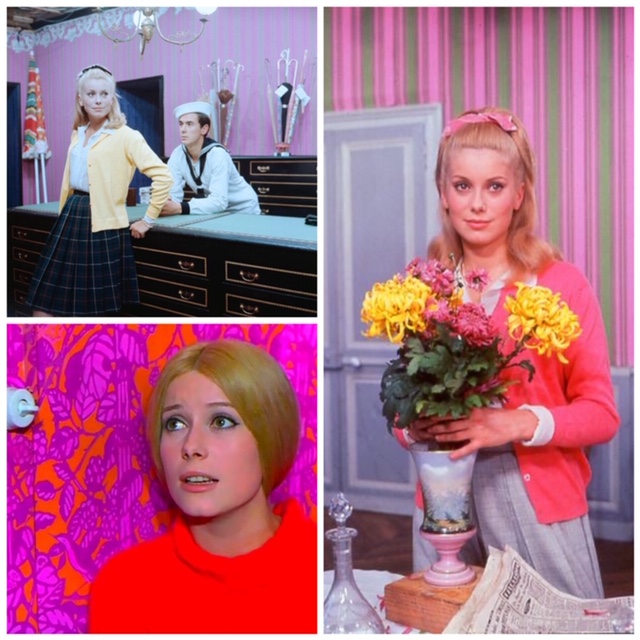 2. Coats
I hope the weather finally gets colder in San Diego because I am ready to wear coats! Geneviève's coats make her look elegant and pristine, a look that I strive to emulate.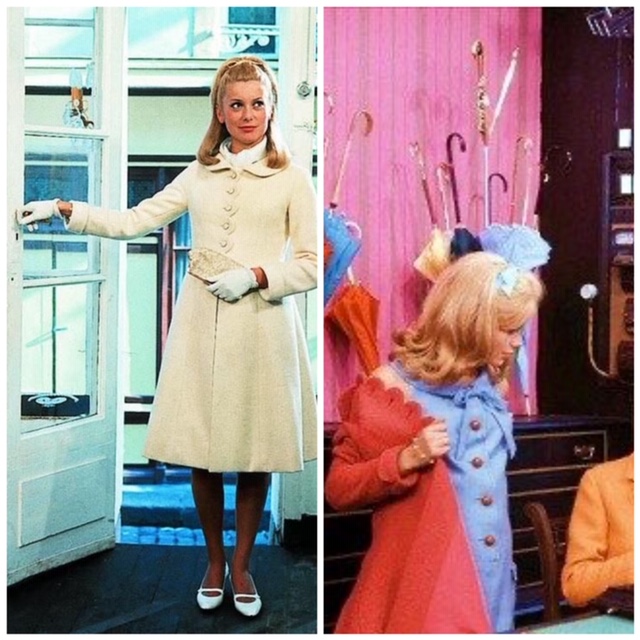 3. Color
Color is an important aspect of this film because the colors of the characters' clothing often match the background colors, which can also show how the characters are feeling. I chose blue clothing for this collage because I think blue best captures the feeling of despair and loss that the movie is trying to convey. Colors are very important to me when I'm considering my style because bright colors remind me of the vibrancy of youth. Although as we get older we may see our lives less and less through the perspective of a technicolor lens, sometimes through bright colors we are reminded of the fun, hope, and liveliness we carried as children.
I can watch movies repeatedly simply for the costumes.
Not everyone enjoys watching musicals, especially ones that involve the characters singing every single line, but I believe that The Umbrellas of Cherbourg is a great movie to watch for those of you who admire when a significant amount of care is put into the details of costumes and cinematography. If you're looking for a change in your style you should watch some of your favorite movies to see if any of the outfits represent you.
Written By: Maya Dixon