This week's fashion column focuses on backpacks. Every San Diego State University student has their own style when it comes to their bag. Some students hardly bring anything while others have multiple bags. Let's take a look at the variety of backpacks that Aztecs flaunt:
The Messenger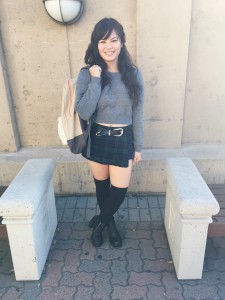 Sylvia Huynh is a freshman who loves to use her black messenger bag for school. Although this photo showcases a different backpack, Sylvia says I caught her on a day when she did not bring it. Regardless, she likes how her black messenger bag goes with her outfits since the color is very versatile and easy to match with. Inside her messenger bag you will usually find her laptop, pencil bag and a notebook. She is such an adorable girl overall. I stopped her at West Commons because her outfit and personality looked very cute and fun. You can follow her on Instagram: @sylhuynh
The JanSport
Vince Ilano is a communications senior who uses a JanSport backpack for school. "I like to use this backpack because it is functional and esthetically appealing," says Vince. He chose JanSport because it is a reliable brand. Since his backpack has a lot of compartments, he finds it easy to put his laptop inside. You will also find pens, hair wax, a comb, a binder and a phone charger in the many compartments of his bag. You can follow him for "food pics" on his Instagram: @vince_onali
The Duffle Bag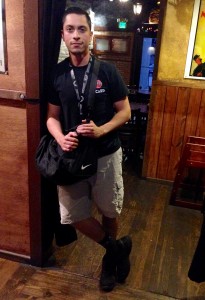 Criminal justice senior Jorge Lebaron brings his gym bag every day to school. Inside you will find extra clothes, shoes, toiletries and basically "gym stuff." The only school-related items inside his duffle bag are pens and pencils. "I ask somebody for paper if I'll need it," says Jorge. He says a duffle bag is easier to bring to school because he goes to the gym in between classes and it's roomy. "I think I look pretty cool in it, too." Jorge says. A bigger duffle bag is what Lebaron wants next.
The Boombox
Dillan Beyne is a journalism senior with an emphasis in advertising. His backpack has sentimental value because it was a present from his mother. He likes that the design on his backpack are boom boxes because he loves music. It has a great holding capacity with a divider in the middle which creates an easy and efficient way to separate his course work. Inside his bag you will most likely find his lunch, a book to read and his italian textbook. Dillan already has a next backpack to use when this one wears out. It is a backpack that has speakers in it.
The Vintage Look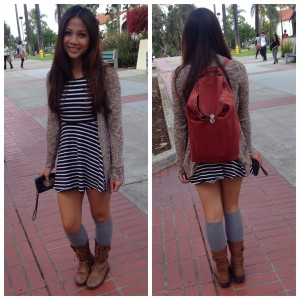 Thuy Luu is a business and marketing freshman. She loves that her backpack has that vintage look to it. She also likes it because it is simple. Thuy got her backpack from Urban Outfitters. You will usually find all of her journals inside her bag. She is not quite sure what bag she wants to get next. She was extremely adorable as I walked passed her while heading to class. Her outfit and backpack caught my attention so I just had to interview her for this week's column!
The Compartments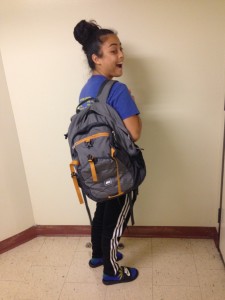 Francesca Margate is a journalism major with an emphasis in advertising. She likes her backpack because of its many compartments. She can keep specific items in each compartment such as her chapstick, feminine products, a clicker and a water bottle. "I also like it because it has a designated area for my laptop for more security," Francesca says. She is not eyeing a specific backpack to get next, but she would like to get a smaller one eventually.
The North Face
Dez Sison is my sister. I had to interview her because I always get onto her about how I wanted the same backpack, but it was just too pricey for me. Dez is a computer science freshman who loves her backpack because it is durable. She says the only con about this bag was its expensive price. However, she says it was worth it because this bag will last forever. It is black, which is her favorite color. She also loves that it is big, but doesn't look big.
The Multi-Bag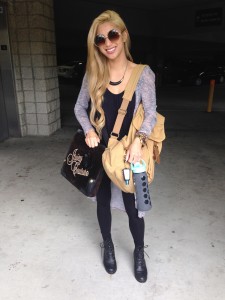 I am the type of person who carries everything. Since I commute to school, I make sure I have everything I will need for the long day ahead. I have a bag for pencils, another for makeup, another for toiletries, another for snacks, another for feminine products, and the list goes on! I even carry a separate laptop bag which has several compartments for me to keep my USB devices and chargers. My friends always clown on me saying I am a walking convenience store. At least I always come prepared, right?
---
Thank you so much for reading this week's fashion column. Tune in next time as Aztecs are asked about their head pieces (hats, beanies, head wraps, etc.)
Find your inner GLAM!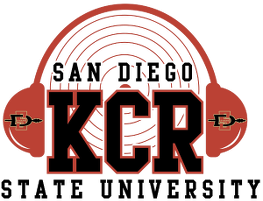 Camelle Sison
Blogger & Radio Host
KCR College Radio
glamwithcam@gmail.com