Over the weekend, I was able to attend Beach Goth 2016 presented by The Growlers! Lately, there's been much debate as to whether or not this event was successful or just a hot mess. Personally, the bands that did play were amazing! However, I think in this festival's case, the negatives outweighed the amazing set-list.
First off, they changed the location weeks before the actual event. Initially, The Growlers planned to have the event be at Oak Canyon Park, a very spacious and peaceful venue where many festivals are held. However, they silently changed the location on the actual event page to their usual business park parking lot venue without addressing it to people who already bought their tickets until a couple days later. The lack of communication played a factor in the outcries of many event attendees who were unsatisfied with their experience.
Second, the security (although mostly seen in a bad light anyways) is getting major hate from festival-goers who claim they were mishandled/mistreated. Although I have no context for this situation, many are upset about two men getting beat up by the security at Beach Goth (watch the video here).
Third, there was a huge issue of overcrowding. I felt as if a couple fire codes were broken during the festival in all honesty. The tickets for Beach Goth seemed to be oversold, thus making every stage very crowded. Having the stages crowded made it hazardous for many festival goers. Many were crammed like sardines (being uncomfortably stuck between 4-5 people), and on the first day, some even passed out due to heat exhaustion. On day 2, the weather took a turn for the worse. It started raining — and instead of being crammed together in the heat, we were crammed together in the rain — which definitely put everyone in a goth mood.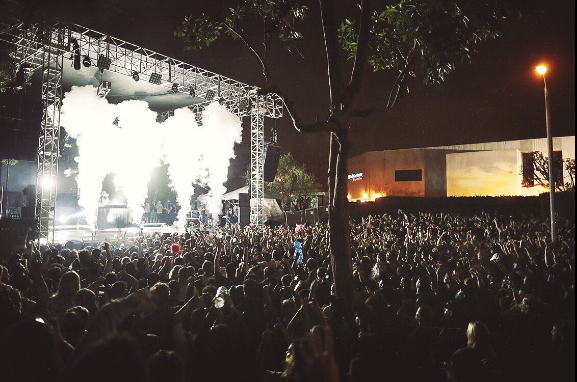 Fourth, even though the event stated it was a "rain or shine" event, Beach Goth was proven to not be a "rain or shine" event. Once it started raining, festival goers made a bee-line to the indoor stages to take shelter from the rain. However, the indoor stages can only take so many people. Crowd control for this problem was handled poorly, with many people cutting in the line to get in and many people trying to force their way in. Here's a good video portraying the many people crowding the entrance of the indoor stages of the OC Observatory. Not only was the crowd control an issue, Beach Goth had to shut down one of the stages due to flooding, thus having to move the acts from that stage to the indoor stages and having the festival goers confused as to what time and where the acts would perform! For example, The Drums had to play at the smallest indoor stage (Constellation Room). Grimes (one of the headliners) had to even cancel her show due to the rain ruining their equipment. View her tweet below!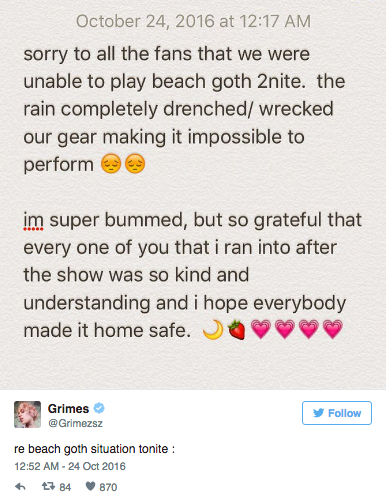 Fifth, the food was below average and there were no water stations! Our 8 inch pizza was half crust and half actual pizza. It was $11. Not only that, but there were no water fountains or water refill stations. So whenever we were thirsty, we had to pay $3 for a water. This definitely played a role in making many people mad at the festival planners.
Anyways, enough of being a negative nelly. The show (minus Grimes) went on and I'm glad to have seen such big names such as King Krule, Bon Iver, and Violent Femmes.
Thanks for listening to my rant and tune in to my 11 pm radio show on Tuesdays!