It's the beginning of the year and there is no other event like award season to give you the latest on entertainment. From the winners to the funniest moments to the red carpet's do's and don'ts, there are plenty of high lights to watch.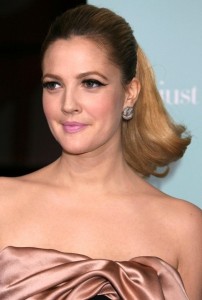 Before we get to the unforgettable performance by Tina Fey and Amy Poehler at the Golden Globes, the People's Choice Awards also had a few funny moments, not to mention a few awkward ones, too. Drew Barrymore proudly showed off her pregnancy at the People's Choice Awards by making fun of her appearance jokingly claiming that Ellen DeGeneres called her fat backstage. Later that week, the mom-to-be went on to the Ellen Show and said she wasn't sure if the joke translated to the audience and they both cleared up the "fat" joke.
There is no award opening without poking fun at Hollywood's favorite stars and there is no one better to do it than Tina Fey and Amy Poehler for the 71st annual Golden Globes. The hilarious pair couldn't help calling out the stars by literally ranking them, mispronouncing Tom Hank's name and calling Matt Damon the "garbage man" for the night.
The Golden Globes was a night full of laughter but also a night full of firsts.
One of the highlights was Dallas Buyers Club actor Matthew McConaughey winning his first Golden Globe for Best Actor along with actor and musician Jared Leto winning Best Supporting Actor. What makes this moment even more powerful is the film was turned down 86 times according to E! News Online. McConaughey inspirationally pointed out to never give up on something you believe in.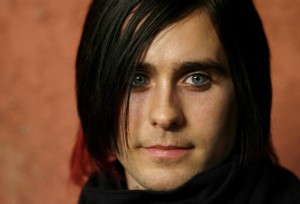 Another highlight was for the Titanic stud Leonardo DeCaprio winning his second Golden Globe for Best Performance by an Actor in The Wolf of Wall Street. His first Golden Globe came back in 2005 for The Aviator. There is so much buzz surrounding hope for the actor to finally getting his hands on that Oscar and we will sure be watching.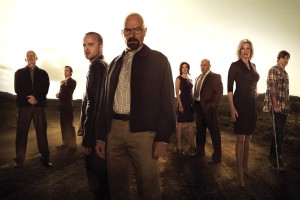 Although there were some surprise winners, there were nominations that had the award in the bag already. I'm talking about Breaking Bad. The series had everyone talking in 2013 and it seemed like not one person had a negative thing to say about the drama series. People love this show and can't help but watch it all over again or for the first time on Netflix. The AMC drama won a Golden Globe for Best TV Drama and a SAG award for Outstanding Performance by an Ensemble in a Drama Series. Bryan Cranston also won a Golden Globe for Outstanding Performance by a Male Actor in a Drama Series.
Besides the winners of this year's award season, we can't forget who wore what. The first thing we see during these award shows is the Red Carpet's stunning and entertaining fashion choices.
Lupita Nyong from 12 Years a Slave takes the fashion prize of the SAG Awards for best dressed with her turquoise, jaw-dropping gown from Gucci. The color compliments her skin tone to perfection as well as her gorgeous make-up.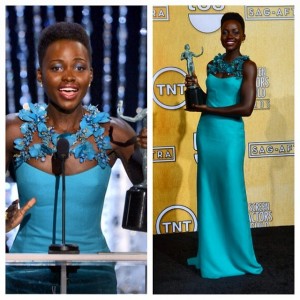 One that didn't make the cut at the SAG Awards for best dressed was Kerry Washington. Her makeup was stunning and showed off her soft skin tone but her look was not in her best interest. It almost looks like her skirt was too tight at the waist and probably could have looked better if it was shorter and if she was going to some college event. Everything from the face down didn't seem appropriate enough for the Red Carpet.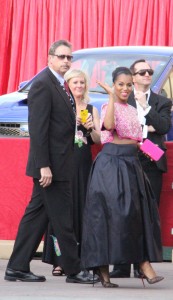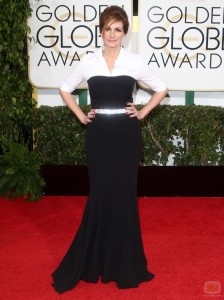 Another actress that gracefully went on the Red Carpet at the Golden Globes but not in her best outfit was Julia Roberts. Personally, I think she looked like a choir teacher ready to perform with her students. The whole look was just unfavorable to her and she could have went with something more settled that still showed off the star that she is.
All these high lights were just the beginning of award season and recently I got to watch my personal favorite, the Grammys! When it comes to award shows where music artists show off their talent and bring out their most sexy yet risky outfits, the Grammys is the award show to watch. I view it as the ultimate night of music when it comes to performances and fashion.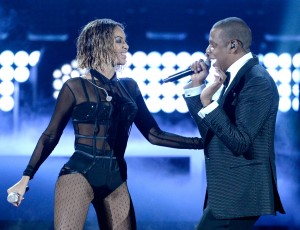 I cannot emphasize enough how much I loved Beyonce's performance. I am almost obsessed with it. From her outfit to her performance with Hova, everything came out like I visualized which made me love it even more. They were both sexy, cute and classy all at the same time which got couples looking at each other saying "this could be us." The performance started an Instagram buzz with memes saying "this could be us but I can't rap and you can't sing." As soon as her performance was over, I felt like that's all I needed from Grammy night. But of course I kept watching for more spectacular performances and moments.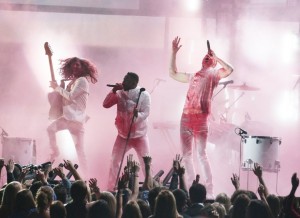 Another Grammy highlight that got everyone texting, was Macklemore's win for Best Rapper. According to an Instagram post, Macklemore sent a text to Kendrick Lamar saying he "robbed" the rapper and the award should have gone to him. So it wasn't just the audience that thought Kendrick Lamar should have taken Best Rapper home.
But can we talk about his amazing performance with Imagine Dragons? They really impressed me because I never heard them together before and they did a great job. They came out and rocked the stage with "Radioactive" and "m.A.A.d city."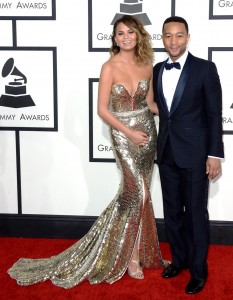 One of the big winners was Lorde who won Best Pop Solo Performance beating out big names like Justin Timberlake and Katy Perry. The 17-year-old was joined by other big names like Daft Punk who won five awards including Record of the Year for Get Lucky.
Even though Beyonce and Jay-Z took best performance, especially as a couple, the Red Carpet belonged to John Legend and his gorgeous wife, Chrissy Teigen. He wore Gucci while she came out sparkling in a Johanna Johnson gown. The two definitely made me jealous.
My favorite fashion moment though didn't take place on the Red Carpet but on stage. Yes, I'm talking about Beyonce again. Overall, it was a Beyonce night rather than a Grammy night for me and she killed the stage with the black, mesh bodysuit number.
All of these highlights make me look forward for the finale of award season, the Academy Awards. I'm sure the stars will keep shining on the Red Carpet on their way to the big wins.
Photo Credits:
"Ellen Degeneres" Photo by mercychurch1
Drew Barrymore by Club Crepusculo
Tina Fey & Amy Poehler Photo Credit Javier Fernandez Auditor"
Matthew McConaughey Credit Lionsgate 1
Jared Leto Credit marina_30stm
Leonardo DeCaprio Photo Credit: RoxiCJ23
Breaking Bad Credit: HELLO CHICAGO
Lupita Nyong Photos Credit: jayzlemn_42
Kerry Washington Photo Credit: Neon Tommy
Julia Roberts photo Credit: armarioenduddas
Beyonce and Jay Z Photo Credit: gem_106
Kendrick Lamar Credit: Angel Cabrera Productions
Chrissy Teigen & John Legend Credit: Angel Cabrera Productions
Beyonce Photo Credit: Midiorama