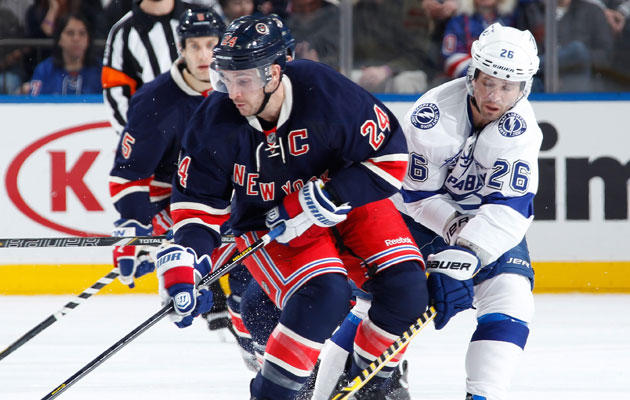 It wasn't the most shocking Trade Deadline Day in NHL history, but it certainly was a shocker.  The most shocking move of all being the one between the two players above.
In a completely unexpected-by-all move, the New York Rangers traded away their captain of 3 seasons, Ryan Callahan, to the Tampa Bay Lightning for their captain, Marty St. Louis.  St. Louis actually played his first game as a Ranger tonight (Wednesday night, a loss to the Toronto Maple Leafs 3-2).  In addition, the Lightning will get a 2014 Rangers 2nd round draft pick and a 2015 1st round pick.  The Rangers will get a conditional Lightning 2nd round pick.
Other big-news trades from Wednesday's trade deadline include goaltender Devan Dubnyk and Thomas Vanek to the Montreal Canadiens, Ilya Bryzgalov to the Minnesota Wild, and Ales Hemsky to the Ottawa Senators.