A series dedicated to what the media does not broadcast about your favorite musical artists. This week I present you, Shawn Mendes.
It is safe to say that you are living under a rock if you have not heard the name Shawn Mendes floating around in pop culture today. You may know him from his hit songs "In my Blood", "Stitches", or "Mercy", or his reputation of being the nice guy with the guitar, or you have heard about him and his new girlfriend Camila Cabello. Either way, I am sure you have heard his name but do you really know the true soul that is Shawn Mendes?
The media often creates a boundary around an artist so they appeal to a particular audience or are always viewed in a certain light. Some people may see Shawn Mendes as just another heartthrob male artist who only sings towards young girls and is not a renowned musical artist with great skill. He is easily marketed in that way but Shawn Mendes adds more to the story than a teen pop heartthrob. I am here to tell you exactly why. He is not all about fame but about the people and fans he can touch in ways only a musician can.

The average person may not know how Shawn Mendes has revealed his true heart to the world, that is why I am here to tell you just how he has done that.
First, let's talk about how this guy spreads love to anyone and everyone. An aspect of Shawn that only certain people know about is his dedication to helping others. From the very beginning, Shawn has been all about spreading positivity and joy to the world. In fact, just after his very first single, Life of the party, was released he launched a campaign called #NotesFromShawn with Dosomething.org. Shawn wrote this on Instagram back in 2014.
He was advocating for people to spread kindness to others by simply leaving a sticky note with a positive or encouraging note for friends or strangers to see. Shawn said in a Teen Vogue interview back in 2015 that "This campaign is all about the little things. Things as simple as posting a note with 'You're amazing' scribbled on it can really turn someone's whole day around." Keep in mind that Shawn just turned 16 when he launched this campaign and barely starting his career, yet he was already using his platform to help others. What 16 year old boy has this mindset?! You may think that his management team told him to start this, but Shawn continues to show what kind of soul he has as time goes on. Fast forward to today. Shawn just recently released his own foundation appropriately named, The Shawn Mendes Foundation. Shawn wrote on Instagram to explain his foundation.
This is a unique platform because he is giving a voice to his fans and people who want to help change the world. He is helping people speak their truth who may not have been able to do so before. You can go onto his website to donate to a cause you feel connected to. The Shawn Mendes Foundation works with organizations like the American Red Cross, March for our Lives, Pencils of Promise and many more. Check out the facts over on the Instagram page of what Shawn has already accomplished, while working with the company REVERB, through his foundation. Shawn just changed the game for everyone. Not only is he trying to make this world a better place, but he is sharing his platform with others so they can help too.
Shawn is dedicated to making this world a better place.
Now why does the media not appropriately broadcast this about him? I have no idea. Our world needs to focus on the good and the positivity spread by others. People say there is so much negativity in this world, which is true, but sometimes I think it is how we receive our information and how the media portrays information to us that we get so caught up in the negatives. Shawn might not be the typical artist to get caught up in media but there are still things that receive attention. Now that Shawn has a girlfriend there has been speculation and rumors that his relationship with Camila Cabello is just for PR reasons (false!).
Now that is a completely different topic that you do not want me to get started on. However, this is what the media focuses on. The personal lives of artists that only they should have a choice of if they want to share with the world or not. Media tries to put a negative light on every little thing an artist does. I know it is a part of fame, but the media blow things out of proportion more times than not. Shawn even said in an ET Canada interview "It's like broken telephone, I say one thing or tweet one thing and a million articles re-write it in a different way. Then by the time you see it, it already went through 50 different platforms and you are reading nothing like what I said." Shawn shares some insightful thoughts regarding the media and fame. Click here to read and watch the full interview.
---
Not only is Shawn a kind soul that needs to be cherished forever but he is a talented artist. Music should be for everyone and have no boundaries. Nothing makes me angrier than when someone says that a person is not that talented because of the type of audience they attract. That is again the media putting that in your mind, where did we get the idea that only teenage girls can listen to a good looking talented dude. Don't get me wrong, not everyone believes that statement but there still are people in the world who do believe that. In addition, there is this slight stigma around you if you listen to a heartthrob male artist and are not a teenage girl. That stigma needs to be broken because everyone should give any artist an opportunity to impress you. People should always listen to music they love no matter what.
There is something different about Shawn.
He sings these hit pop songs but he does it with just him and his guitar or band. There is no added production. Some people may say he is just another Ed Sheeran or John Mayer. In my eyes, he fills a different path from the both of them. He is singing these songs that fill a void in music that only a certain person can fill. Shawn is making these records that have relatable or empowering lyrics with catchy melodies, with these big guitar chords that you can somehow dance or cry to. I feel Shawn is filling many hats with his music. He is the heartthrob male artist no denying that, but he is also a pop idol, singer/songwriter, guitarist, and musician all in one because of all the different music he is producing. He brings a new edge to the pop music world.
There is a connotation that comes with being a male pop star, that I think Shawn is breaking. Often times people believe that pop stars are picked to sing these hit songs because they have this stage presence or can make the song go #1. Shawn is the complete opposite of that. He writes his own songs with a close-knit group of people, his live performances are never lip-synced, and he has more to the story than his biggest pop records. If you do not know what I am talking about please go listen to his albums Handwritten, Illuminate, and his self titled album, Shawn Mendes (in that order), to see how much he has progressed and you will understand why Shawn is more than a teen pop icon.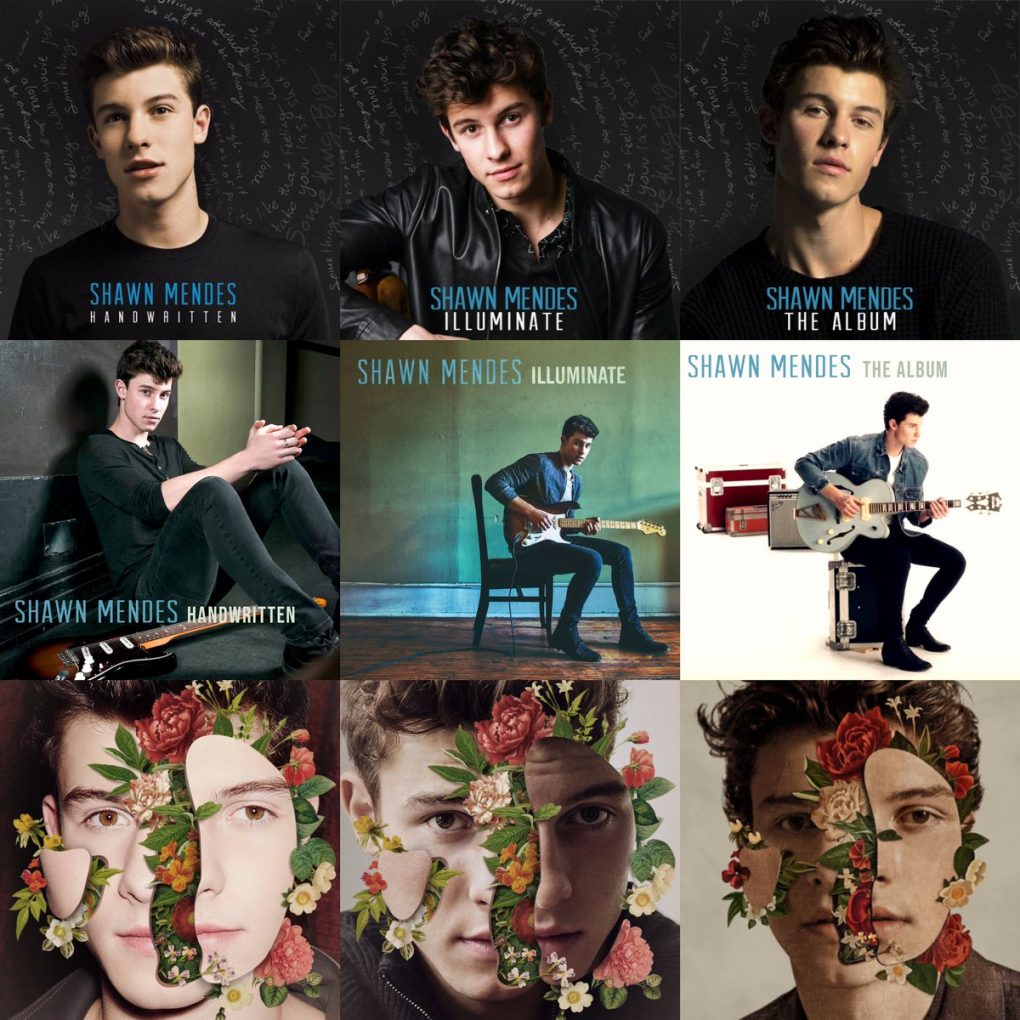 How can this guy be so talented, caring, good looking, and successful all in one?
Now you may think this is too good to be true. You may think this guy is just full of himself. Well, I hate to tell you but a person like Shawn exists in the world. Even some of his close peers and friends have expressed their feelings towards him and here are some comments to prove it.

Alessia Cara, who is a fellow Canadian music artist, just recently toured with Shawn on his world tour and wrote this on her Instagram after her last show opening up for him.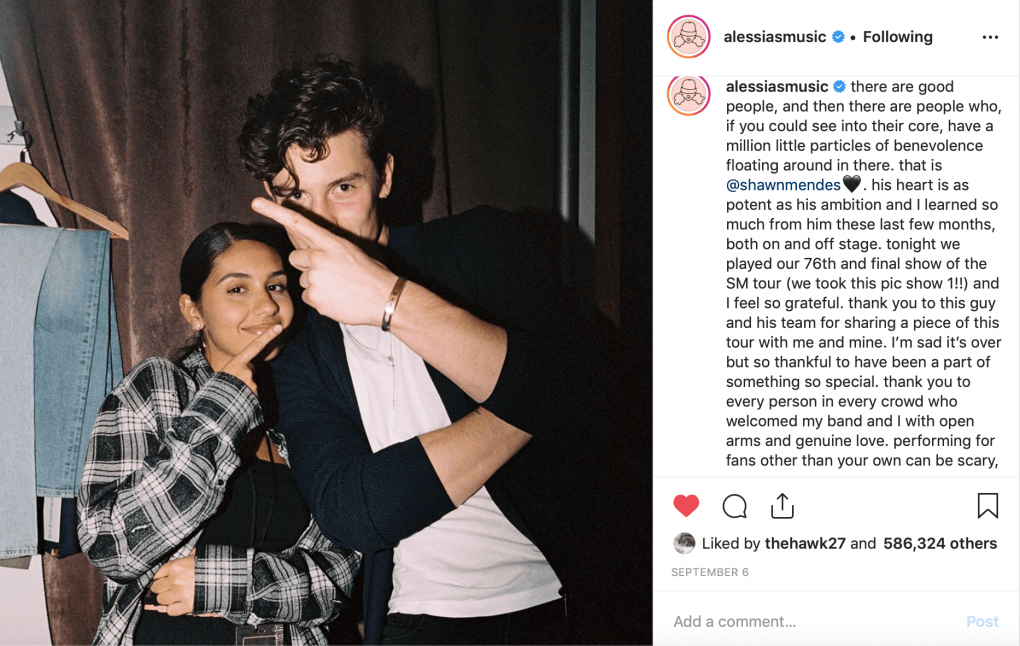 Alessia has a way with words that I think describes Shawn so beautifully. Another comment by Cez Darke, Shawn's tour manager who is a little bit older than Shawn, says on Instagram: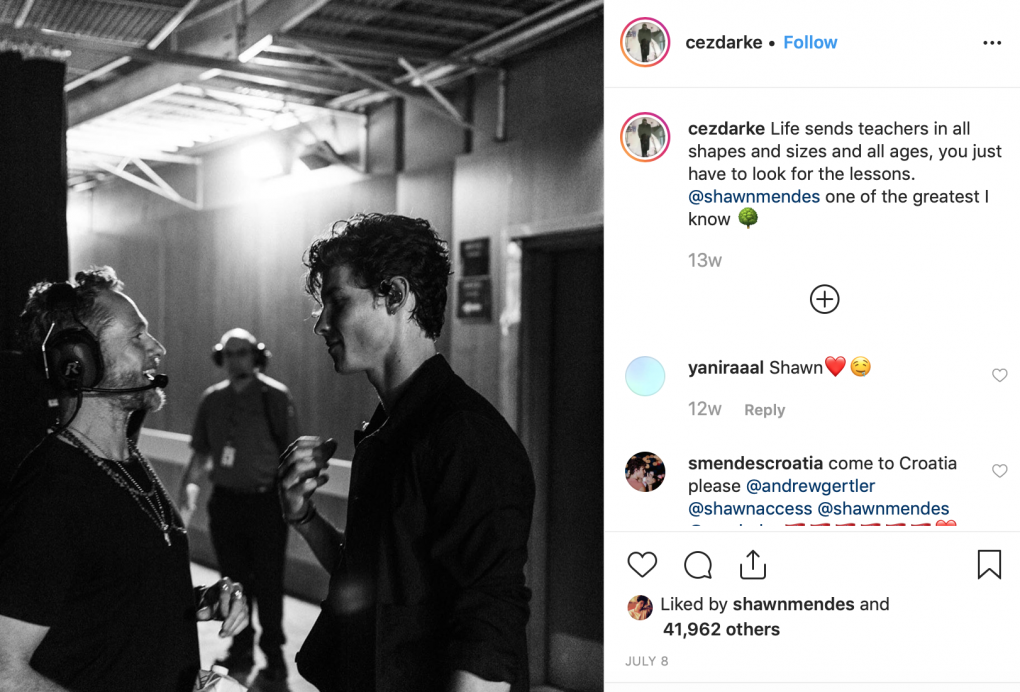 The love keeps coming. One of Shawn's favorite musicians John Mayer even said in an interview on air with Andy Cohen that Shawn "is so clear-headed, so clear-minded, he is so earnest in the right way, has a sense of humor in the right way, he has what it takes to go all the way." One of music's greatest musicians in the last decade had amazing things to say to the newbie in the industry.

Even people who work with Shawn behind the scenes, like photographers, comment on how nice this guy is.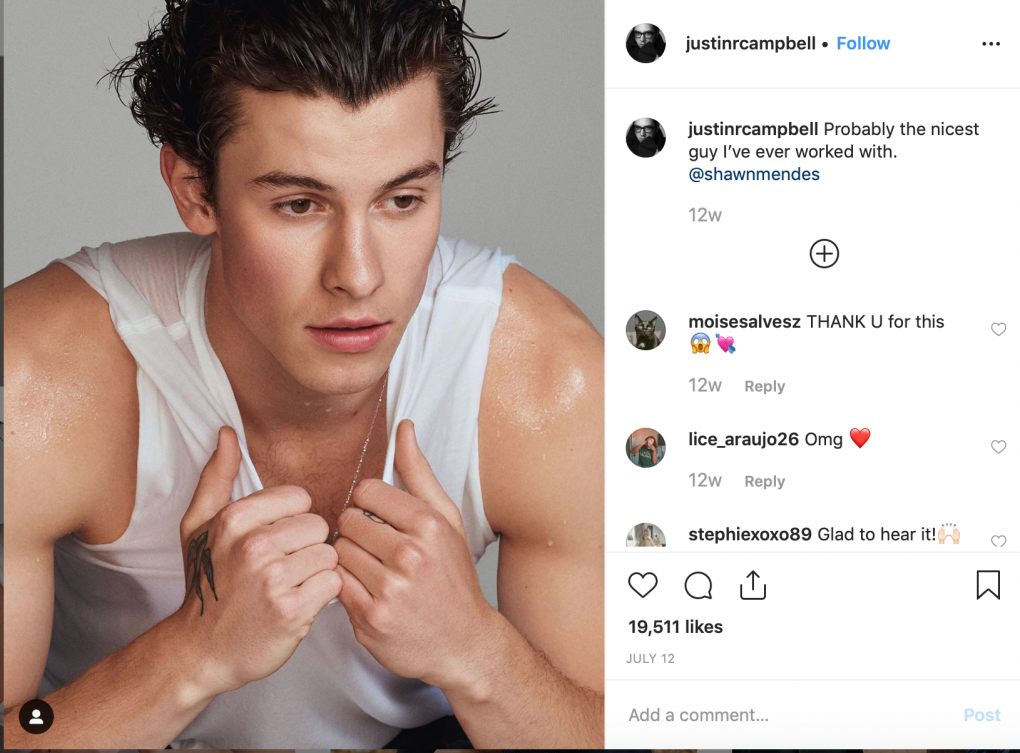 People who are around Shawn never cease to express how genuine of a soul he truly has. It doesn't matter how they are interacting, people never have anything bad to say about Shawn. Someone's true character and integrity as a person truly come out when the cameras are turned off. You can see that with Shawn Mendes. No matter if he is on a red carpet or hanging out with his friends and tour mates, Shawn Mendes is a compassionate human being with genuine care for others.
Spreading love to others is all Shawn wants to do in life.
There needs to be more people like Shawn in this world. Shawn does Q&A's with fans before every show of his tour. While on tour in LA a fan asked: "How do you want to change the world?" Shawn had the perfect answer of:
"I want to send the most amount of love to anyone all the time. I realize that I am the luckiest person in the entire world because not only have I been given the opportunity to understand how important it is to always be sending love, but I get to stand on stage every night and experience that. I know it sounds deep, but it is really magical."

Shawn Mendes
How can one not like this man? There are only haters for Shawn Mendes because they are jealous of everything he has done with his life. It is okay, you do not have to be a hardcore fan of his music. However, if you are not a fan of him as a person then I do not know what to say to you. Of course, I do not know him personally but the person he shows to the world is someone with great gratitude for everything he has been given in life. Not many celebrities are able to stay grounded and not let fame affect them as Shawn Mendes has.
In light of what Shawn has done in this world, I encourage everyone who is reading this to spread positivity around you today and be a light. Shawn has this huge platform that can reach millions of people through his music and his fans so you may think it is easy for him to make a difference and you can't reach anyone. Well, you are wrong. Every act of kindness can make a difference in the world. It is not about the quantity of people you reach but the quality of how you reach people. Spreading love to others is only what we are meant to do on this earth. What is life without human connection and what is life without love? Shawn Mendes oozes love everywhere he goes and that is what needs to be spread in media today.

Written by: Adrienne Murdock