Denmark-based artist Soleima played an unforgettable performance at Music Box on Tuesday, February 25 to a sold out crowd.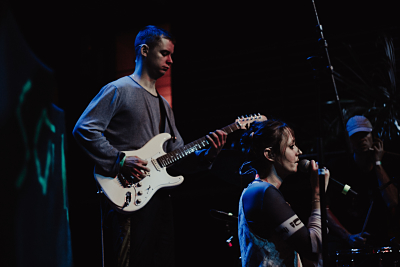 I had the opportunity to head into the venue before the show and got to talk to Sarah, the singer of Soleima, about her music and what is coming up for her this year. Before the interview, I watched the soundcheck in an empty Music Box. This was like my own personal Soleima show, and it was such a cool experience. I got to hear two songs that she would later perform live.
What got you into creating music?
So I actually always have been around music. My family did music and I went to this music kind of high school. In this high school, some kids and I started a band together. It was a 7-piece hip hop band, actually. We must have been around 13 or something; it was me and 6 boys. In the beginning, obviously, it was for fun, but then we actually got a label deal in Denmark. We started doing it a bit, like not professionally, we never lifted from it. We earned money on it and we toured a lot in Denmark. So that was how I started to see it as just a bit more than a hobby. Then after that, I did a lot of other things. I have a bachelor in Anthropology and I did that for a while. Then, I was writing songs together with my friend actually. We wanted to be top liners, we wanted to write songs for others. One day, I realized that I was sitting with these songs and I really didn't want to give them away. So that is when this project started.

What were your goals and ambitions for your music when you first started?
I think because it started out this way, I was just pretty, I don't know surprised. I don't know if that is the right word. I was pretty grateful that something good happened because it kind of came out of the blue. Or at least, that I was supposed to be an artist on my own. So I think in the beginning I was just very grateful and happy that I was able to do it. I guess the more you do it, the more your ambitions and your dreams around it grow. The biggest dream for me is to make the music, first of all, that I want to make, and not make something that people are trying to make me do. For people to hear it, to be able to come here and play 20 concerts in your country, and show my music to everyone. That is definitely my goal and my dream.

How has your music evolved since you first started?
I think, especially on this album that comes out in March, it's my first full length album, I think that it has an aggressiveness to it that my previous writing has not had in it. I think it is very much about daring to be a bit more honest and maybe also showing some parts of my emotional life that maybe aren't that flattering always. I haven't really been daring to do that much earlier. So that is something I am very proud of on this album that I really want to keep working on, and keep being brave that way. It is also something that makes it more nerve wracking to show it to people because of that honesty.

The song and music video for Roses came out about a month ago now, so what went into that song and video?
So that song is actually very much like a manifestation of exactly what I just said. I think I was at a place in my life where I had just signed a deal here in the states. I guess I was just thinking and worrying a bit too much about what people wanted me to make, or what they expected of me. Good songs don't come from that. The song is a realization of that. It's about setting boundaries and being able to say no and being able to reclaim your own creativity. It very much has this aggressiveness that I was just talking to you about. In the song, I am kind of singing to someone saying, "Do you think you could change me?", a "what the fuck?" kind of thing. For me at least, it's more than a song for someone else, it's a song for myself being like, hey, people around you are always going to try to affect you, especially in a creative field. It has to be your job to be like, this is my space, this is my art. It's going to be this way or it's not going to be. In that way, it has kind of an almost therapeutic effect writing that song on me. It is an important song for me to write.

What is the most meaningful song you've created?
That's a hard one. I think that always changes a bit because right now Roses is so important to me. It had a big meaning for me, it actually affected my life. Sometimes you feel that way with a song, sometimes it will change and you will write another one that is exactly about what you are going through at that moment. I recently wrote a song for my mom, and that means a lot to me. It is my first time writing that directly to someone from my family. That was pretty wild for me.

Who would you consider your musical inspirations?
I have always listened to a lot of different music. Growing up I listened a lot to hip hop, especially older stuff like old school, like Pharcyde and Wu-Tang, and all of that stuff. We listened a lot to old R&B, Ray Charles, Stevie Wonder, all of that. Later on after listening to more pop stuff, right now I am listening a lot from a girl called Kali Uchis, it is super good. I see my music as very much a hybrid, it is a merge of a lot of different things. In the beginning when I started writing, I saw that as a disadvantage. It is so popular to be very conceptual and to have these very clean concepts around your art. I tried to do that, or I wanted to be more like that. I'm not that way. My music is very much a merge of a lot of things. I am seeing it more as a quality and I am really trying to embrace it and own it.

How would you describe your sound?
That's hard. One producer I work a lot with in Denmark, he once called it Garage Pop. I imagine me sitting there in my garage like hitting pots and pans and stuff. I thought it was such a fun description, avoiding to put it in a label. Especially because it is such a hybrid, Garage Pop sounds so cool.

What is next for you and what do you want to accomplish in this upcoming year?
Releasing an album is such a big thing for me. I think in these single days, it is such a special thing to be able to release an album from a major label, to wanting to work a full album. A lot of songs, there isn't singles, and would never have a life as a single. I think for me as an artist, that format is what I enjoy most, listening to them, and it's what I want to make. It is a big thing for me, definitely. And then, I want to play a lot more. This has been my first time playing so many shows in a row. Just, both for me and my band to evolve is amazing. And to be so close to people with the music has been such a great experience. I think the music comes to life, and gets a whole new life in the meeting with someone who has never heard it before. That has been a big adventure. That is definitely one of my two pillars this year, to play as much as possible and to really focus on giving this album a good life.


I got to spend the first three songs in the photo pit, which was an amazing experience. The first two songs, she spent jamming out, running all over the stage, always engaging the crowd. For the third song, she was behind the piano. She talked about how it was an experimental song that she was testing out. This song was incredible. It had the crowd going crazy. It merged all these different genres that we talked about in the interview. It was not like anything that I have ever heard before.
Once I left the photo pit, I joined everyone else in the crowd. She performed the song Roses, which is my favorite song of hers. Everyone in the crowd was either dancing, had their hands up in the air, and there were some people singing along. You could really tell how much San Diego loves what Soleima is doing with her music. She kept interacting with the crowd, thanking everyone for being there, and talking about how crazy it is that she is playing in the United States. San Diego was the last date on the U.S. tour, after 30 days and 21 shows. Even though it was the end of tour, Soleima was still filled with so much energy and passion.
Soleima's sound is so different than what other music is out there today. If you have never listened to her, this is your sign to do so.
You can watch the video for Roses here.
Written By: McCaeley O'Rourke
Photos By: McCaeley O'Rourke