Sleeping With Sirens and Bring Me the Horizon, two veterans in the alternative scene, returned to San Diego with full force at Viejas Arena on Saturday, October 19.
Thirteen year old me is living by having the opportunity to photograph both Sleeping With Sirens and Bring Me The Horizon. Now, I want to paint a picture of thirteen year old me. I loved One Direction (still do) and stumbled across a Sleeping With Sirens video on YouTube. "If I'm James Dean, You're Audrey Hepburn" changed my music taste and life. Now, I am thrown into my emo phase, wearing beanies so far on the back of your head that it is about to fall off, along with two arms full of the rubber band bracelets from Hot Topic. I credit Sleeping With Sirens as the band that got me into this music and I thank them for that.
My freshly fourteen year old self decided to beg my mom to let me go to Warped Tour since both Sleeping With Sirens and Bring Me The Horizon were playing that year. She said yes, which led to one of the most fun days of my childhood. I got to meet Sleeping With Sirens, and you guessed it, I cried. My friend Amanda, who also dragged her mom along, also cried along with me since we just met our heroes. Now, this was my first ever concert that was not pop music. I was at barricade for Sleeping With Sirens, and when my mom saw all the crowd surfers, she was blowing up my phone. She thought I was going to get absolutely crushed, but I was just mad at her for interrupting my recording of "Congratulations."
Later on in the day, we all got to see Bring Me the Horizon. This was shortly after their album Sempiternal came out, so they played "Antivist." If you don't know that song, I recommend listening to it so you can understand my mom's horror. The crowd was filled with people with their middle fingers up, screaming the lyrics back. After that, my mom told me I was never to listen to them again, and I am pretty sure Amanda's mom said the same thing to her.
Apparently the "never listening to them again" thing did not last for long, because Amanda and I saw Bring Me The Horizon again in the following February. This time we got to see them at their own headlining show. We both thought it was a very smart idea to wear shorts, in Toronto, right next to Lake Ontario. An even better decision we had was to wait in line outside for an hour or two before giving up and heading back to our moms in the car. That show still lives up as one of the best concerts I have ever been to.
It is really funny to think about how my mom went to tell me that I could never listen to Bring Me The Horizon, to now loving them. "Can You Feel My Heart" is her absolute favorite song. She is a way bigger fan of Sleeping With Sirens and even had me download their cover of "Iris" to her phone off YouTube.

Since then, I have obviously grown up, being twenty years old. When I saw that these two bands would be touring together, I was excited. I became even more excited when I found out that I would be photographing the show. This threw me back into my emo phase, and I had never been more pumped for a concert.

Sleeping With Sirens started out the night. The majority of the songs they played came from their new album, How It Feels to Be Lost. They only played five old songs, coming from albums such as Let's Cheers To This and Madness. The songs they played were: "Leave It All Behind," "Never Enough," "Tally It Up: Settle the Score," "Better Off Dead," "Blood Lines," "Medicine (Devil In My Head)," "Break Me Down," "Agree to Disagree," "How It Feels To Be Lost," "Kick Me" and "If You Can't Hang."
Being up close in the photo pit was amazing. I love all the energy that they exude when on stage. After leaving the photo pit, I got to sit in the stands and watch the rest of their set. Seeing how wild the crowd was going for them was absolutely awesome. I had never seen them play at their own show, only at Warped Tour. It was so exciting to see how they interact and hype up the crowd.

Following Sleeping With Sirens, Bring Me The Horizon headlined the night. Since I have not seen them since 2014, they have majorly upgraded their shows. They have an amazing stage set up, matching outfits, and even dancers. They played a total of fifteen songs: "MANTRA," "Avalanche," "The House of Wolves," "Medicine," "Wonderful Life," "Shadow Moses," "Sugar Honey Ice & Tea," "Happy Song," "Nihilist Blues," "Antivist," "Mother Tongue," "Can You Feel My Heart," "Follow You," and "Throne and Drown."
Getting to see one of my favorite songs from the photo pit was an experience I will never forget. Also, shoutout to the lovely people I met at the barricade. Once I left the photo pit, I made my way down to my seat to watch the rest of the show. General admission was absolutely insane. The pits were constantly going crazy, with Oli Sykes, the singer, hyping everyone up.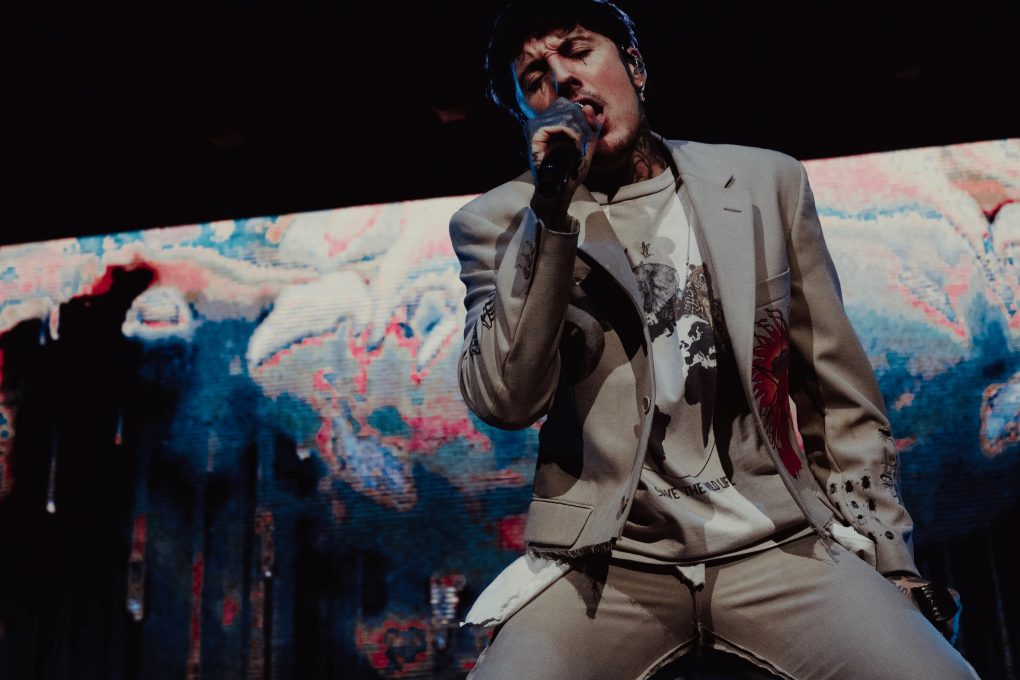 They brought a fan up on stage for their song "Antivist," which is something that they have been doing on this tour. Oli also thanked the crowd for being the reason he is alive, which was very touching. My favorite part of the show was during their last song. Oli came down into the general admission area, walked around, and sang "Drown" with fans surrounding him. He even made his way up to the seated area, right next to me. He finished the song on the stage and thanked the crowd over and over again.

This had to have been one of the best shows I have seen in a long time. The crowd was also so into the music and so into the bands. The energy in the arena was unreal. If you get a chance to see this tour or any of these bands on tour, do it. You will not regret it.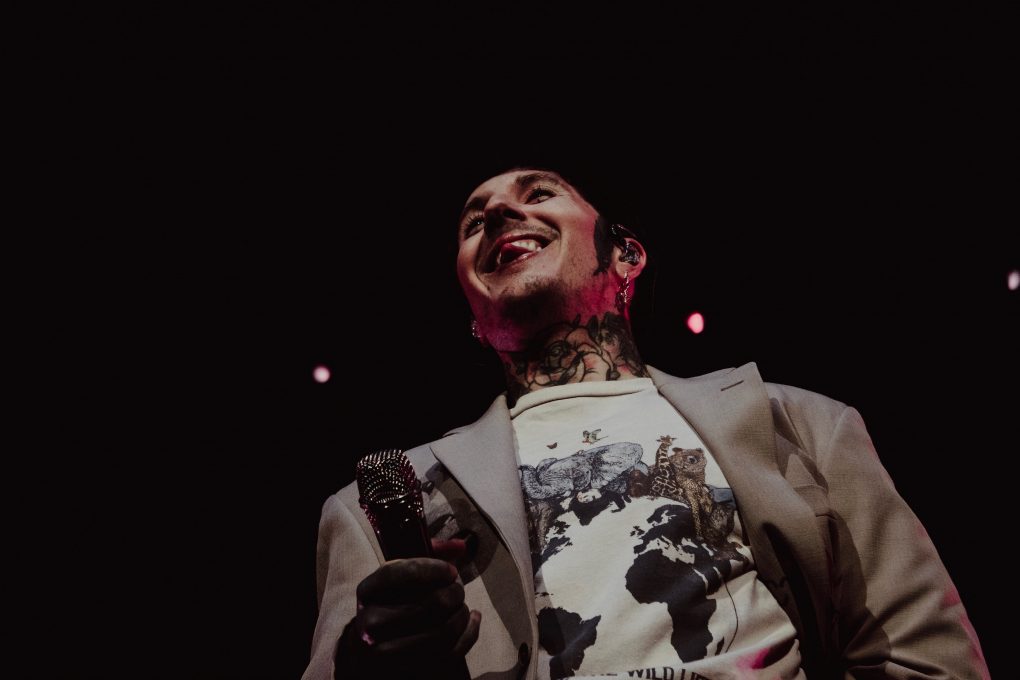 You can listen to Sleeping With Sirens' new album here, and Bring Me The Horizon's new album here.
Written by: McCaeley O'Rourke
Photos by: McCaeley O'Rourke