Josh Ostrander, known on stage as the legendary Mondo Cozmo, lit up The Casbah in San Diego on March 2, and he's ready to do it again on "Jimmy Kimmel Live!" this Thursday, March 23. Ostrander hails from Philadelphia and entered the music scene in 2000, when he fronted the band Laguardia until 2005. He then moved on, becoming the front man of Eastern Conference Champions. In April of 2016, Mondo Cozmo was born —"Mondo" originating from the 1969 John Waters' comedy "Mondo Trash," and "Cozmo" being Ostrander's dog's name—with his debut single "Hold On to Me." The single was accompanied by a tear-jerking music video starring actress Anna Faris. Soon to follow was "Shine," which hit #1 on Billboard's Adult Alternative Songs chart this January. I got to speak with this superstar about working with Anna Faris, his tour, the funny story behind his lyric music video and much more.
We started off talking about his incredible music video for "Hold On To Me." If you haven't seen it already, make it your next priority. Mondo Cozmo grew up in a retirement facility in Philadelphia. This sparked the idea and collaboration from which the video was born.
"I asked my buddy Anna [Faris] to do it and she was just like, 'I'll do it,' in a heartbeat. We shot that video for zero dollars and everybody who was in it just wanted to be a part of it," said Ostrander.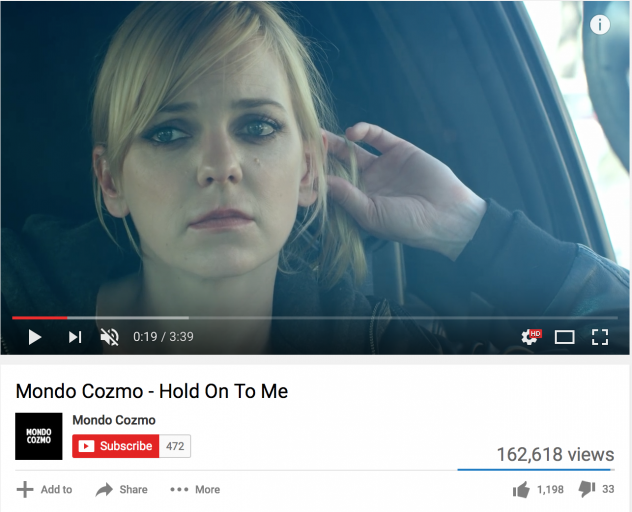 M.C. said that when he wrote the song he was working two jobs and was label-less, and that the song was a prayer written for himself.
"Shine," which has hit over 2 million Spotify listens, is an uplifting, soulful mixture of cannabis, Jesus and guitar. The lyrics mention Jesus—as well as getting high—several times, but Ostrander says that to him, the song isn't about religion.
"I think it's a song of hope. I wouldn't call myself religious at all, but when I wrote it I was like, 'this is the closest thing I'll ever write to like, "Let It Be."' You know what I mean? Or songs like that—they tap into this thing that's maybe like a little bit bigger than yourself," said Ostrander.
Of course, we had to discuss the fact that M.C. is besties with Anna Faris and her husband, Chris Pratt. He spoke extremely highly of their support and friendship. He then told me how he became friends with the couple.
"It was just a friend of a friend—we ended up going skiing together. I'm a terrible skier and Chris is a terrible skier, so we bonded over falling down this mountain together," he said.
He also praised Faris' role in his "Hold On to Me" music video and explained that the whole thing was unscripted and completely authentic. He mentioned that Faris normally can't leave the house without being recognized, but in this project she was able to spontaneously dance with the residents of the retirement home.
"The people there all had dementia, so they didn't know who she was. They thought she was a worker, so it was a really cool thing," Ostrander said.
We also talked about his "arduous" endeavor to create a "Shine" lyric video, which actually only ended up taking him half an hour to complete.
"I didn't know what a lyric video was. I guess it's this popular thing, where the lyrics pop up from the song. It was like 8 in the morning and I was like, I don't want to do a lyric video. So, I took my phone, and taped it to a mic-stand and I put it down on a table and I drew it all out and then I fast forwarded it in iMovie, and that was the video," Ostrander said.
"People spend a lot of money," he said, laughing. "It took me like half an hour."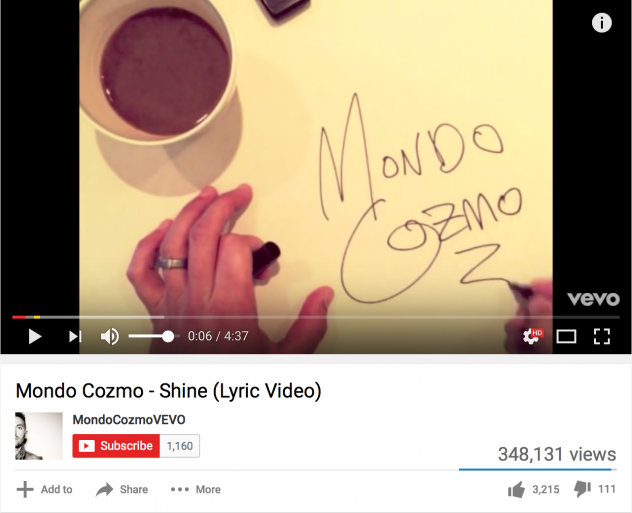 Ostrander had no shortage of hilarious stories. He was signed before the label (Republic) saw him perform, because at the time he was independently writing and creating music in his guest bedroom. They asked him to make a video of himself performing live in his house, to make sure he could play acoustic guitar. To this, M.C. had a strategic response.
"I was like, screw you man! I've been doing this for so long."
"My girl was out of town, so I got all liquored up, I set up the camera—same camera—I set up my phone, and I shot it behind me, and I put on some like really tasteful '70s porn on the TV, so that's going, and then I performed the songs acoustic, like with the TV right there. But while I'm recording I'm like, man, this sounds really good, they're gonna release this. So when I finished it I went into iMovie again and I loaded up—you know in Star Wars, how the names roll up—I put everybody's phone number that works at the label. So I was like, there's no way they'll ever put this out," he said.
Ostrander's iMovie skills continue to amaze me.
We talked about his early days at ECC. He happily reminisced about the band, but stood by his decision to leave in order to produce music more quickly. ECC didn't disband contentiously – Ostrander just wrote songs quickly and wasn't able to get the music out at the same pace.
"In a weird way, I had to quit the band to get music out. Looking back I know I made the right decision. It was a really, really tough, dark time for me. I was bumming, 'cause I lost all my friends. It was really hard, but I feel good now," he said.
There are some perks to the solo life though, said Ostrander. Being the sole decision maker, moving quickly and not having to answer to anybody are a few advantages he particularly enjoys.
Mondo Cozmo will be continuing his tour into the summer, with a short stop this Thursday, March 23rd on Jimmy Kimmel Live!. Friday, he'll be in Toronto, Canada with Bastille, and will continue on throughout the U.S. and then into the summer at several music festivals. M.C. credits Nirvana for igniting his passion in music and said, looking forward, that Pharrell Williams is an artist he'd love to collaborate with.
Also in the near future is the release of Mondo Cozmo's highly anticipated full-length album. He said it's completed, currently being mixed, and should be released this summer. He said he had the unique experience of creating the record "in reverse" because he was able to get "a feel for what people like" by releasing singles. He's written 15 to 16 songs, and expects that 10 will be on the album.
M.C. is psyched to be on the road, and is happy this will be a busy year. He professed so much love and humility toward his fans. He said his fanbase has grown into something of a movement, and while he is happy for himself and his own growth, he's also happy for his fans' role in the success.
"I think I'm just a lifer, this is just what I do. This is the only thing that makes me happy at that level. And to give people that happy, it's pretty cool. I feel like really humbled by it and I feel like I put my time in, and I'm ready."