Today I was at the library and ran into the lovely Madison Santos. Madison is a Sociology major here at San Diego State, and she for sure dresses with spunk. We had a chat about some of her style inspirations, views on trends and how to dress with a difference by adding your own flavor. This interview has been edited for clarity and length.
Are there any people or profiles that give you inspiration?
I do, I follow a lot of photographers mostly, and then some models who I think have really good fashion sense. This is one one of my favorite profiles: 
shoptrendyandtipsy
. I am actually making a top similar to this at the moment: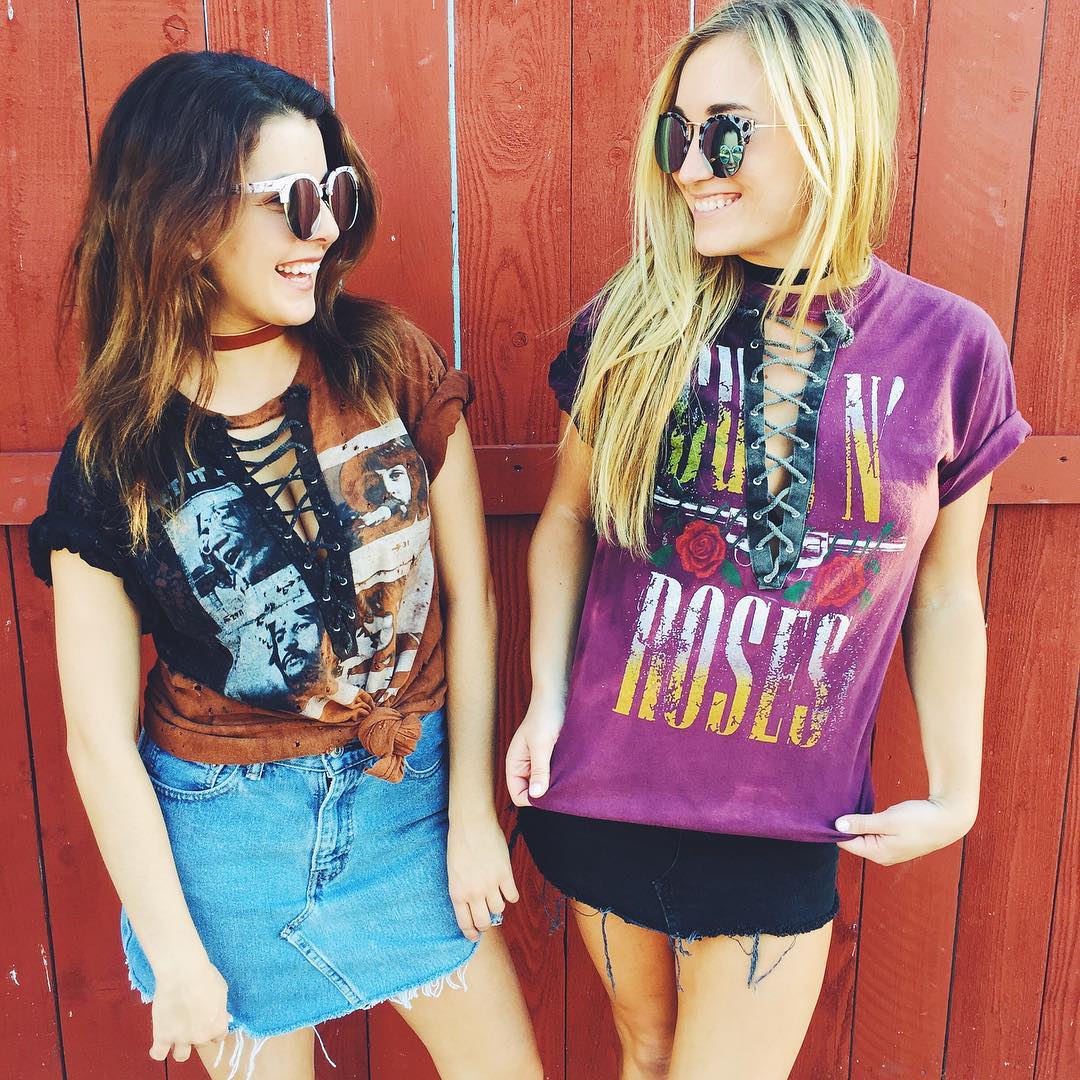 Do you often recreate your own clothes? 
Yes, and no. I am really skinny and a lot of clothes don't fit me the right way. So I sometimes have to redo clothes to make them suit my body type. If I have extra fabric left over, I like to make little tube/tank tops or whatever.
One time I didn't have any pants so I stole my boyfriend's jeans, cut them, took them in at the sides, and made them into high waited shorts and they looked really cool.
What are some of your favorite places to shop in San Diego?
I guess there is nothing specific to San Diego, but I mostly shop at Brandy Melville, and when I can afford it, at Urban Outfitters. I also like a lot of boutique stores because I love clothes that people can't find. I hate it when I buy something from Forever 21 and then see five people wearing the same thing. It's nice having some individualism. I buy a lot of stuff when I go out of the country, too.
Do you have a favorite brand?
It definitely changes, but I am into things that are cottony, soft and cozy. I am starting to get more into 'pretty girl grunge' or 'hipster girl grunge' type stuff.
What's one piece of clothing you have made the biggest splurge on?
There was this one time with my step dad when we were going to a funeral and he was trying to make things seem happier. My sister and mom had also gone away on holiday and I couldn't go. So we went shopping at Nordstrom and I tried on a dress that he let me get. I get scared to wear it in college though, because I feel like everything we do is very sloppy and I don't want to damage it. I haven't had a chance to wear it a lot since I got it [in high school], but I'm sure I can still I can still rock it.
"I don't really like wearing dresses and skirts… because I like to sit like a guy"
What's your favorite staple?
I am definitely into skin tight leggings or sweat pants and then just a cozy tiny little tank top— that's like my go to. I don't really like wearing dresses and skirts… because I like to sit like a guy.
If you could swap wardrobes with anyone in the world, who would it be?
I can't think of anyone in specific but definitely some boutique stores— and I would wear every single thing in the whole store.
Do you have anything that you want to share with everyone reading this?
I would say learning to dress to your body type is really important because your clothing is a way of expressing yourself. I take a lot of pride in the individualism that I put into my clothing and outfits. I also notice people who express themselves through clothing, so it's a good way to connect with people. Everyone can look good; you don't only need to look like skin and bones– like me– to look good. There are some things that I can't pull off because I'm not curvy enough. Whatever you have, just flaunt it and be confident! It's definitely a confidence booster to wear your clothes and feel good in them. You feel comfortable because you are finally being yourself.
I'm all for new trends, but I also like to make them my own. You should make it your individual thing—otherwise that's just basic.