The annual Tony Gwynn Legacy, hosted by both the Aztecs and the University of San Diego, will take place this weekend, from February 22-24th.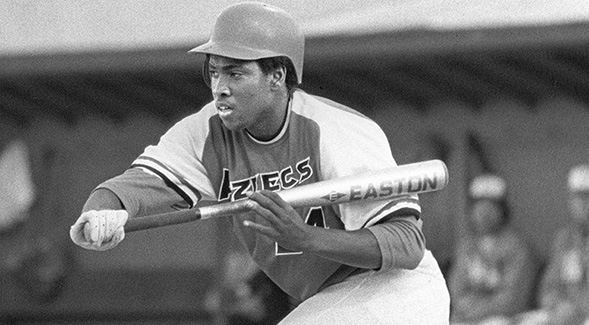 A week after receiving their rings to honor last year's Mountain West Tournament Championship, their fifth title in six years, the San Diego State Baseball team will get to honor their head coach that began that run, Tony Gwynn, who passed away in 2014.
13 games will be played in remembrance of Gwynn beginning Thursday at Fowler Park. The Aztecs and Toreros will host Utah, Kansas State, Fresno State, Oklahoma, No. 25 Cal State Fullerton and Missouri State throughout the weekend. Utah, Oklahoma, Fullerton, and Missouri State, along with the Aztecs, participated in the NCAA Tournament last year.  The Scarlet and Black will play against Utah on Friday at 6pm, followed by Oklahoma Saturday night at 6 p.m and Kansas State at 2 p.m. on Sunday.
Gwynn came to SDSU in 1977 on a basketball scholarship and would become the Aztecs' career assists leader, 590, a record that still stands today. Gwynn would first play baseball as an Aztec in 1979. On the diamond, he became an All-American outfielder, playing with future Major Leaguers like Bobby Meacham, Ed Amelung, Chris Jones and Al Newman. Gwynn would even play with future MLB umpire Kerwin Danley.
Gwynn was drafted on the same day by the Padres and Clippers, both San Diego franchises in 1981. He would choose baseball, and for 20 years he would wear a Padres uniform collecting 3,141 hits, a .338 lifetime batting average, 15 all-star appearances, seven Silver Slugger Awards, and five Gold Gloves en route to a 97.6 percent of the vote to be inducted into the National Baseball Hall of Fame.
After retiring as a player, he would come back to the Mesa and takeover for his college baseball coach, Jim Dietz and coach until his passing in June 2014.
Written by: Breven Honda