With her "Beyond the Senses" EP released this summer, 24-year-old Canadian DJ and producer Isabelle Rezazadeh started her U.S. tour this September.
Also known as "Space Mom," Rezz has her own defining sound in the world of EDM which makes her stand out from the rest. In my opinion, I would call her sound dark mid-tempo bass music or electro bass. It's hard to place her in a proper genre because she is so unique. Many look up to her as an electronic music artist and producer, especially up-and-coming female DJ's. Rezz began to DJ when she was only 16, and with the help of stars such as Skrillex and Deadmau5, she released her "Insurrection" EP in 2015 and signed to the Mau5trap label. After that she released her debut with her single "Serenity."
Fans from all over bought tickets to Rezz's Beyond The Senses Tour before the full EP was released. She started by releasing one single from the EP called "Dark Age" in May, which she played live a couple of days later at EDC Las Vegas. During this performance, she played another song from her EP that hadn't been released yet. "Falling" featured Rezz along with the rock band Underoath who also made an appearance onstage, and the single was finally released on June 12. The next single of the EP, called "Kiss of Death" was released on July 12 and featured the artist Deathpact. The rest of the EP, which featured three other songs, was released on July 24.
I drove home to Las Vegas for the weekend to attend her show at the Thomas and Mack Center on Sept. 28. I bought my ticket during the pre-sale back in June, so I had been anticipating this moment for a long time. Rezz was one of the first artists I had listened to when I was discovering the unending variety of electronic music.
I got to the venue very early to find a good spot to stand in the GA section, and I ended up getting– front and center– on the rail. I had only been on the rail for a show on one separate occasion. It was for Snails in 2016 at the Life is Beautiful festival in Las Vegas. I had seen Rezz already twice in the past, and I was not close to the rail for any of them. I knew it was going to be awesome from up close.
It's crazy seeing one of your favorite electronic music artists in action from up close. You get to see them press buttons and move switches to control what the audience hears and sometimes sees. You also get to see their funny dance moves.
But before I talk about how awesome Rezz was, she had two iconic DJ's perform before her. First up was the artist BlackGummy. I wasn't very familiar with his music, but I occasionally listen to one of his tracks called "Plucking Technology." BlackGummy is the stage persona of Los Angeles producer Iman Marouf. He is also signed to the Mau5trap label, which happened in 2015 along with Rezz. I would say his music is more electro house and dark techno, with some trance. One song I really loved that he played live was called "Superhuman," featuring vocalist Colleen D'agostino. This was released in 2017. His set definitely had a dark techno/house vibe, and I love house music. I want to see him again and what more he has to offer in a longer set. I really enjoyed his performance and production along with his gummy bear visuals behind him.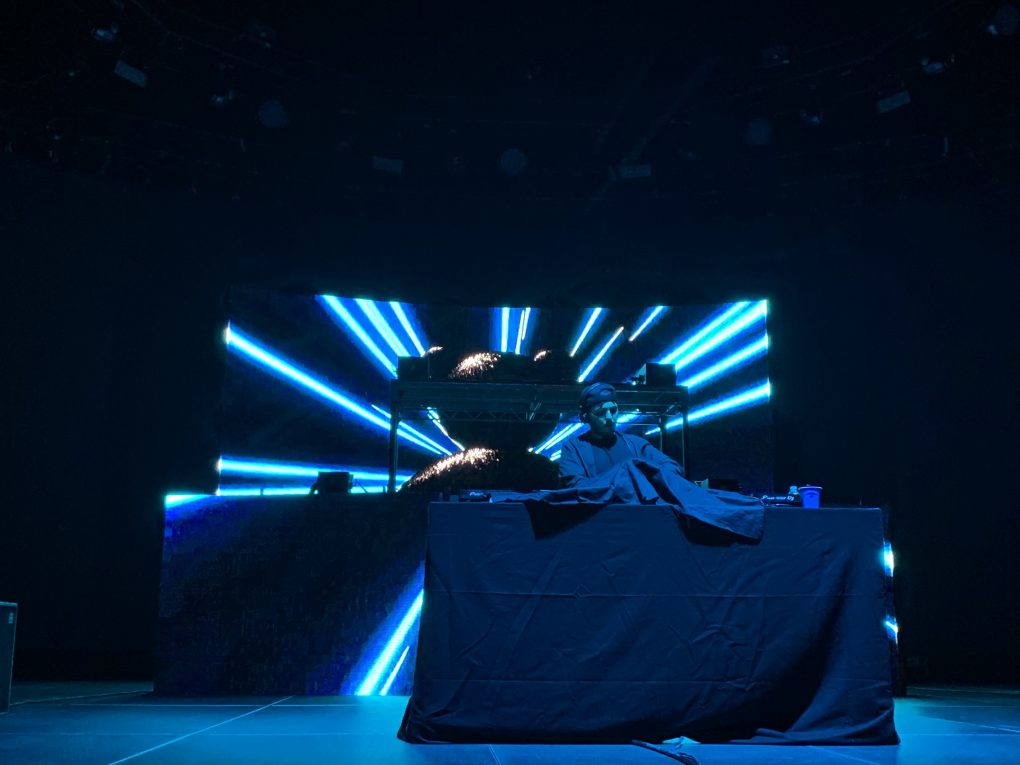 After BlackGummy, the artist known as Peekaboo came onstage for his set. I am more familiar with Peekaboo, and I absolutely love him. Known as Peekaboo, Matthew Lucas is an American producer. He mainly plays dubstep and freeform bass music. He got the crowd very pumped up for Rezz, and he played many songs that electronic music fans are familiar with. I seem to always hear his track "Babatunde" with artist G-Rex at festivals. He played "Motion" and "Maniac" which I was very excited to hear, and even threw in his "Lights Go Down" Zeds Dead and Jauz remix for us. Another well-known song of his that he played was called "Illusion," which he helped on with the artist Bassnectar. I loved his set and his visuals, and I hope to see Peekaboo live again.
After Peekaboo finished his set, the backstage team started setting up the stage for Rezz to come on. They put an inclined DJ table up for her on a separate stand which I really liked because sometimes people in the crowd can't even see the DJ from the back (short people like me). The lights for the stage were already set up, and I noticed right as I walked into the venue that it was very interesting. I watched a video before the tour about how the stage was made, and her team put a lot of work into it. After experimenting with virtual reality over summer, this is what Rezz is known for. Visual artists designed this tour from the ground up. They prepared a full rig, a full video wall, lasers, and her team wanted the art design to be much different than anyone had seen before to give us a new Rezz experience. They wanted to make it as unique as possible– and it was.
Needless to say, seeing Rezz from the rail was EPIC.
Right when she came onstage and her video wall lit up, I was in shock. BlackGummy and Peekaboo were using only a small part of her screen for their visuals and I hadn't really realized how massive it was. I had never seen anything like it, and from the rail was crazy. She walked up the stairs onto her DJ stand and immediately played "Kiss of Death" from her Beyond The Senses EP.
Rezz made sure to play a span of songs from her history. She played tracks such as "Edge" from The Silence is Deafening EP, and "Purple Gusher" (my favorite), "Selector," and "Melancholy" from Something Wrong Here EP. At the beginning, she played her hit "H E X" with artist 1788-L, and of course "Witching Hour" with the iconic visuals of her staring into a crystal ball. She also made sure to play "Teleportal" which I love to see live. She even played in her set "Creature" by Liquid Stranger and "Blacklist" by artists MeSo and SPADES, which I thought was totally awesome. Towards the end, she also played an unreleased track that she collaborated on with house artist Malaa, which I really liked and I am excited for it to be released. My appreciation for freeform bass and mid-tempo went up after attending this tour.
Rezz is known for her trippy visuals and LED goggles. Her visuals and production were insane, and I am so happy I got to experience her set from close-up. After more than half of the set though, I wanted to appreciate her full stage from farther back. Her set was awesome from any area in the venue and you could see her perfectly as she was elevated on her stand.
At the end of the show, Rezz said, "Okay guys I have one more song for you" four times. This made me so happy. I'm pretty sure that she played some unreleased tracks at the end because I did not recognize some of the songs. But I am happy that she enjoyed the crowd as much as we were enjoying everything she played.
This was the third time I saw Rezz, but it definitely won't be the last time. She blew me away with this tour and I recommend anyone to go see one of her shows. It is interesting to see how diverse electronic music is, and her sound is definitely different than the rest. It might not be for everyone, but it was very cool to see the production and how her songs were reflected through visuals, lights, and lasers.
Rezz has many future dates for her Beyond The Senses Tour in big cities across the United States. She is also scheduled to play during many festivals at the end of this year. Check out her music here.
Written by: Alexandra Gex
Photos by: Alexandra Gex