Last Wednesday, March 1st, I had the opportunity to travel back in time to 2017 with Cuco at the Observatory. Back in high school, Cuco was one of my favorite artists, but this was the first time I've gotten the chance to see him live. The show started early, and with no opener the band took the stage at 8:30.
For many, the name Cuco brings up memories of a specific aesthetic: high-waisted jeans, succulents, and the color yellow backed by dreamy bedroom pop hits. Artists like Clairo, Banes World, and Temporex are often named alongside Cuco as giants of the bedroom pop genre, defined by its warbly guitars, synth beats, and lo-fi vocals. With the release of his albums Songs4u and wannabewithu, Cuco took the indie scene by storm and garnered a large following from 2016-2018. His airy melodies mixed with lyrics on love and yearning fit perfectly with the niche aesthetics of online communities at the time. Cuco's music was a staple of that time period, so going into the night I was excited to basque in the nostalgia of my young high school years.
Cuco's most recent album, Fantasy Getaway, reveals a shift away from his signature lo-fi pop to a more psychedelic sound with heavier bass and defined guitar. Drawing on a clear Tame Impala influence, Cuco seemed to be excited about finding his new sound. However, his early songs remained the most popular, and they had the audience dancing the entire night. The crowd was tuned in for every song, but was sparked with energy when Cuco played hits like "Bossa No Sé", "Lover Is a Day", and "Dontmakemefallinlove". He even performed his popular Spanish songs like "Piel Canela", and the crowd went wild.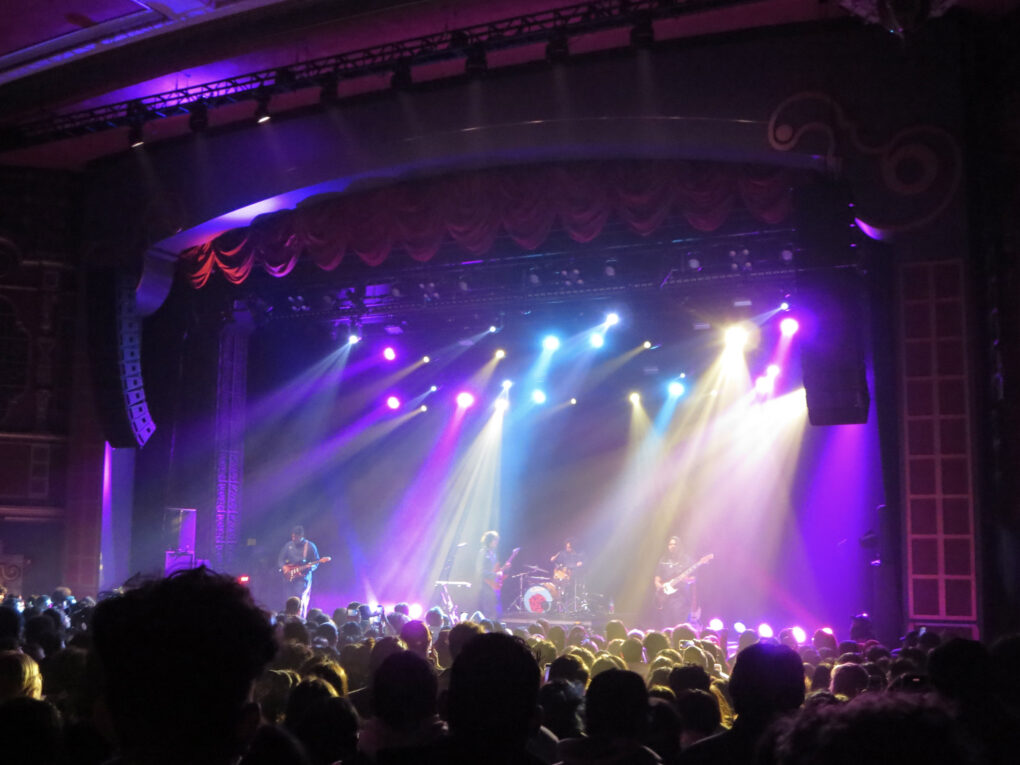 Throughout the show, Cuco expressed his gratitude for the amount of fans at the show, as well as the ability to play at a venue like the Observatory. However, I was surprised to see the amount of people there, and even more so that the show sold out. Cuco is no stranger to controversy, and rumors about sexual assault allegations against him and the band had circulated around the internet a couple years back, even leading one member to get kicked out. Presumably due to this, he spoke out about his journey to sobriety and his desire to be a strong role model for the audience and the Chicano community–admitting that he didn't do a "good job" before. Nonetheless, his love for his fans was apparent, and he made sure to thank them often for attending, giving the large venue a sense of intimacy.
At around 9:30, he exited the stage and returned shortly with a roaring encore. The band jumped straight into a rendition of "Lo Que Siento", one of Cuco's most popular songs, and he brought out his trumpet to close the night with a romantic solo. Though it had been a while since I listened to Cuco's music, I'm grateful to have been able to finally see him live. Reminiscing on the fond memories of youth through music is always a pleasant experience, even if I have grown out of the bands that I once loved. Cuco's performance exceeded my expectations, and while I feel as if his time of mainstream success has expired, his music will always hold a special place in both online and physical spaces.