Before I get to the blog, I have a couple of things to note.
1. KCR Sports Director Matt Bain and myself are going to Las Vegas to cover the Mountain West Conference tournament. I'll be writing a blog about the trip
2. I will also be writing a blog about the endeavors of KCR baseball broadcasting
Keep a look out for these!
The reason I'm writing mainly about basketball is because it's tournament time. The Aztec women have already won their first-round matchup in Las Vegas in the Mountain West Conference Tournament, and are now gearing up to face Nevada in the second round tonight.
EDIT/UPDATE FROM TONIGHT'S WOMEN'S GAME. They were beaten 53-48 by the Wolfpack. The Aztecs finish the season with a record of 13-17 and a conference record of 9-9 after last Friday's loss at New Mexico. Judging by the amount of new players filling up starting roles, and new coaches that were coaching these players, I would say this season was not bad at all, especially after the 0-5 start.
Nevertheless..
Madhouse on the Mesa might not be enough to explain it
The earth-shattering event that happened on Saturday on Montezuma Mesa is still reverberating across the campus, city, conference, country, and people's eardrums everywhere.
Here's a short recap of what happened.
As the headline suggests, that dramatic second-half comeback on Saturday night at Viejas Arena is still the talk of the town.
The students were lining up at 1:30 p.m. to get in at 5:30 p.m., the "12,414 strong" inside wore all black for the "Aztec Blackout," Josh Davis and Xavier Thames were honored for senior night, and the student section, "The Show," was completely full 20 minutes before tip-off.
San Diego State, with a 15-2 conference record, played host to the New Mexico Lobos who also had a 15-2 record.
New Mexico came to play, with a Cameron Bairstow jump shot giving the Lobos a 26-20 lead at halftime.
The Aztecs got it to 26-25, but then New Mexico blasted SDSU with a 15-0 run to take a 41-25 lead, and sowed seeds of doubt in the Aztec faithful with 12 minutes to go.
Davis got the wheels rolling again with a layup, and Skylar Spencer's free throw and layup soon brought the Aztecs to trail 41-30. Spencer got fouled again and missed his free throw, but Josh Davis pulled down the offensive rebound and then Thames hit a jump shot to re-energize the crowd, which had been into the game the whole time.
Dwayne Polee got a steal off of Lobos guard Kendall Williams which, 20 seconds later, resulted in Thames making two free throws. Thames's layup with under six minutes to go tied the game at 42, and the comeback was complete when Polee made his layup with under five to go, which sent the arena into a frenzy.
Did I mention it was loud in there? It was the loudest during the comeback, and I'm guessing it was somewhere around the 110 decibel range.
Free throws by Thames and Shrigley sealed the deal, and 3,000 plus people rushed on to the court to celebrate the conference championship.
Absolute, pure, bedlam ensued.
I will say this firsthand: court stormings are fun, and it's a great celebration, but they are dangerous and there was a time where I thought I was going to get crushed, so be cautious if you ever find yourself in one.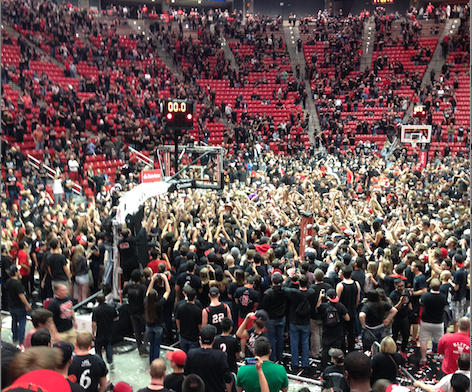 Here's what this means: the Aztecs are now No. 8 in the Associated Press poll, and the number one seed in the Mountain West Tournament this week in Las Vegas.
They face the winner of the Utah State and Colorado State matchup on Thursday at noon at the Thomas and Mack Center in Las Vegas.
Baseball
Aztec baseball took two out of three this past weekend against Nevada and improved to 11-4 on the season. Ty France is already having a monster year, hitting .455 with three home runs and 18 runs batted in.
UPDATE AS OF TUESDAY NIGHT, they crushed Cal State Northridge 12-0. France continued his monster ways, going two for five with three runs batted in. TJ Kendzora got the win on the mound for SDSU, pitching seven shutout innings.
SDSU hosts Purdue this weekend for a four-game series.
Golf
Yes, golf. Men's golfer Xander Schaufelle won the Lamkin Grips San Diego Classic on Tuesday, shooting 11-under 205 over three rounds for his first win of the year. As a team, the Aztecs finished second behind USC.