Lennon Stella, 5 Seconds of Summer and the Chainsmokers put on a stellar performance at Viejas Arena on November 24th, 2019.
Lennon Stella
The opener for the show was Lennon Stella. I had absolutely no idea who she was before the show, so I decided to Google her. I learned that she and her sister Maisy were Maddie and Daphne Conrad in the show Nashville, and that is how they got their start. Lennon recently signed to RECORDS and Columbia Records. She then released her first solo EP last year, called Love Me, and also has done collaborations with Jonas Blue, Liam Payne, and the Chainsmokers.
Lennon Stella had the crowd in awe when she came out. There was a single spotlight on her as she sang her first song. She performed a total of eight songs, including "Breakaway," "Feelings," "Bad," "Kissing Other People," "Like Everybody Else," "Fortress," "BITCH (takes one to know one)" and "La Di Da." She moved from one side of the stage to the other, constantly engaging with the fans in the crowd. Her voice is breathtaking, and hearing her perform live was incredibly amazing. My favorite song of hers that she performed was "Kissing Other People." If you have never listened to her music, please take this as a sign to do so!

5 Seconds of Summer
If you would have told me when I was 13 that at the age of 20, I would be photographing 5 Seconds of Summer, I, most likely, would have laughed in your face. But here I am, 20 years old, and doing something I never thought I would do. I was a die-hard fan of 5SOS in high school, and after seeing and shooting this show, it revived my love for them.
I sadly was not one of the lucky people who got to see 5SOS and One Direction perform on the same tour, and let me tell you why. At that point in my life, I was emo. I thought that I was too cool to go see One Direction perform. I missed out on the best tour of my life, and yes, I regret it every single day of my life.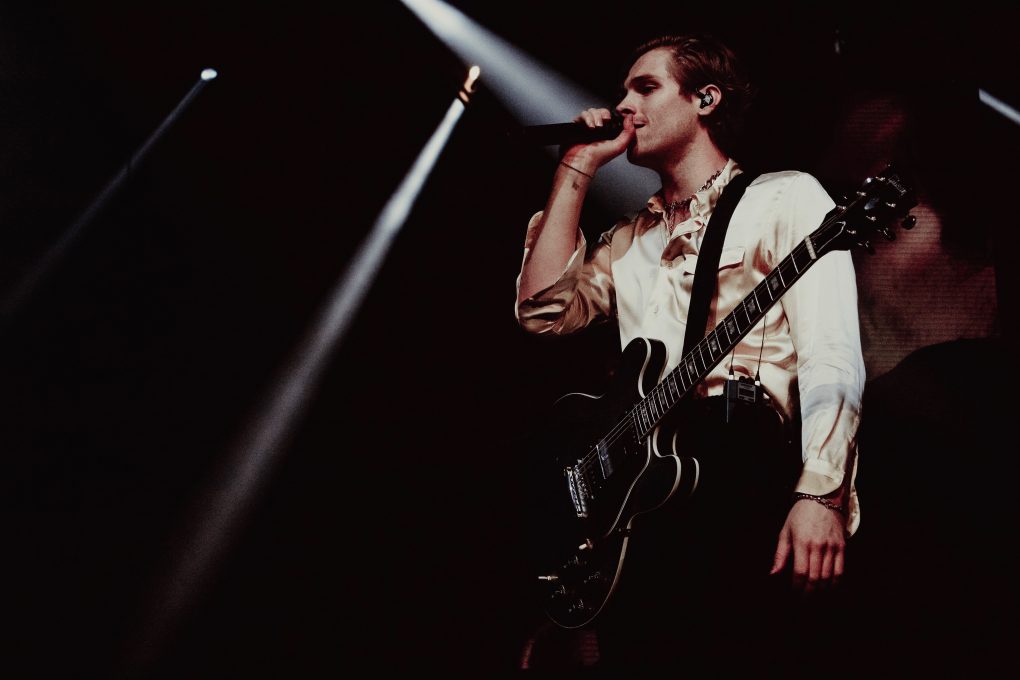 They performed a total of 15 songs, including "She Looks So Perfect," "Easier," "More," "Valentine," "If Walls Could Talk," "Talk Fast," "Moving Along," "Ghost of You," "Amnesia," "Waste the Night," "Why Won't You Love Me," "Jet Black Heart," "Teeth," "Want You Back," and "Youngblood."
Getting to hear "She Looks So Perfect" while being a mere few feet away from the band was just absolutely amazing. I am always the photographer in the photo pit that is singing along to every single word from behind my camera.

Once I left the photo pit, I got to watch the rest of their set from the crowd. Every single person in Viejas Arena was standing, dancing, and singing along. There were two moments of the show that were my favorite. The first being when Calum introduced every single member of the band. He went around introducing Ashton, then Luke, and then said, "and last but not least, I'm Calum." He totally skipped over Michael, and it had the crowd laughing. Later in the show, Ashton decided to tell the crowd about, in what order, his favorite members of the band were for the night. This is apparently a thing that he has done at all the shows on this tour. He listed them in the following order: Calum, Luke, and then Michael. Again, Michael was put last, which made everyone in the crowd laugh. Ashton gave his spiel on why Michael was last, and it was because he felt like he had been giving Michael too much attention lately. Again, that made the crowd laugh.
This was my first time getting to see 5SOS, after being a fan since 2013. I had super high expectations for their show because I always hear amazing things about them. This show surpassed my expectations. Their music, somehow, sounds even more beautiful and raw live. The vocals, the instruments, the stage presence, everything. It was an amazing show, and if you were not there, you missed out.
The Chainsmokers

The headliner for the night was the Chainsmokers. Shooting this show was very different than what I am used to. It was a challenge, but it was a really fun challenge. For the Chainsmokers, all the photographers shot this portion of the show from the soundboard. To be quite honest, I have not used my long lens since I first purchased my camera almost seven years ago. This kind of set up really pushed me out of my comfort zone when it came to shooting the show, but I am very happy with the outcome.
The Chainsmokers sang a total of 30 songs, including "Takeaway" (which was performed with Lennon Stella), "Roses," "Under the Bridge" (a Red Hot Chili Peppers cover), "Paris," "Push My Luck," "Cream," "Call You Mine," "Don't Let Me Down," "Shout" (a The Isley Brothers cover), "Mo Bamba" (a Sheck Wes cover), "Siren Get Ready for This" (a 2 Unlimited cover), "Everybody Hates Me."
There was a break for an insane drum solo, then the songs continued with "Sick Boy," "P.S. I Hope You're Happy," "Hope," "Beach House," "Split Say My Name" (a SAY MY NAME. cover), "Something Just Like This," "The Grimm" (a John Christian cover), "Hard" (a Swen Weber & Jewelz cover), "Somebody," "This Feeling," "Kernkraft 400" (a Zombie Nation cover), "Olè" (a dabow cover), "Save Yourself," "Who Do You Love" (which was performed with 5 Seconds of Summer), and "Closer."
The stage set up for this show was so cool. There was the main stage, then a walkway connected that went all the way to the back of the stadium. It really allowed the band to connect with fans in every single part of the arena. The crowd was going absolutely wild for the Chainsmokers, dancing and moving along to every single song. This really was a concert you did not want to miss.
Written by: McCaeley O'Rourke
Photos by: McCaeley O'Rourke