JAUZ and his Dangerous Waters Tour stops at the Observatory North Park in San Diego on February 8. Artists TYNAN and Habstrakt opened his performance.
After getting back into the spring semester grind, it was time to attend a new electronic show.
Jauz announced the dates for his Dangerous Waters Tour over winter break, and the tour stopped at San Diego's Observatory North Park on Feb. 8. The show was sold out days in advance.
Along with tour dates, Jauz announced that he was excited to reveal a new stage production for his tour: The Fin.
Sam Vogel, known as Jauz on stage, is a DJ and electronic music producer from San Francisco. He founded his own label in 2017, called Bite This. He's mainly known for his bass house, trap, and dubstep.
Each stop on his tour had different opening special guests for Jauz. San Diego got to experience TYNAN and Habstrakt before Jauz took the stage.
TYNAN is an upcoming electronic music artist and producer who I was very impressed by. I had listened to some of his music occasionally before seeing him live, and he put on such a good show. His sound stood out to me and I would describe it as dark trap/dubstep. He definitely has a weird style but it was very unique. It was cool hearing what he had to play for this show.
I liked TYNAN's performance so much that I was a little disappointed with the Observatory North Park for not putting a spotlight on him. From the audience you couldn't see him on stage because it was very dark. The screens behind him weren't on, and there were only a couple lights that were active onstage. I'm not sure how they operate with opening artists but I would have enjoyed that a lot more.
After TYNAN, music artist Habstrakt began his performance. I was more familiar with Habstrakt and I listen to his music all the time. I was super stoked that I got to see him perform.
Habstrakt, also known as Adam Jouneau, is a French DJ and producer. He plays more bass house music, which is what Jauz is also known for. He has his own style of bass house and I really liked his performance. I knew most of the songs he played, such as his new recent release "Free," his "GUD VIBRATIONS" remix, and "Infinite."
The Observatory North Park also didn't have a spotlight on Habstrakt but you could see him a lot better. The screens behind him were on and he had his own visuals projecting his stage name. I would definitely see him again and recommend everyone to as well.
When Jauz came onstage it was super cool. The fin and his entire stage production were amazing and I really liked how it was set up. When he opened his performance, the fin moved across the stage in a circle to reveal him and his DJ booth standing behind it.
Throughout the show, the setup of the fin and his DJ booth kept changing. At first, the fin was positioned behind him as he was on the ground with his booth. Then, his booth became elevated on a platform. He was positioned at the top corner behind the fin so everyone from the audience could see him. His stage setup continued to alternate throughout the show which made it very interesting. There were screens both on the fin as well as on the back of the stage.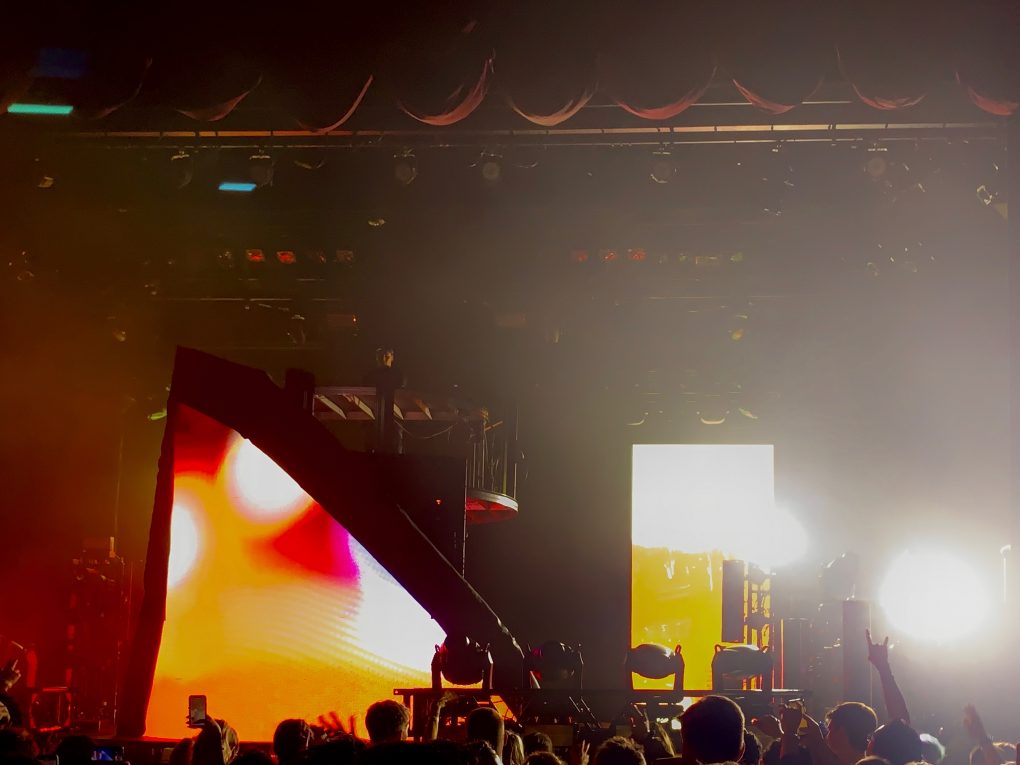 Jauz played many of his popular songs and he swept through different sub-genres of electronic music. He played dubstep, trap, psytrance, mid-tempo, techno and of course bass house. It really showed how dedicated he is to the music he plays and he made sure to give everyone a variety of his music. He even played some songs that haven't been released to the public.
I was super stunned to hear Jauz play "Feel The Volume," "Rock the Party," and "Shark Attack" since those are my ultimate favorites. I was also excited to hear his recent single with Zeds Dead, called "Shake," be performed live.
Jauz closed his show with my favorite song- his remix of Trampoline, by SHAED. That was the main song I wanted to hear so I'm so happy that he ended with it.
I really loved going to this show and I would definitely see Jauz, TYNAN, and Habstrakt again. Jauz made sure to really hype up the audience, and everyone that attended was having a good time and enjoying his music. His production and overall show definitely made me appreciate it more and acknowledge what these artists go through to put on a good performance. I recommend that everyone see these music artists if they want to expand their knowledge of electronic music, or even just have a good time with friends at a concert!
Written by: Alexandra Gex