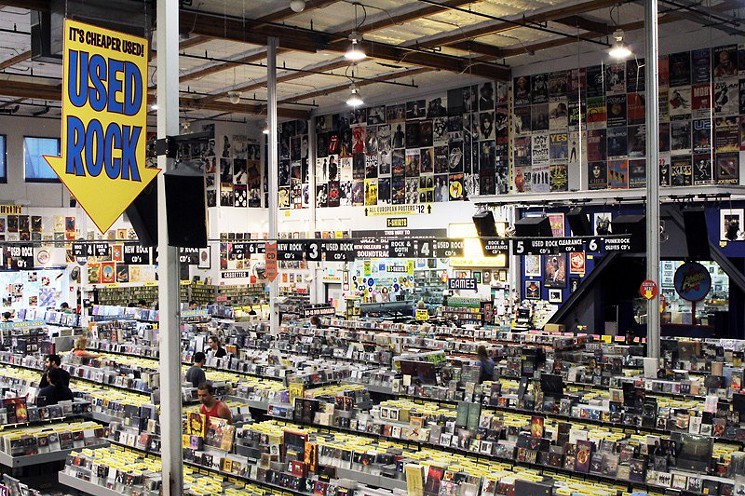 Many popular artists, such as Tyler, the Creator, Mac DeMarco, Foster the People, and many more have been releasing their albums on vinyl and over the past few years, it has been becoming more and more popular and what's "old fashioned" is coming back again. Even I have personally purchased a record player recently and started collecting new and old vinyl and I love it all so much.
What makes vinyl so different from different platforms, such as CDs, cassettes, and MP3, is the physical beauty, buying experience, and sound that comes along with it. Besides seeing the actual vinyl in all it's 12" beauty comes the album artwork and inserts that make each album and LP unique. Then when going to a record store, such as Amoeba Music in Hollywood, San Francisco, and Berkley, or a local one such as Full Contact Rock-n-Roll in North Park, the process before the actual purchase is an entire trip alone. From searching through the boxes and boxes of used vinyls and looking through organized sections of genres and artists comes a relaxing and enjoyable pastime that allows a music lover to take in all aspects of what is around them. Lastly, vinyl just sounds different. From the crackle of old records to the crisp, clean sound of instruments on brand new albums, the entire listening experience is a different animal that audiophiles, music lovers, and old souls alike can surely enjoy.
After buying my first record in the summer of 2016, I have become more and more interested in vinyls and collecting them. It wasn't until I finally got my record player this year that I realized the big difference in my music experience. Not only is vinyl beautiful aesthetically, but in every aspect of it is alluring and magical to me.