Yesterday our Monday ceased to be ordinary as it marked the 10th anniversary of Kanye West's The College Dropout debut LP. It's hard to imagine many of us were 10 years old when his album dropped 10 years ago. We have to distinguish Kanye 2014 from the Kanye of 2004 before the fame and infamy. Kanye was more than humble yesterday giving a shout-out to his fans who have followed him throughout a decade via twitter.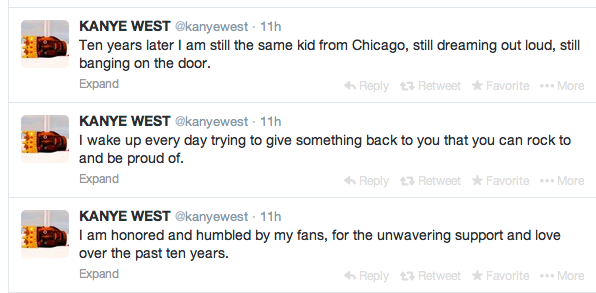 Let's give him props for being an ever evolving performer with titles, such as record producer, fashion designer, songwriter and so much more that adds onto his extensive repertoire.
Let's honor a throwback to 2004 with five of my all-time favorite tracks from Kanye's  The College Dropout:
1. Jesus Walks: A masterpiece in its own right this video had me eating my words and believing in Kanye's mass potential!
2. Slow Jamz: This song was a throwback with some Motown infused lyrics and name drops.
3.  Through the Wire: I remember hearing this song on the way to school, something about Kanye's music brings nostalgia to my life.
4. All Falls Down: As much as I tried, I could never hit the high notes on this song!

5. Never Let Me Down: Impressive lyrics and soul.
Have we forgotten the 2005 Grammy awards where the world was Kanye'd for the first time?! The album was hailed with three awards that night with Best Rap Album, Best Rap Song attributed to Jesus Walks and Best Rap Song/Collaboration that went to Slow Jamz.  This certainly catapulted Kanye onto the rap game's radar with his extensive success and No. 1 hit songs.

Congrats Kanye on 10 years of musical genius! Remember to follow him on twitter @kanyewest