Students at San Diego State University are constantly on their feet. You find Aztecs hustling to class, walking to the closest food court or running across the bike walk avoiding to get hit by a speeding bicyclist. This week's fashion column focuses on what exactly is on their feet: shoes. Each student has their own go-to shoe styles to wear for school.
The Cowgirl
Lindsey Rummings is a first year kinesiology major with an emphasis in pre-physical therapy. She is styling a cute, pink dress and pairing it with cowgirl boots. Cowgirl boots are actually the type of shoes that she likes to wear on campus. She says she finds them the most comfortable to wear. "Cool high tops are the next pair of shoes that I want to get," says Rummings.
The Sandal Enthusiast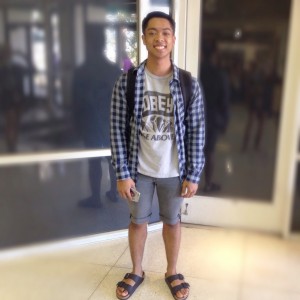 Nursing freshman TJ Oreas likes to wear sandals at school specifically Birkenstock and Rainbow sandals. He loves how those two sandal brands are extremely comfortable. Oreas says he has a lot of shoes sitting in his garage but he only uses about six different pairs. He does not know what pair of shoes he wants to get next because he recently got his Birkenstocks, which are what he has been wanting for the longest time.
Style Meets Comfort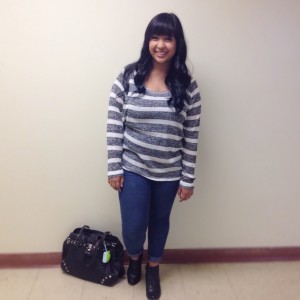 Senior Natasha Unger majors in social science with a focus on single-subject teaching. She is all about comfort while looking stylish when it comes to her choice of shoes for school. You can find her on campus wearing booties, chucks or loafers. Unger cannot wait to get her hands on her first pair of Jeffrey Campbell shoes.
 Jays On My Feet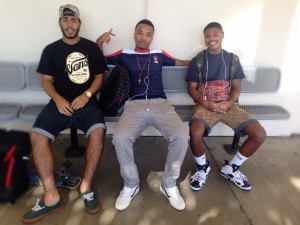 George Jinkins (right), Justen Hampton (middle), and Desmond Maxwell (left) share similar taste in shoes. Whether they are on or off campus, they like to wear Nike, Vans and Jordans. They own around 25 to 30 pairs of shoes each. That is quite of a collection they have going on.
Jinkins is a sophomore majoring in business management and says Bape Chucks are the next shoes he wants to own.
"I want the Carmex 11 Lebrons and Carmines 6 Jordans," says Hampton, a business management sophomore.
Maxwell is an electrical engineering sophomore. Stussy Timberlands are the shoes that he is eyeing to get next.
Winter Love
Alyssa Dominguez is a pre-physical therapy junior and says her favorite type of shoes to wear at school are boots. "They're comfortable and don't look too lazy-ish," says Dominguez. She is on the hunt for more winter shoes since it is starting to get colder in San Diego.
Everything you own is a way to express yourself and it amazing to see the diversity of fashion at SDSU. It is refreshing to see students interact with each other and get along so well despite their differences in styles. Sometimes it is a good thing to not always follow the crowd. This week's focus may have been on shoes, but tune in next time as Aztecs are asked about their backpacks.
---
Find your inner GLAM!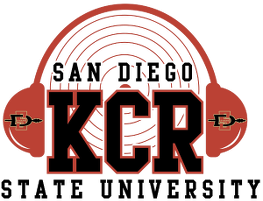 Camelle Sison
Blogger & Radio Host
KCR College Radio
glamwithcam@gmail.com