For one night only, San Diego became Dada Land. On this wonderful evening there were many performers present, by the likes of Caveat, Clockwork, A Trak, and the most important of them all…DADA LIFE.
By the looks of the audience, Dada life is known for very literally making things go bananas! There were adult bananas in attendance as well as blown up bananas soaring through the crowds and actual bananas being used as phones! The energy throughout the venue was high, and to see so many people dressed to rage was incredible.
There is no doubt Dada life has some of the best fans here in San Diego. The event ended with A Trak killing the final set, interestingly enough Dada Life did not end the show themselves. However, that didn't mean that the party was over because the crowd remained energized for A TRAK.
The sets were wonderful, with the new up and comer DJ Caveat surprising many and of course Clockwork did not disappoint. Dada life gave an amazing show, at one point encouraging the crowd to "get ugly" and even bringing a human banana up to the stage to set an example.
Overall the event was brilliant! A great crowd for an appropriate venue and a good time overall! Here's to hoping the bananas come back to San Diego soon.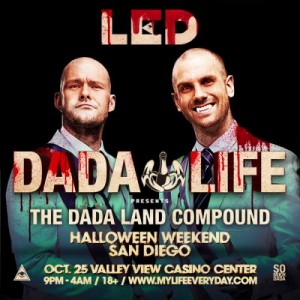 Tune in to Club KCR Thursday, Friday, and Saturday nights for when we get bananas here in SDSU's college radio studio.