What better way to spend 4/20 than with the positive energy of Tai Verdes? His San Diego show took place at the House of Blues on April 20th, 2022 for his first-ever "HDTV" tour following the release of the debut album "TV." To say that it was a lively crowd would be an understatement. Something about his music inspires bright colors, which was clearly present in the style among his mostly young fans. The opener was an 18-year-old from Toronto who went by "renforshort," cooing her music in an airy voice that echoed the likes of Phoebe Bridgers. She was chatty and kept the crowd alive with quips between songs. A memorable one was before her song titled "Moshpit," which she described as "being about a bad relationship and not at all about a real moshpit because I have crippling social anxiety and wouldn't last a second in one." The smooth, indie-pop sound of renforshort coupled with her relatable sense of humor perfectly set the stage for the main act everyone was waiting for, Tai Verdes.
Before the show, I did some research on Verdes and found his unique story of starting out as an unknown phone salesman dreaming of a career in music, releasing a song on Tiktok that went viral, and getting a jumpstart on his career from competing in (and winning) an MTV dating show. Through all of this, the main thing I learned about Verdes is that he never stops trying, a mantra he said himself at one point between songs— "One thing I'ma tell you guys," he shouted. "Is never f**king give up!" This relentless spirit was apparent tonight in his performance.
Tai Verdes stepped on stage a little after 8:00 with a dramatic pause and immediately launched into "Happy Til it Hurts," a track from his album "TV." The lyrics described his experience starting at a low point and working his way up with big aspirations. This seemed a fitting start to his show both lyrically and musically as it was passionate and groovy. Verdes made sure to give every song a fun edge and as you might find listening to his discography, most of his music is perfect to sing along to. His recent album TV captures the catchiness and summery feel of poolside pop. He constantly encouraged the crowd to sing along and had an expressive way of delivering every lyric. Verdes also incorporated his talented band, giving them the spotlight to shine and bring the energy to his instrumentals. The bassist I remember especially for bouncing around behind Verdes and absolutely killing the backup vocals. You may have heard Verdes' viral first single, "Stuck in the Middle," which starts off with a bouncy riff and the catchy lyrics: "She said, you're a player aren't you, and I bet you got hoes." The bass took on an important role then, leading the way for the song while the crowd screamed along.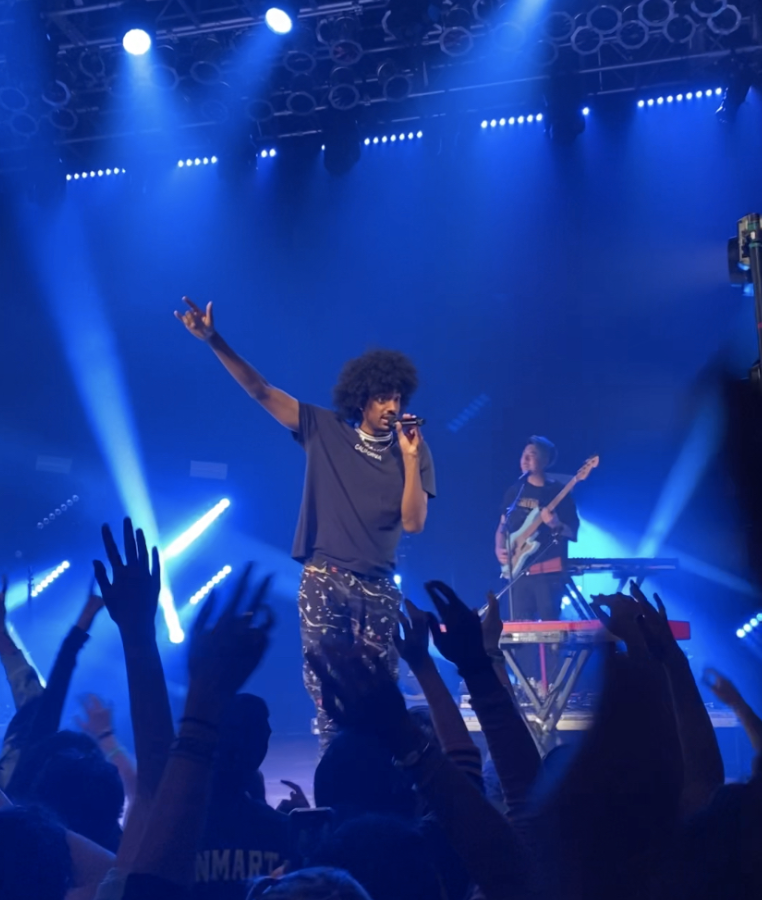 Part of the reason that this show was so enjoyable was because of how fun his music is: every song had the crowd dancing while Verdes himself smiled the entire time. The colors flashed between electric blue, scarlet red, and shades of yellow and orange: vibrancy shone through the entire show. For his two most well-known songs, Tai Verdes went to the crowd and asked an audience member a question, the answer to which would segway into the music. For example, in "Stuck in the Middle," he actually leaped down and weaved his way to the center of the crowd to ask a young fan, "Hey, do you know what she said to me?" The fan, bursting with excitement, replied "You're a player aren't you!" and the song started with a bang. His fresh take on participating with the audience kept everyone engaged and when he stepped off the stage, it didn't take long before everyone was screaming for more. He returned for a final encore for a song that he had already played, but somehow managed to make it even more energetic, namely because the song was called "Drugs," and because of the occasion, it makes sense why the audience got so into it.
Verdes left in a cloud of smoke, shining in sweat from the absolute effort he puts into every song and of course giving one last signature smile. When the show was truly over, I was surprised to find myself out of breath from all the singing and dancing that his music brought out of me. Tai Verdes brought the excitement to San Diego with his colorful and infectious joy during this explosive debut tour, an energy that I'm excited to see more of as his career continues.
Written by: Katerina Portela