Antonio Marquez overcame adversity to be a voice for the unheard and dreams of connecting the four corners of the earth to tell their stories.
Born in Guanajuato, Mexico Antonio Marquez and his family immigrated to San Diego in search of a better life when he was the age of 7. He did not discover that he was undocumented until he reached the age of 15, at the beginning of the college application experience. Marquez said, "It felt like a nightmare, you know. It's real." That would not be the first time his citizenship status would be a roadblock in his path.
The Senior Journalism and Media Studies major, now age 33, has had one hell of a journey to get to SDSU.
He initially graduated from San Diego City College in 2008; he also interned at Univision during that final school year. With an Associate's Degree in Communications and a foot in the door of the media industry, Antonio saw a bright future ahead of him. Suddenly, his undocumented status once again was blocking his path to success. "Once I did my internship at Univision and my last year of community college, they offered me a job," and then reality struck, "They couldn't help me and they let me go." Not being a legal citizen, and this occurring years prior to the Deferred Action for Childhood Arrivals (DACA), Univision was unable to give him the job he had worked so hard for.
Leaving the news station, he began working at McDonald's to support himself and his family. After a few weeks on the job, he broke down while cleaning the restroom one night. It was rock bottom and the first time he had truly felt all the overwhelming feelings that had yet to confront. Speaking with his mother on the issue, he decided to make the most of what he had. He began to excel at his job and soon moved up the ranks to a Management position. Part of this was due to his ability to speak both English and Spanish, an industry advantage in Southern California. This showed him how much he brought to the table; how he can tell stories to and for everyone that needs their voice amplified.
Aiming to start a new life, Marquez packed up with his partner and moved to Yakima, Washington. From working in the field to working in the fields, Marquez picked produce in his new hometown. One day of work the woman next to him passed out while they were working the refrigerator. Shocked, and empathizing with her, he would be even more surprised to see that she was replaced less than 30 minutes later. Marquez quickly realized this was not the life for him, so he made a connection to volunteer for the local radio station.
Radio KDNA in Yakima was the first opportunity for Marquez to participate in the radio industry since he had only done video broadcast journalism. A largely Spanish-speaking population fills the town and with many being large families with low-income, Marquez earned a segment speaking on entertainment and films to watch for these families. Promoting what was new on RedBox, he would connect with listeners by giving them a place to escape for a moment and point them in the right direction for some more entertainment.
The radio station put him on the public scene, but the local newspaper El Sol de Yakima got him in front of the people.
In his position as a reporter for the paper, he covered the stories of undocumented immigrants and their journey to Yakima as well as many of the small businesses they had started. Unable to accept compensation from the people who the stories were about, they brought him into their homes to thank him off the clock the old fashion way, with some food and company.
In 2012 life in Yakima was going well, but there was a new revelation regarding his citizenship, DACA had been announced. Upon the announcement, his mother called him and offered him something he could not refuse, a second chance. She told him to focus on school and do everything he can to get into SDSU. He moved back and started attending his alma mater San Diego City College in 2013. His school would be covered by the Board of Governor's waiver, but he wanted some extra income. Finding a new job at a Hillcrest club named Numbers, Marquez started to fall in love with the radio. The music he listened to on the job showed him the form of expression music can be.
His first application to SDSU was denied after the comeback, but he persisted. He received an acceptance letter on his second attempt, but the cake he bought to celebrate would soon go to waste. Having received a C- in a certain JMS course, he would not be accepted this year other. While at City College, Marquez ran Cross Country. He and his coach shared a connection and he did everything he could to help him get into SDSU. This connection would be just what he needed to get that acceptance letter. The third try would be the final try. He was finally accepted into SDSU for the Fall 2018 semester and only after earning four Associate Degrees. He would bring to campus his degrees in Communications, Journalism, Behavioral Sciences, and lastly Chicano Studies.
Marquez participated in the transfer bridge program put on by the Educational Opportunity Program here at State. However, it was not until the first day of class where he truly felt like he was a student here. Since his arrival, he has been involved, to say the least. He is a writer for the Mundo Azteca, the Spanish portion of The Daily Aztec; a DJ and radio host for his show Dreamer Hour on KCR College Radio; a member of the National Association of Hispanic Journalists (NAHJ); and a member of Associated Students. Involvement has brought many opportunities for his second wind of college.
Marquez first joined KCR and what caught his eye was the wide diversity within the organization.
"Just walking in the room and seeing everybody. We're all so different," said Marquez. On his show, Dreamer Hour, he interviews people, including a heart to heart conversation with his mother, and expresses himself through music. It's called that because of, "Sometimes you wake up and you had a really weird dream. You try to remember throughout the day," he goes on, "It feels like some distant memory. I want my show to be like that. To leave an impact on you, but not worry about the songs that played. All that matters is that you were there in the moment. Within Mundo Azteca, he has built a journalism career reporting on undocumented students and issues. This has spilled over into his NAHJ membership where he was able to attend the Excellence in Journalism Conference in September in San Antonio, Texas.
This conference was only a month after the El Paso Walmart shooting; he was shocked to find out that there was undercover security disguised in the crowd. It truly made him feel that, as an undocumented Latinx community member, "I feel like I have a target on my back." This subtle sense of fear persists through many within this community, hence why Marquez finds his role to be so important. He is able to tell the stories of the unheard, translating to both Spanish and English to reach an ever wider audience. The Dreamer Hour is part of his therapy to both get away and confront said issues. He plays his favorite 80s songs and anything else that makes him feel good.
"I still don't know where I'm gonna end up, but I know I wanna be somewhere in the media," said Marquez. He sees himself as a messenger. In ancient Mexican culture, a hummingbird symbolizes a messenger between the gods and the people. Antonio Marquez's wings are fluttering and they will not stop until he has connected the world.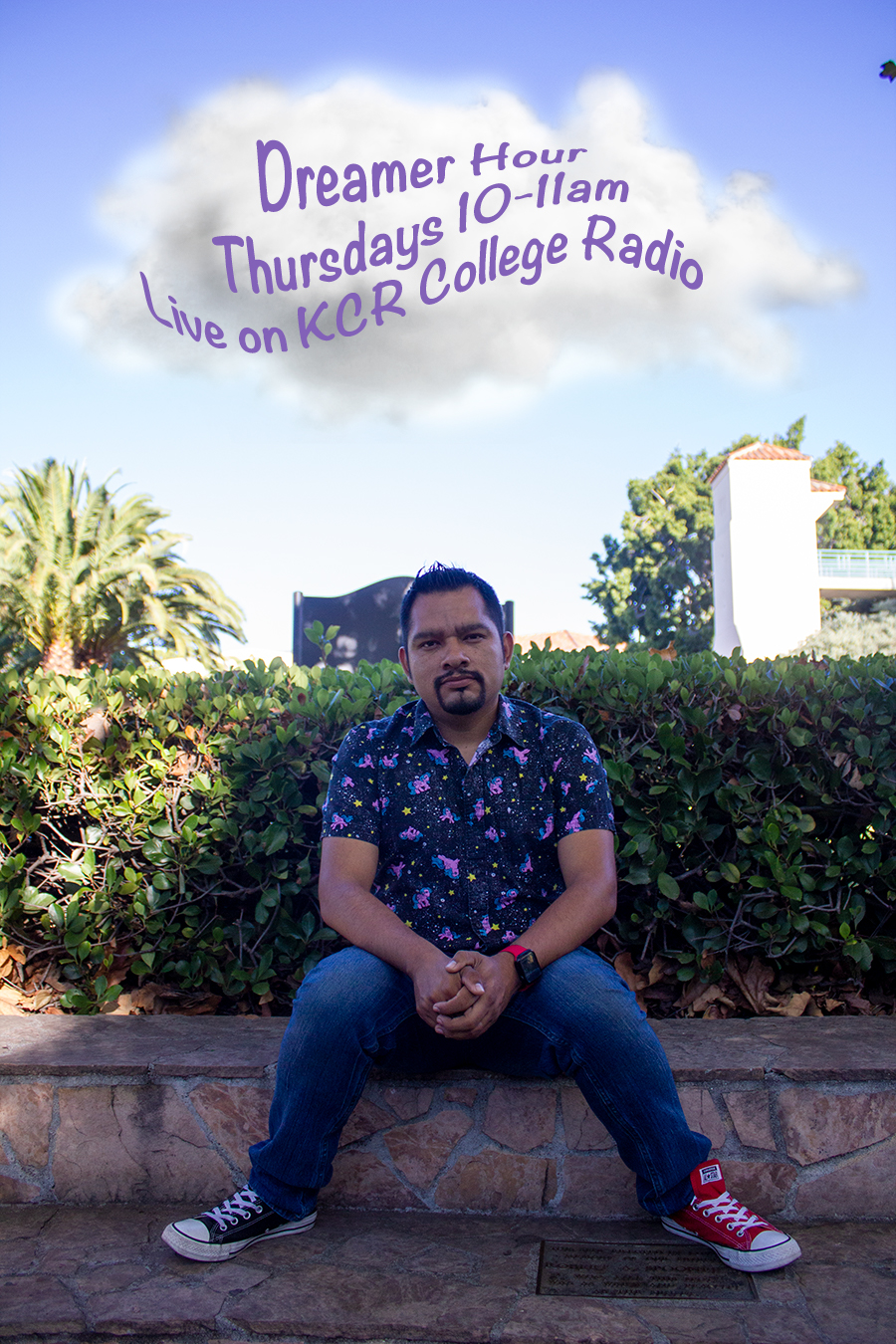 Written by: Alexis Camel
Photos by: Alexis Camel